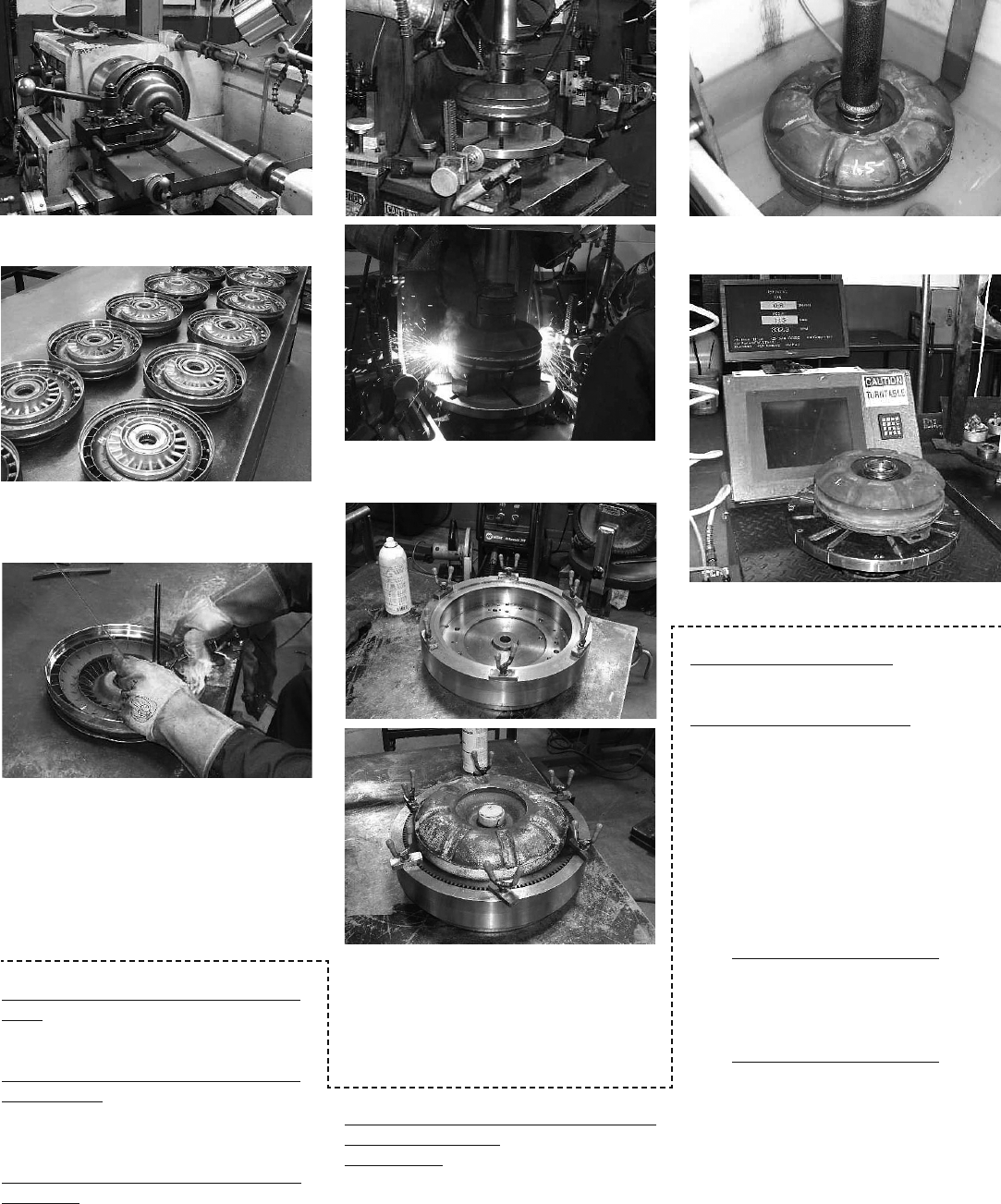 i
WARNING:
Products on this page can expose you to a chemical, which is known to the State of California to cause cancer or reproductive harm. **For more information go to www.P65Warnings.ca.gov**
Rebuilding Corvair Torque Converters
The rebuilding of a Torque converter has always been "black magic", it is hard to tell what has been done on the inside. We've switched to a company that has
been rebuilding Torque converters for nearly 50 years and has all the specialized equipment to do a top quality job.
Ring gears are removed & the converter is cut open.
The 2 halves of the TC must be aligned exactly
before the robotic welder can join them together.
This jig was made to perfectly locate the new ring
gear. There is a bushing for the "nose" to locate in
the middle, the tabs on the TC that are bolted to
the flex plate sit on a location landing, the groove
around the side locates & centers the ring gear and
the clamps hold it in place during welding.
Units are disassembled and cleaned by machine
& with some hand scrubbing to remove any sludge
and varnish.
Some critical parts like splines, roller clutch,
bushings are replaced. In some cases the rollers
actually have rusted and stop moving. The vanes are
held in via a metal "tab" that goes through a hole
& was folded over at the factory. Each of these is
tightened with a hammer and blunt punch & then
every 5th tab is welded just to insure they will not
loosen.
Once fully welded the TC is pressure tested under
water for any possible leaks.
The TC is now balanced & then painted.
1964-69 Repro Muffler with Larger Tail Pipe &
Clamp
(C126XL): Has a large but shallow
dent on the top –
CX9262
$99.00 14 lbs.
Pair of Matching U-Joints with Grease Fittings,
U-Joint Pair Match:
CX9251
$22 2 lbs.
U-Joint Pair Do Not Match:
CX9252
$16 2 lbs.
TRW HD Tie Rod Sleeve with 2 Clamps & Bolts
(1 set only):
CX9253
$19 1 lb. 6 oz.
Moog 60-64 Idler Arm (Looks Identical to Original
GM – No Grease Fitting):
CX9260

$59 3 lbs.
TRW Ball Joints
Upper (1 only):
CX9255
$40 1 lb.
Lower (2):
CX9256
$45 1 lb.
1966 Glow Bright Backup Lens:
Small trim ring –
only have 1.
CX8096
$69 10 oz.
1960-64 4-DR Rear Fender Panels
Can be cut down for 2 Dr & wagons. These are
same as C1528, C1529 (pg. 188) but these were
primed and have minor rust.
Right Side:
CX9236
$199 30 lbs.
Left Side:
CX9237
$199 30 lbs.
1960 Gas Tank
Expected Summer 2022
Thanks to your orders
More & more repros!
DWG SALE
Don't forget the Sale
Aug 30-Nov 30, 2022
for items on pgs 11-13
in the supplement
14