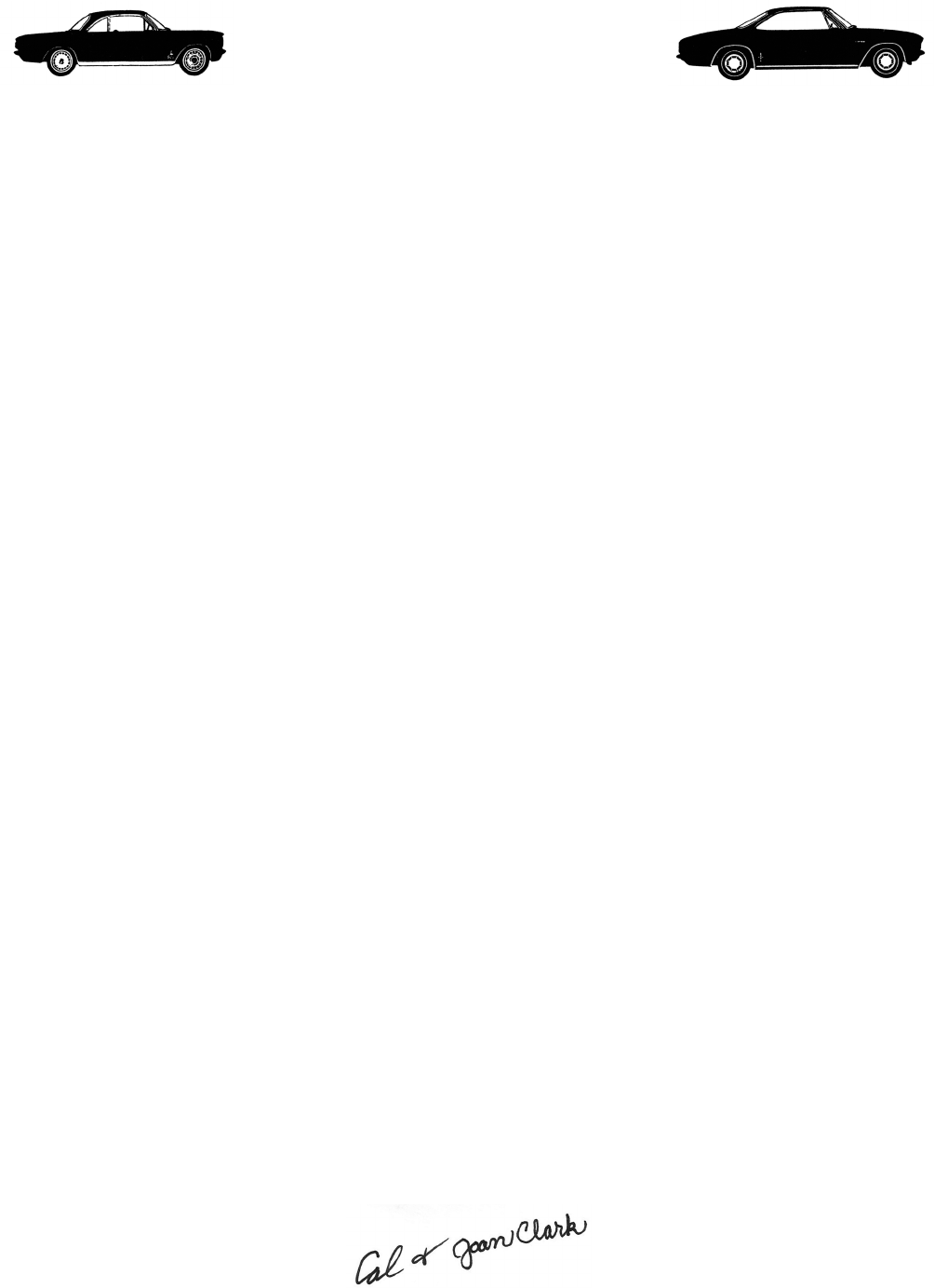 410
CLARK'S CORVAIR PARTS®
"HOW IT HAPPENED"
A 1960! Our friends had it – I hated it – but the next thing I knew Dad was getting a new 1961, 700 4-Door, 80 HP, 3 speed! By 1963, I
had my license and started to change the oil and keep it clean. My friends drove 1957 Chevy's, new Impalas, 1950 Fords, etc. You better
believe that 80 HP worked! 60 mph out of 2
nd
was common. As long as I could get in front of the others before the corners, I could lose
them. My first experience with mechanical work was after it came back from the Chevy dealer "tuned-up". I took it out Friday night and
could hardly get 45 mph out of 2
nd
! Next day, I spent $3.29 for a timing light. My "repair career'' was started.
Joan (my girlfriend at that time), myself and my parents went 12,000 miles during 6 weeks of the summer of 1965 in that car. We had it
so loaded, it had less than 3" ground clearance. At a Texas road construction zone, they had a scraper lead us for 5 miles. It finally went
108,000 miles. My father got a 1964 Monza 4 speed. I went to college and Joan got a 1963 VW convertible. We got married in 1968
and drove mostly VW's and a Porsche 911-E until August 1972 when we finished a full restoration on a 1964 Spyder Coupe that we
purchased for $50.
We were hooked! We became known as having Corvairs and people wanted to buy our personal parts. At that time, I thought there might
be a demand. (We hadn't heard about the what? Corvair Society of America?) December 1972 vacation (I taught school), I made up a
list of 150 parts and we placed an ad in several old car papers. We finished the full restoration of our 1966 Corsa Convertible in August
1974 at 2:00 a.m. and left for the National Corvair Convention that was held in Chicago that year. The Corsa ran perfectly and we had a
great time. By September 1975, Joan had to quit her full-time job so we could get some "free-time"! We just got busier! June 1976,
I gave up 7 years of teaching high school. The 110 hours per week was just too much!
In June 1977, Cathy (who had worked part-time for us) became our first full-time employee, and was quickly followed by 3 more.
In 1978, we were still working out of our 1 story ranch style house and had 12 people working full-time. It was impossible to move in our
house. All our printing was done in the living room. We had 3 shelves of parts in our bedroom and another bedroom was the carpet room!
Things were obviously out of hand so we started planning for a building.
In March 1979, we moved into our first building (that we thought would be big enough "forever"). It has 3 stories with nearly 14,000
sq. feet. By April 1979, we were starting another smaller building (2500 sq. feet). For the next two years, we started a big advertising
campaign to let more people know we had Corvair parts. Joan and I were both still working over 100 hours per week. Cathy had been
made Manager and Sharon became our Administrative Aide. The following year, we hired my Father to help with major projects and
technical questions.
After 8 years of work and organization, we were down to 50-60 hours per week! In 1983, we celebrated our 10
th
Anniversary, finished
Buildings #4, #5, and got our own new vinyl embosser. This allowed us to have complete control over our beautiful upholstery and door
panel reproduction, while we added more original vinyl and headliner colors. In 1984, we built Building #6. In 1985, Cal Sr. retired
and passed away in 2010. Mark began to take his place with production control and answering technical questions and was promoted
to General Manager in 1993. In 1988, we added new Rottier boring & honing machines and finally started getting ready for our first
computer.
The computer has proved to be fantastic – couldn't get along without it now! 1990 saw Building #7 and 1991 was our first Used Parts
Catalog. In the fall of 1991, we purchased OTTO Parts from Blake Swafford. Not only did this give us an excellent line of high performance
products, but a complete machine shop. We are using these machines to produce products that no one else wants to bother with. In late
1991, we also invested in a large variety of steel body panels. During the 90's, we continued to organize and stream-line all aspects of
our business. In 1994, we built Building #8 (15,000 sq. feet), purchased the "NOS" inventory of Cotrofeld Automotive, Inc. and produced
our first "NOS" Catalog.
In 1996, we created our first website. In 1997, we added "Clark Multi-Kits" and in 1998 celebrated our 25th Anniversary. 2003 was our
30th year – Time flies! In 2012, we built an 84KW solarfield. Then in 2018 we celebrated 45 years!
With Joan as Vice-President and myself as President of Clark's Corvair Parts® and our 24 employees, we still take this business seriously
and personally. We have grown, but we and our employees know that it was hard work, good prices, fair dealings and great service that
have helped us grow. In dealing with over 400 suppliers, we realize a good supplier is hard to find and we honestly try to do all we can to
help. We are committed to Corvairs and plan to restore and drive them forever.
Thank you for your support and we all hope to be able to supply you with great Corvair parts for years to come.
Thanks again,