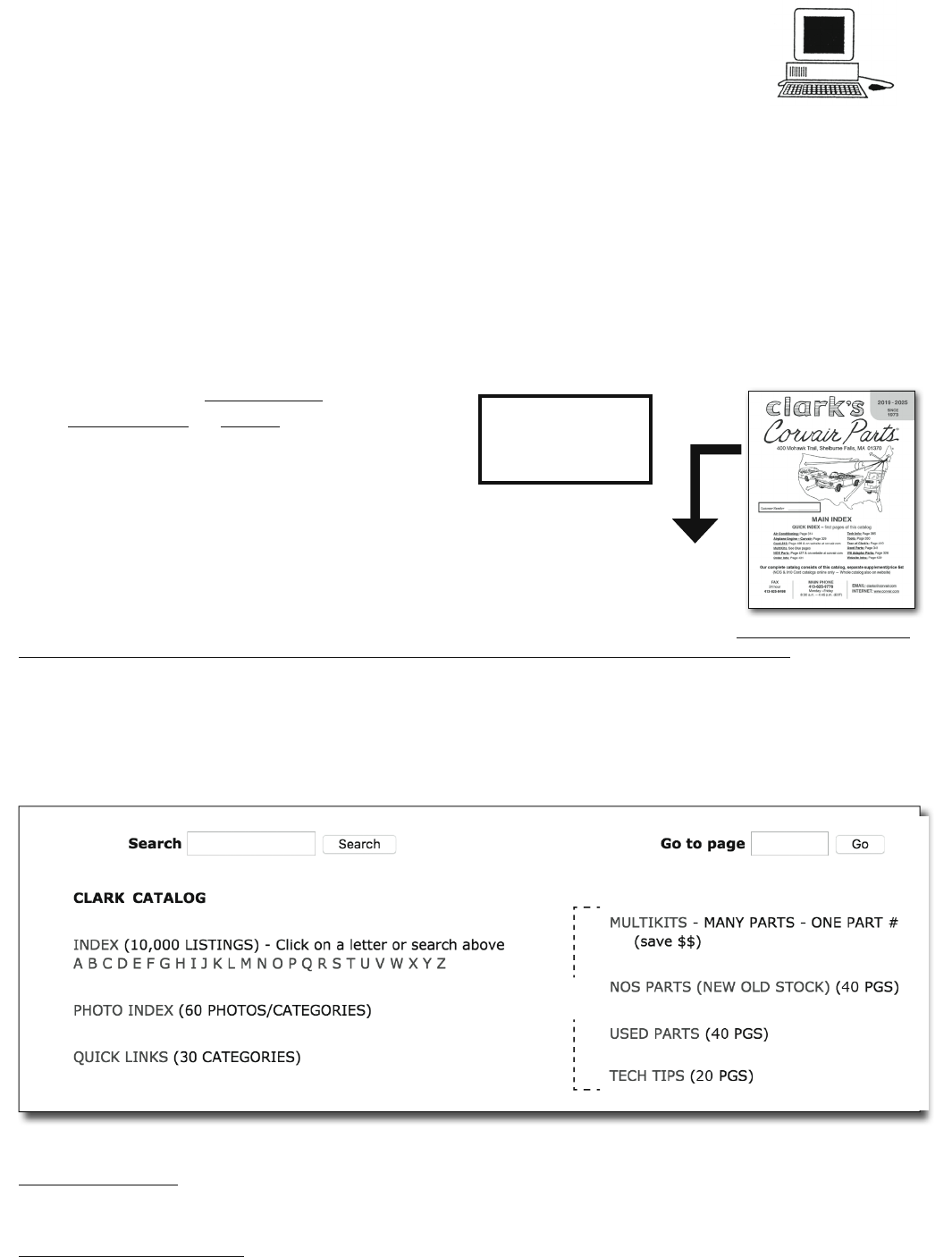 429
WWW.CORVAIR.COM
Clark's Corvair Parts,
®
Inc.
INTERNET SITE
What Can You Do??!!
You can do everything on our site without giving us any personal info. until you actually place an order. You can easily
"back out"
of anywhere.
1.
Enter a
CLARK
part number and get lots of up-to-date info.
(Prices, cross reference parts, splits out totals for engine interior and

"other"
parts, see estimated shipping, etc.)
You can even

"click"

and go to the online catalog page that has that part number.
2.
Enter a GM part number to get a
CLARK
part number (we list
OVER
4,300
"cross overs"
).
3.
Enter an order to
"Wish List" (SAVE)
.
(However, when you

return

the prices will be current prices. It will not

"hold"

old prices).
5.
Enter your order info. on the first order and
NEVER
enter it on any other orders
(except for credit card info.)
. This feature uses your email
address as your
"user name"
and you assign a password.
6.
The day we actually ship your order you will receive an email with important info. about your order (including the UPS or PO tracking number).
7.
Sign up to receive email
"Updates & News"
(No more than
6-8
times per year). You can easily
"UNSUBSCRIBE"
anytime. Be sure your
spam filter is not blocking clarks@corvair.com.
8. See
N–E–W PRODUCTS

and

UPDATES

at

"What's New"

!
9.
See 19 pages of
TECHNICAL HINTS
(adding more in the future).
10. Send various email forms to us.
11
Pay to list your
CAR FOR SALE
.
(see NEXT page)
12. Order and print a
Gift Certi
ficate
(we email you the activation code number after processing).
Browse our COMPLETE Catalog online!
Index Function Improved for 2019
INDEX
is
searchable
and
clickable
to take you to the page. There is also a

"PHOTO INDEX"

and a "QUICK LINK" INDEX

.

On each page you can

click
on any part number and it will take you to the parts info. screen where you can see current prices, etc. and order if you want.
This is a partial view of the index (online catalog).
1
Search by words or a group of words. This takes you to the index and also shows used and NOS parts catalog index results.
2
Click on the first letter of the word you are looking for and it brings up a list. It also shows the used and NOS parts catalog index results.
3
A few of the other areas you can click on to access.
4
Put in a page number if you know it.
"Rush Orders"
Always call
in your order!
M – O – R – E Internet Info.
ORDER ENTRY:
When you enter a part number we'll even let you know if you need a color code. You can

"click"

on the page number and it
will take you to the page in the on line catalog. You can access similar parts (
USED, "NOS" or PERFORMANCE

). You'll know if a part is discontinued and
you'll even know if we are out of the
"NOS"
or
USED part you want!
Our Multi-Kits are listed out so that you can see exactly what you will get in the kit.
ESTIMATED Shipping:
With all our parts and all of the FedEx methods of calculating shipping, our site can only give an

ESTIMATED
2
3