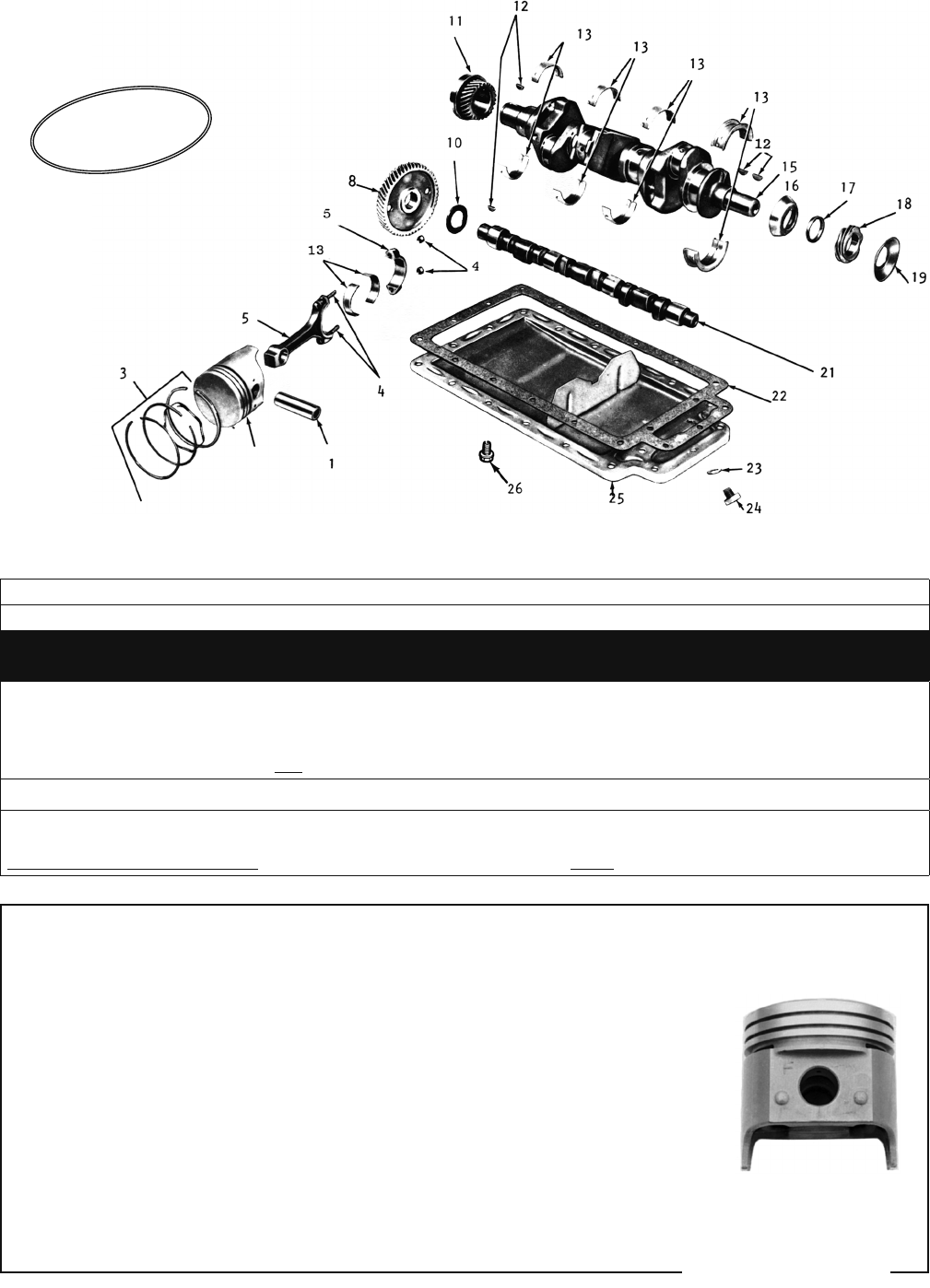 i
WARNING:
Products on this page can expose you to a chemical, which is known to the St

ate of California to cause cancer or reproductive harm. **For more information go to www.P65Warnings.ca.gov**
21
1. WRIST PINS: No longer available. All new pistons come with new standard wrist pins.
2. PISTONS – Cylinder Kits: See pages 23C – 23D.
GM
check "NOS" on website.
(seldom have)
– ON WEBSITE ONLY –
SERVICES:
We have the equipment and knowledge to correctly per
form these
services
for you, either on par
ts being purchased at the time or you may ship us
your
pa
rts
.
Get it done RIGHT THE FIRST TIME!
0CTANE CUT PIST0NS:
Reduce compression and eliminate ping.
Done as a SET OF 6 ONLY: C

8639

.
Forget about damaging engine knock with these special OCTANE CUT PISTONS designed to help reduce the pinging caused by today's low octane fuels. The special cut on
these pistons usually allows you to run on any unleaded fuel. You will actually be increasing your engine's performance as well as protecting it from harmful pinging that can
destroy your freshly rebuilt motor.
You must also order or send us 6 pistons. This can
ONLY
be done to
HI-TECH & FORGED PISTONS
.
Done as a SET OF 6

ONLY:
C

8639
BALANCE PIST0NS:
Pistons are balanced to a 1 gram spread. Done as a SET OF 6

ONLY:

C

8635
PRESS PIST0NS 0FF & 0N R0DS:
A critical job requiring correct tools. Info: Page

23
Don't risk ruining new pistons. Priced per unit.
You must order pistons and connecting rods or send us yours.
When buying PISTONS and CONNECTING RODS: ORDER 1-5 –
C

8828
ORDER C8828
R
for SET of 6
PICTURE #
"LOWER END"
ENGINE DISCOUNT !
see Blue pg. MK-2
LOWER END:
1960-69 ALL –

ANY DIFFERENCES ARE NOTED.

See pages 21–27A

.
PISTONS: Pages 22–23A / CYLINDERS

: Pages 23B–23D / RINGS: Page 24
New "FULL FIN" Cylinder Barrels • See Page 23B
DON'T rebuild that engine with 50-60 year old pistons!
WHY REPLACE THOSE PISTONS?
1. This will probably be the last time you ever rebuild that engine so use all the best parts.
2. CLARK pistons have been upgraded to the latest materials and manufacturing methods.
Wrist pin fit is
PERFECT
– size & weight are matched exactly and there are no sharp edges/rough casting.
3. Old pistons can fatigue and crack
(usually NOT even visible)
if the piston top comes off just one old piston
it makes a major, expensive mess!
4.
OIL RETENTION GROOVES:

These grooves on the sides of quality pistons help to keep a film of oil
between the piston and cylinder wall. Especially important when starting. Old pistons are often worn,
scuffed and scratched. The oil grooves
can't
possibly do their job.
5.
PISTON RING LANDING WEAR:
This can prevent the rings from moving and sealing correctly.
Do it right!
Upgrade your pistons to current materials and technology.
CLARK pistons!
2