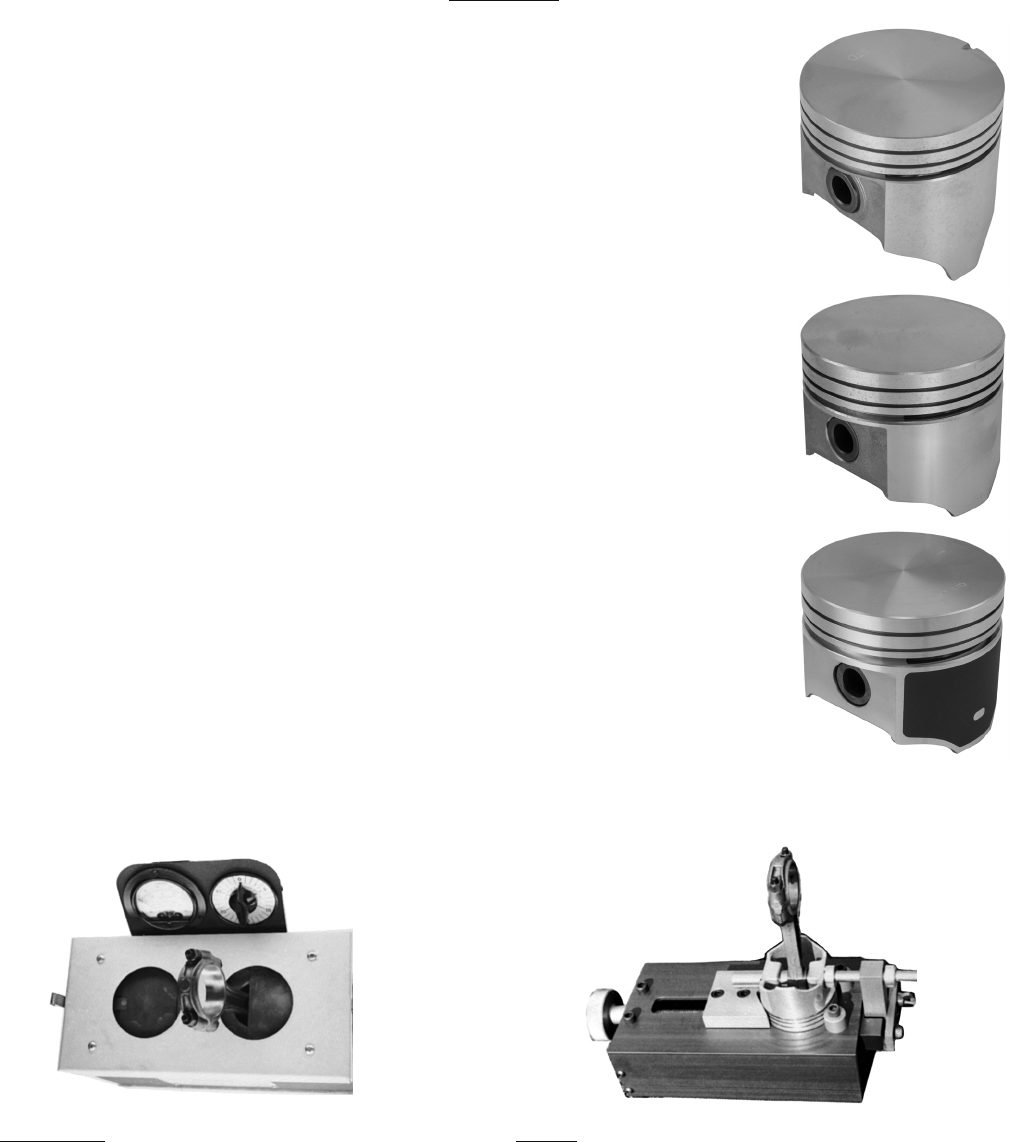 i
WARNING:
Products on this page can expose you to a chemical, which is known to the St

ate of California to cause cancer or reproductive harm. **For more information go to www.P65Warnings.ca.gov**
23
Clark's IMPROVED PISTONS
Our Premium Cast, Hi-Tech & Forged
PISTONS
are made by an original equipment manufacturer who supplies automotive and motorcycle manufacturers. Their factory is
QS9000
&
ISO9001

certified which means they have passed the worldwide quality standards required to sell directly to GM, FORD, and CHRYSLER, as well as other engine
manufacturers. Each batch of alloy is independently tested before casting and then hardened to specs under computer control. The
new
tooling was specifically made for our
pistons and specific machining cams were produced to accurately machine the profile and taper of the piston. All
CLARK
pistons are sorted and graded by size
(+/- .0004")
and weight
(+/-1.5 grams or better!)
so you are assured of perfectly matched pistons no matter which ones you purchase. Even a casual look at our pistons will reveal the
extreme quality of the tooling used. Insist on
"CLARK" PISTONS
. We have cast the letters
"GN"
inside the piston for your assurance.
PACKAGING
CLARK
pistons receive exceptional handling. At the factory, right af

ter sorting, they are individually put
in plastic and packed in special 6 divider boxes. These pistons are treated like the jewels they are!
You ALWAYS get the BEST when you order our CLARK improved pistons.
CLARK PREMIUM CAST PISTONS
PREMIUM CAST PISTONS available for 1961-63 & 64
-69
(exc. SMOG)
These are vastly superior to the cast pistons that have been available. The material and workmanship make these almost too beautiful
to put in an engine! Large custom production runs allow us to offer a
SUPERIOR
piston at a lower price.
ALL
surfaces are more accurately
machined, wrist pin holes are bored and honed for smooth operation under all temperatures and conditions. Ring grooves are precision
machined,
NO SHARP edges or variances.

(Pistons are even tin plated .... just like the originals!)

Until you see a regular cast piston next to
one of these
PREMIUM CAST
, you can't imagine the amount of difference. Standard size
PREMIUM CAST
pistons
can be mixed with GM pistons.
We have compared to the competition and there is
NO COMPARISON
!
CLARK HI-TECH PERFORMANCE PISTONS
HI-TECH PERFORMANCE PISTONS available for 64-69
(exc. SMOG)
Many import Turbo & high performance engines DO NOT use "FORGED" pistons. They use this special type of HI-TECH PISTON. These are
designed to approach "FORGED" piston standards by using a high silicon aluminum alloy that is then heat treated.
SUGGESTED
for ALL
Turbo, 140 & high performance engines or a
"BULLET PROOF"
street engine.
•
Special J.I.S. "HIGH SILICON ALLOY"
•
Profiled and finished using diamond tooling
•
Hardened to T-6 specs
•
Sorted in SETS matched by size and weight
•
Custom fitted wrist pins
•
Engineered to meet or exceed conventional forged pistons
•
Shortened skirt . . . precision machining of the profile and taper allows pistons to be more stable in the bore even
though they are slightly shorter
(stability leads to better ring sealing and LESS WEAR).
CLARK FORGED PISTONS
Clark Forged pistons give you excellent forged pistons. We wanted to produce a superior street/performance quality forged piston and
started with new precision tooling to produce the high strength aluminum forging. The forging & controlled machining produces a piston
with a perfect fit with diamond skirt machining for superior oil retention/anti-scuffing and critical identical weights. The skir
ts are also
coated with moly-graphite to also help reduce wear. These will give you a super strong per
formance engine.
INSTALL YOUR PISTONS CORRECTLY!
It is very important that your new pistons be installed correctly.
DO NOT
support the piston and cold press the pin through the rod.
This can distort the piston and creates ridges on the wrist pin that make the pin rotate hard and wear the pin bore. The rods
MUST BE
heated to just the right temperature and
the pin will then just press right through! This will give you a
PISTON/WRIST PIN/CONNECTING ROD SET
that seem to float in each other and ensures everything will move
smoothly from the first turn of the engine. If you
DO NOT
have CLARK'S install your rods, be sure the Shop
DOES
use a rod furnace!
DO NOT
let them tell you it's not necessary!
We used to cold press and we have seen the dif
ference!
ORDER 6 PISTONS CORRECTLY INSTALLED!
If you order your pistons and reconditioned rods from us, you'll be ready to go as soon as your order arrives.
ORDER C8828R
(PRESS ON SERVICE for

Set of 6

. Must also

buy 6 rods and 6 pistons

)
PISTON FURNACE
heats each rod to correct temperature. Heats 2 at a time.
THIS TOOL exactly locates the

PISTON, PIN & ROD

. The rod is heated, put into the
position shown and thumb pressure pushes the pin into the correct location.