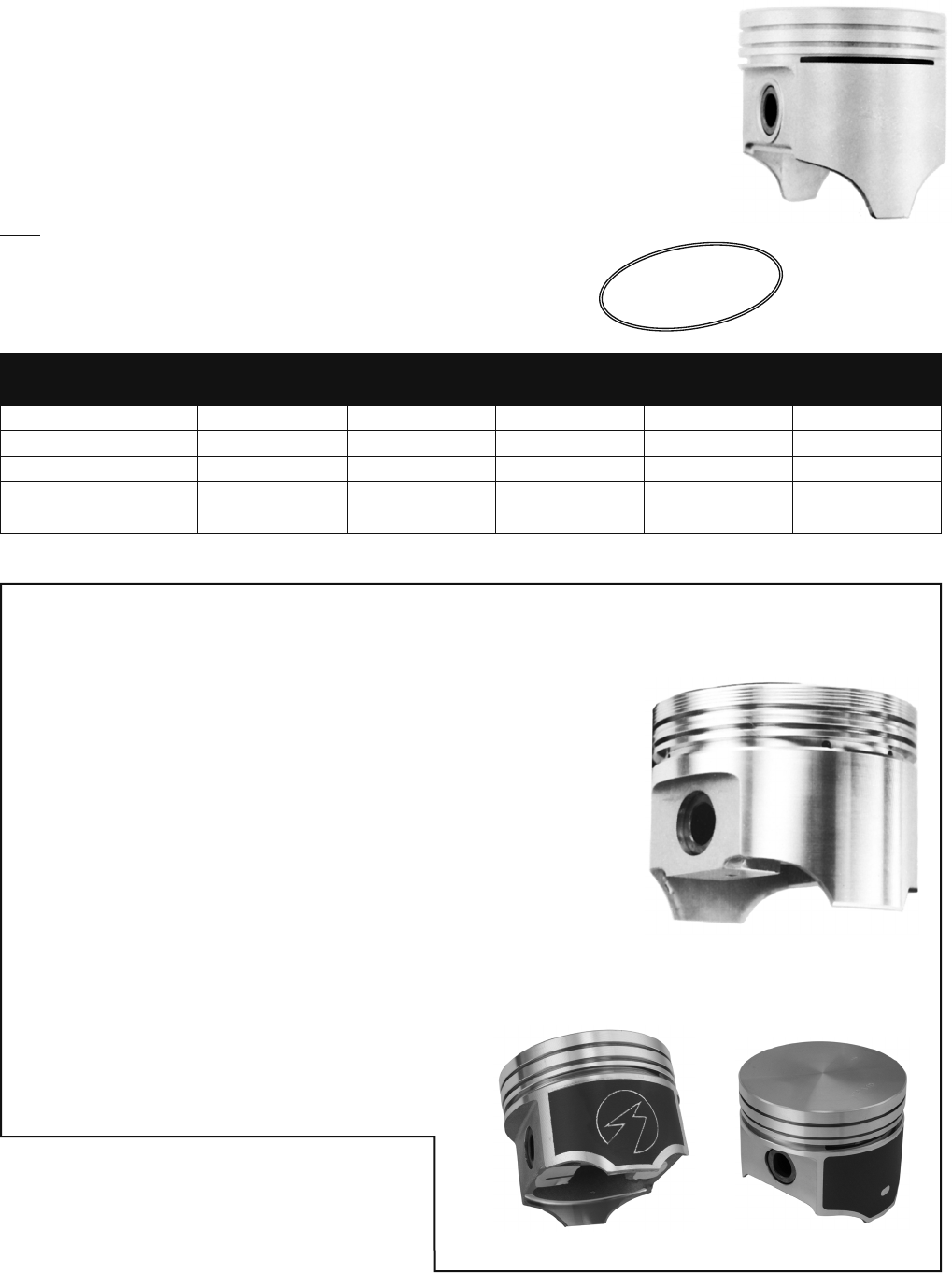 i
WARNING:
Products on this page can expose you to a chemical, which is known to the St

ate of California to cause cancer or reproductive harm. **For more information go to www.P65Warnings.ca.gov**
22
PISTONS – NON-GM
CLARKS offers
4 CHOICES
of pistons, all with new wrist pins.
For more information
read below and on pages 21 & 23. If you order an
oversize piston you must use oversized
RINGS (pg. 24)
and
CYLINDERS (pgs. 23B–23C)

. All CLARK pistons take regular Corvair rings –
not all pistons on the market do.
PREMIUM CAST:
BETTER
than the cast pistons that originally came in all Corvairs.
HI-TECH:
High performance pistons cast with higher silicon alloys and precision machined, approaching the standards of forged
pistons using today's casting technology.
F0RGED:
The highest performance pistons, aluminum is denser than cast due to being forged (pressure stamped to shape).
CLARK FORGED:

Precision forged & machined
Sealed Power®

Forged:

New generation of old TRW forged.
NOTES:
1 –

ALL PISTONS

in an engine

SHOULD BE THE SAME.
2 – 1960: Check "NOS" on website
OR
switch to 1961-63 cylinders & pistons which will fit a 1960 engine.
CYLINDER/PISTON/RING SETS: See page 23C
PISTONS
Part Numbers for JUST PISTONS – Sold each with wrist pin
ALL 1 Lb.
STANDARD

+20

+30

+40

+60
1961-63 PREMIUM CAST
C1435-STD

C1435+20

C1435+30

C1435+40

C1435+60
1964-69 PREMIUM CAST
C6050

C6051+20

C6052+30

C6053+40

C6054+60
1964-69 HI-TECH
C1436H-STD

C1436H+20

C1436H+30

C1436H+40

C1436H+60
1964-69 Clark FORGED
C3901-STD

C3901+20

C3901+30

C3901+40

C3901+

60
1964-69 Sealed Power®
FORGED

C1436-STD

C1436+20

C1436+30

C1436+40

C1436+60
PREMIUM CAST
are guaranteed for
1 year
HI-TECH
are guaranteed for
2 years
SEALED POWER
® FORGED

are guaranteed for

90 days
CLARK FORGED
are guaranteed for
2 years
This guarantee, to the original purchaser, covers defects in workmanship and material when correctly installed, not abused and not used for racing applications.
Total guarantee will be replacement or refund of the original cost of the piston
(your choice) upon our inspection of pistons.
You may also have other rights, which vary from state to state.
ENGINE DISCOUNT !
see Blue pg. MK-2
Which PISTONS should I buy?
– PISTON SUMMARY –
See page 23 for more info
PREMIUM CAST:
These are a current technology upgrade of the original pistons.
PREMIUM CAST
have a
1 year guarantee
(see bottom of this page). They are so exact
that the standard size can be mixed with original pistons. They are a good economical
choice for all Corvair engines. However, we do suggest you upgrade for the following
engines/situations to the
HI-TECH OR FORGED

pistons:
A. ALL 140 & TURBO
(that will be "RUN HARD")
B. Engines used in
"severe service
" – towing, motor home, desert use or "RUN HARD".
HI-TECH:
These are a true HI-PERFORMANCE PISTON

(heavy duty)

.

Someone with
a 95–11OHP can certainly use them for complete "peace of mind" but they are mainly
suggested for Turbo, 140 and other high performance applications. They have been
engineered and manufactured to approach the standards of forged pistons using today's
advanced casting technology.
HI-TECH
pistons have a
2 year guarantee
(see bottom of
F0RGED:
Superior strength & stability for demanding owners. What makes forged pistons the best you can buy? Forging makes
the aluminum denser so it is much stronger and can withstand higher heat levels. The denser aluminum also allows for more accurate
machining and more identical weights between pistons. We offer
both Sealed Power forged pistons (when available) and Clark Forged
pistons. Both forged pistons have a moly-graphite coating on the
skirts for a decrease in scuffing and wear-especially on start up.
See page 23 for more on Clark Forged pistons.
Clark Hi-Tech
CLARK PREMIUM CAST
Sealed Power Forged
Clark Forged