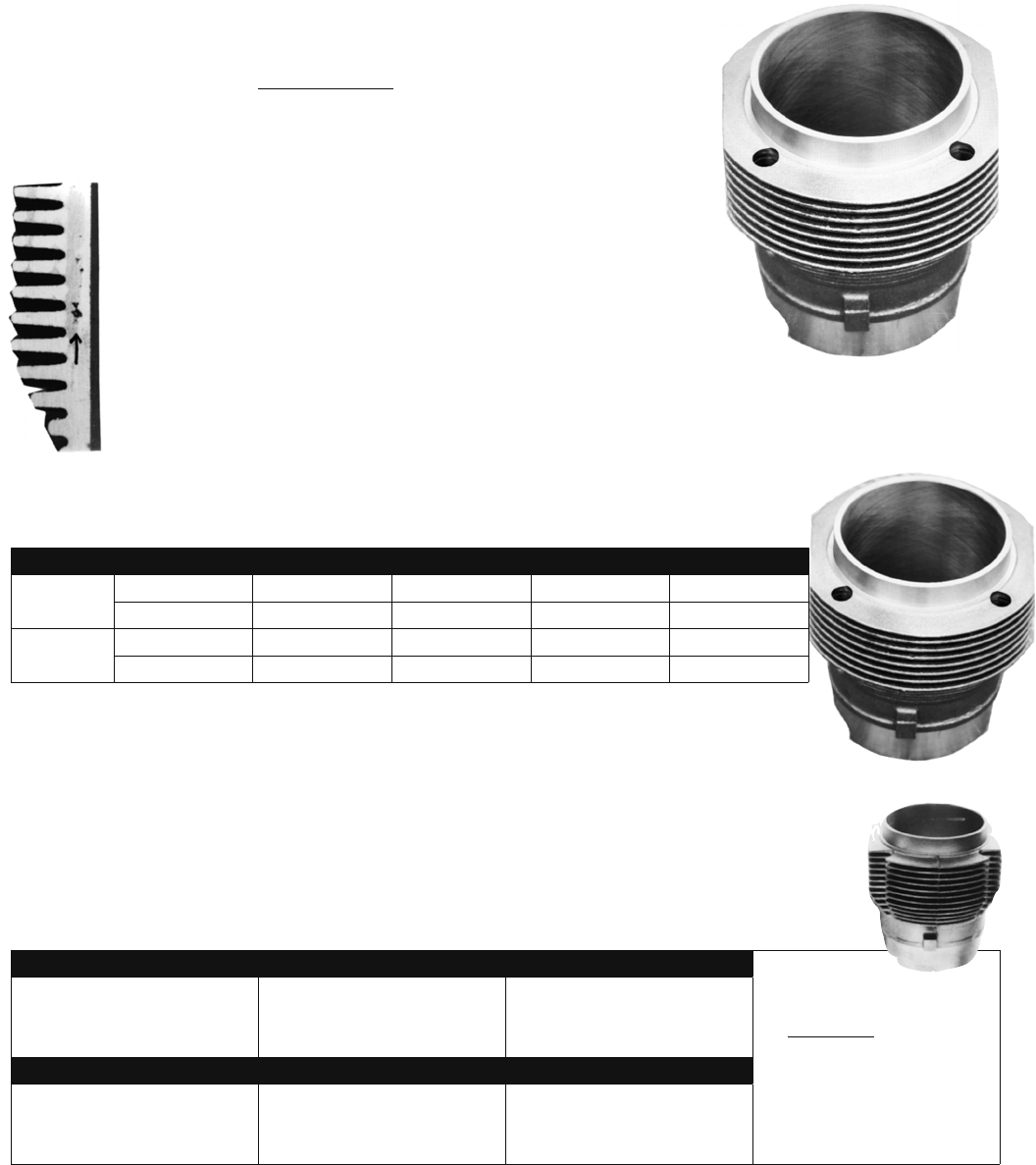 i
WARNING:
Products on this page can expose you to a chemical, which is known to the St

ate of California to cause cancer or reproductive harm. **For more information go to www.P65Warnings.ca.gov**
23B
1. CLARK CYLINDER BARRELS – NEW "FULL FIN"
All 6 lbs. each
STANDARD

+20

+30

+40

+60
220
- - - - - -
220
C11624A
220
C11625A
220
C11626A
220
C11627A
280
C11623
280
C11624
280
C11625
280
C11626
280
C11627
1965-69
220
- - - - - -
220
C11629A
220
C11630A
220
C11631A
220
C11632A
280
C11628
280
C11629
280
C11630
280
C11631
280
C11632
220 FINISH is usually suggested for Cast Iron & Chrome Rings.
+30 or larger need big bore head gaskets.
280 FINISH is usually suggested for Moly, but is OK for Cast & Chrome.
See Pg 23C for Cylinder / Piston / Ring Kits with "Full Fin" Cylinder Barrels.
There is
NO CORE
for these items.
2. BORED CYLINDERS – "PREMIUM"
Precision bored and honed cylinders IN STOCK.
We use only cylinders with
perfect fins
and gasket areas. All cylinders are inspected, cleaned, blast-
ed, bored, honed, oiled, sealed in plastic bags and individually boxed. (We do allow cylinders missing less than 1/4 sq. inch of fins). Your exchange set
can be sent in after you have pulled your engine down
(or before if you want)
. Don't trust your cylinders to a
"should be able to"
Machine Shop. These
are done on machines specifically equipped for this purpose. See page 23A for photos of our equipment. We offer cylinders with
220 and 280
finish.
The
220 finish
is suggested for CAST IRON and CHROME RINGS. The
280 finish
is suggested for MOLY RINGS.
(See page 24)
.
All prices INCLUDE A
REFUNDABLE CORE FOR EACH CYLINDER.
1961-63 CYLINDERS 220 FINISH
1964 CYLINDERS 220 FINISH
1965-69 CYLINDERS 220 FINISH
NOTE!
+30 and larger need big
bore head gaskets (stock
can hang over)
1961-63 CYLINDERS 280 FINISH
1964 CYLINDERS 280 FINISH
1965-69 CYLINDERS 280 FINISH
DEPOSIT ON CYLINDERS:
You
DO NOT

get

YOUR

cylinders back. There is a

CORE DEPOSIT INCLUDED in the price of each cylinder.

The CORE VALUE is listed in
the PRICE LIST after the part #. Full CORE VALUE per cylinder will be refunded when we receive (prepaid) identical, unbored, per
fect gasket surface cylinders with no broken fins
(will accept 1 fin broken to the size of a pea). You can also ship cylinders first with your order and subtract the CORE FEE.
PACKING:
Cylinders are shipped in individual boxes. Please return cores in these boxes. If you can't, then wrap cardboard around each cylinder. If you stack cylinders,
separate by cardboard.
GM Porosity
Actual Photo of Our Cylinder
CLARK CYLINDER BARRELS – NEW "FULL FIN"
We contracted with a company that has made replacement
VW & Porsche
cylinders for years. They are producing new
"FULL
FIN" CYLINDERS
for us that are fashioned after the

1960
"FULL FIN" Corvair cylinders

(VW & Porsche cylinders also used
It is felt that the
1960

style cylinders had
SEVERAL ADVANTAGES
:
A. The top fins going completely around the top of the cylinder help to reinforce and provide a more stable cylinder
during operation. With
less
distortion (especially on larger bores) the cylinders will stay truer and create
less
piston
B.
The additional fins may add slightly more cooling.
Clark Modification:
We are making the cylinder walls about .030

" thicker

for even greater strength.
This means that if the cylinder is bored .
060
, it will end up at the original wall thickness. While cutting GM
cylinders in half we found they varied by up to .
050
from side to side. It appears GM had trouble keeping
the fin tooling centered on the bore. Our supplier is doing much better! Our castings are also very dense
and consistent (see "GM Porosity" in photo at left).
STOCK SIZE:
These cylinders will be available in stock size for customers that want to go back to
stock (STD) size pistons for
1961
-
64
and
65
-
69
's. All cylinders will be 280
finish. All cylinders will have
the clearance notch so
61
-
64
cylinders will all be "
64

style".
See below to order.
OVERSIZES:
We will also offer these new cylinders in +

20

, +

30

, +

40

, +

60

. See below.
CORE?
There will be NO CORE FEE, but we pay for good used cylinder cores delivered to us.
We include a note with the new cylinders to tell you what we are currently paying for good used cylinders.
In Cylinder/Piston Ring SETS?
YES! (See page 23C for ordering)
CHECK WITH US FIRST –
Please!
If you think something is wrong with a part, call or write before you send it back
or modify it
. 90% of the time
customers think something is wrong –
it isn't
.
Please check with us first. If you modify a part – it's yours!
[