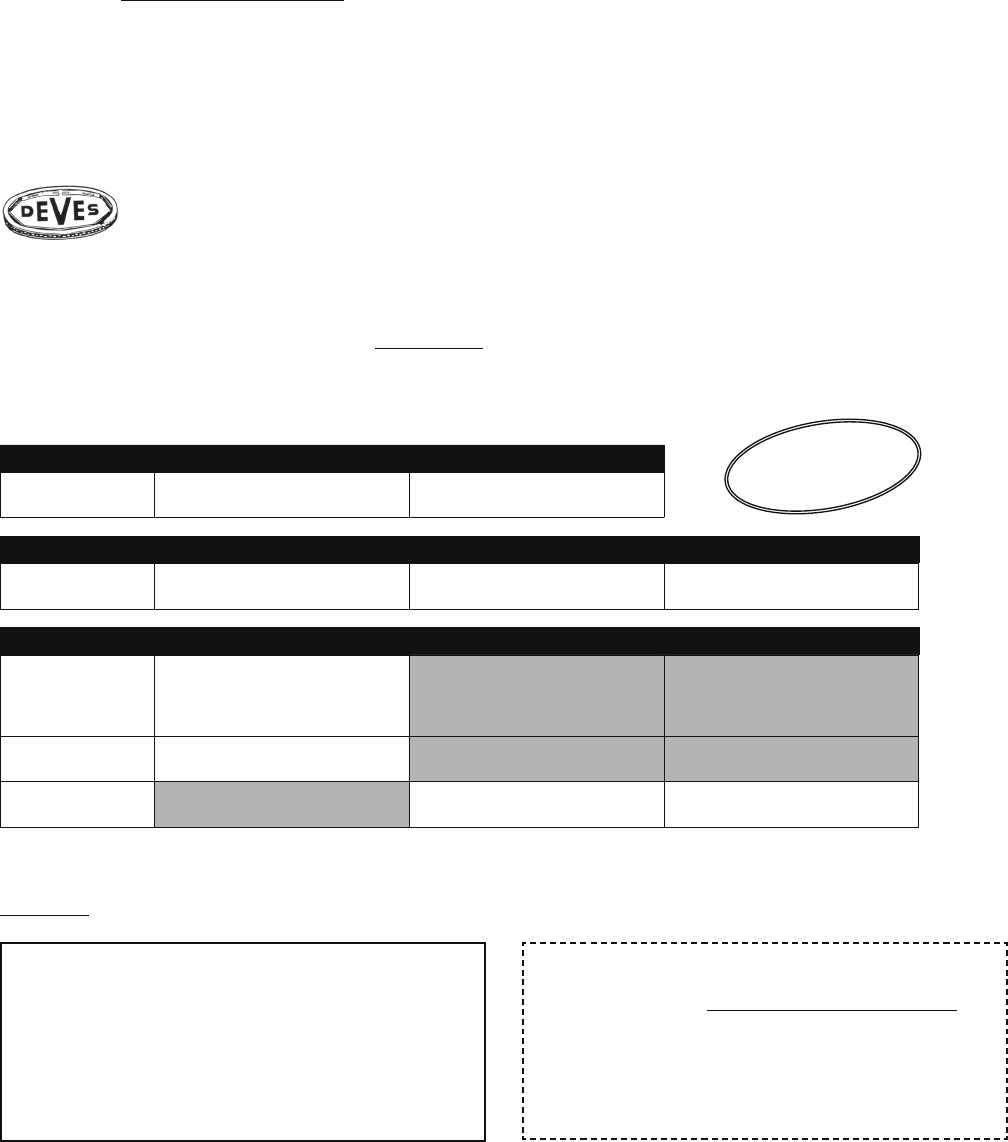 i
WARNING:
Products on this page can expose you to a chemical, which is known to the St

ate of California to cause cancer or reproductive harm. **For more information go to www.P65Warnings.ca.gov**
24
PISTON RINGS – General Information
This should help you to understand and decide what type and size piston ring is best for you.
Also see page 1
to be sure you are ordering for the right year engine (as they get
switched). If you still have questions, please ask for our technical help.
CYLINDER PREPARATION
STANDARD:
If you have a used cylinder at stock size,
it must be well honed
(cross-hatch pattern) and after honing
not be more than .004–.006 oversize
. If it is not more than
this you can stay with
standard size
pistons and rings. If worn more or badly tapered you will have to get different cylinders or bore to an oversize.
NOTE:
Cylinder wear and hon-
ing in a Corvair is critical. Don't guess – get it measured. Our honing machine also trues the bore.
See pages 22 and 23.
BORED OVERSIZE:
+.020, +.030, +.040, +.060. The cylinder must be bored to the exact oversize and honed. You will also have to have a corresponding oversize piston and
oversize rings to match. You
cannot
put oversize rings on a standard piston. +.030 and larger requires big bore head gaskets.
FINAL CLEANING
:
Honed or bored cylinders need to be
thoroughly
cleaned (even double cleaned!) to remove any very fine honing grit before installing pistons and rings.
INDIVIDUAL RINGS:
This is only for Hastings (64-69 MOLY).
HASTINGS: Sold as a set for 1 piston. Be sure to add (STD, +20, +30, +40, +60) to end of par
t number.
C1437X
4 oz./set (example: C1437X-STD or C1437X+20)
If you need other individual rings or partial set, talk to a Tech person.
RING MATERIAL
CAST IRON:
Quick wear-in and good average life. Fine for all engines under normal use (not suggested for 140 or Turbo).
CHROME:
Longer life than cast iron. Break in faster than Moly.
MOLY:
Original in 140 and Turbo. Takes longer to wear-in (several thousand miles). Gives longer life, heat resistant and better ring movement for higher revving.
Special Cast Iron Alloy
compression rings & oil control rings made from Swedish Steel. The special alloy has no coating to wear off and gives high heat
transfer, higher flexibility and quick break-in with long wear results. They claim these are strong enough for Turbo engines.
3.
Piston Rings – Ordering:
All sold as a set for 6 pistons. All 1 lb./set.
We are pleased to offer you a choice of top quality piston rings at up to 40% off list and in stock.
Please check page 1 to be sure of your engine.
TOOLS:
Ring expander & compressor –

see page 335

.

ON WEBSITE

– Click on any part # and the various sizes will display below.
Notes:
1. If available standard only you do not have to add STD (standard only) to end of part number.
2. All other part numbers
ADD SIZE
(STD, +20, +30, +40, +60) to the end of the par
t number. (example: C8202-STD or C8202+20)
3. Be sure of the year of your engine.
See page 1 to verlfy this information.
1960 RINGS
CAST IRON

CHROME RINGS
Hastings
C7487
(STD – don't add to part #)
C7487+20
C7490
(STD – don't add to part #)
C7490+20
1961–63 RINGS
CAST IRON

CHROME RINGS

MOLY RINGS
(STD, +20, +30, +40, +60)
C7491
(STD, +20, +30, +40, +60)
C8202
(STD, +20, +30, +40, +60)
1964–69 RINGS
CAST IRON

CHROME RINGS

MOLY RINGS
Deves
Don't add size to part #
Special Cast Alloy
(STD, +20, +30, +40, +60)
(STD, +20, +30, +40, +60)
C1437
(STD, +20, +30, +40, +60)
Clark's Prices include any core fee; the core is then refunded to you when we receive your good core (you pay shipping).
CORES! CORES II CORES!!! – PLEASE, PLEASE Return Those Cores Even If You Got Them Years Ago!
ON WEBSITE
– Click on any part # and the various sizes will display below.
ENGINE DISCOUNT !
see Blue pg. MK-2
PREFERRED CREDIT CARDS
Visa
and
Mastercard
are our "preferred" credit cards.
We also take Discover and American Express.
You Only Pay ACTUAL Shipping Costs!
No matter how your order is placed,
we make ZERO PROFIT off
"handling", "packing" or "shipping"