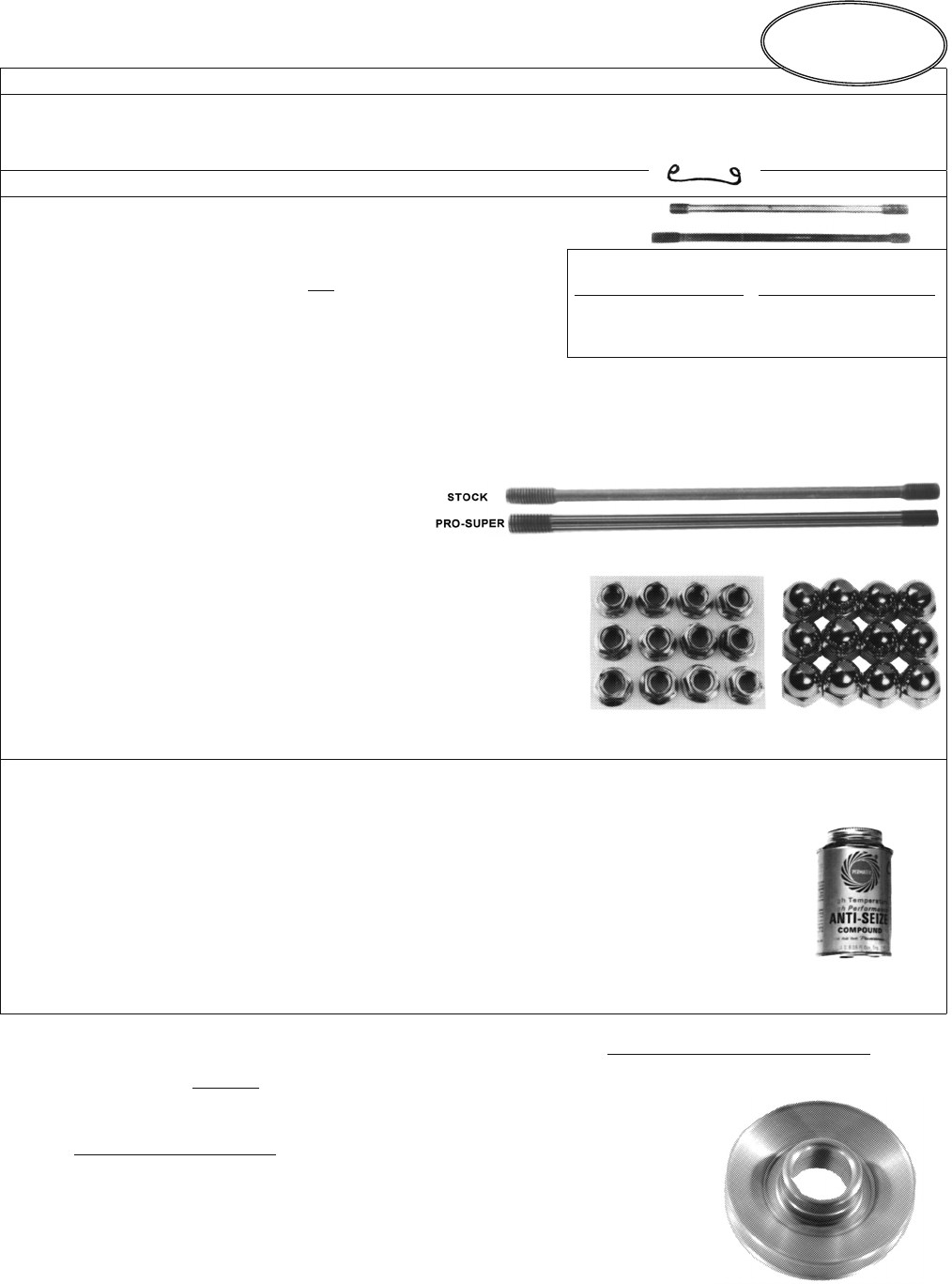 i
WARNING:
Products on this page can expose you to a chemical, which is known to the St

ate of California to cause cancer or reproductive harm. **For more information go to www.P65Warnings.ca.gov**
OUR REPRO STUDS:
All sold each. 4 oz. each.
Lower To Rocker Arm (shorter)
Upper To Cylinder Head (longer)
Standard STUD
C8247
Standard STUD
C5260
(.003) STUD
C6812
(.003) STUD
C4293
(.006) STUD
C6813
(.006) STUD
C4294
13
ENGINE BLOCK
(refer to picture, page 9)
66
. PUSH TUBE SEALS: See page 4
67
. OIL PICK-UP UNIT & SCREEN:

1960

-69

ALL

C

646

Discontinued
ALUMINUM PAN PICK-UPS:
See page

30
BOLT – OIL SCREEN CLAMP:

1961

-

69

C

6433

1 oz.
BOLT – OIL SCREEN CLAMP TO BLOCK:
C

6434
1 oz.
68. WIRE SPRING CLIP – AIR DEFLECTORS: Holds air deflector on; 4 needed.
1960-69
C498
each 2 oz.
69
.

STUDS – "HEAD" OR "BLOCK"
Uppers are usually rusted. When factory "standard" – studs were installed in a block they
expanded the hole. When they are then removed, you usually need to go to a
.

003
to
take up
the slack. If the stud has removed some aluminum material go directly to a
.

006
. Neither require
tapping first. If the stud has actually pulled out, you

must

use a thread insert. Buy our kit and save
the
bother of transporting engine to a machine shop. With a repair thread you may use a standard
stud and locktite.
See page

173

-

174

for much more info on studs and stud sizes.
We now offer standard studs but in most cases you need at least a .

003

.
BLIND ENDED NUT: For installing and torquing engine studs (double nutting can damage threads). C

2001

2 oz.
Installation tool kit to help install studs –
See page

333

.
PRO-SUPER DUTY HEAD STUDS:
These studs (

8700

heat treated steel) are 7/16

" where they go into the block and taper to 3/8" giving
considerably more strength. The larger size at the block allows you to tap (use std GH3 tap) and directly install these studs without using an insert (even if a stock stud
has "pulled out"). The larger block diameter also makes it less likely a stud will ever "pull out" again. You can see the difference compared to an original stud. These are
suggested with ALL roller rockers and great insurance for a "stock" engine.
UPPER
SUPER DUT

Y STUD

C

10938

4 oz. ea.
LOWER
SUPER DUTY STUD

C

10939

4 oz. ea.
THREAD INSERTS/REPAIR: See Page 174
HEADNUTS – ORIGINAL STYLE:
Used ONLY on
Upper Head Studs
These have the original style built-in "collar", (just a flat washer under a regular nut is not suggested).
Our head nuts are heat treated & have been tested to over
55
ft/lb., however, they should not be
reused after the engine is run & the nuts removed. Head nuts and rocker studs should only be torqued
32-

34

ft/lb. For all Corvairs.

12

needed to do two (2) heads.
HEADNUTS – PLATED:
Set of

12

C

1089

6 oz./set
CHROME
ACORN NUTS:

Install after the headnuts to keep the ends of the studs from
rusting (for upper studs).
Set
of
12
C

3413

6

oz./set
70
. BLOCK – BARE: No head studs included.

1960

-69

ALL

Discontinued
ANTISEIZE:
A

MUST

for bolts or studs going into aluminum. Also good for steel into steel; keeps threads from rusting.
½ lb. can with brush
C

3137
8 oz.
HIGH TACK GASKET ADHESIVE: This

Permatex

product helps hold gaskets in accurate position until you have parts tightened.
Dries to a ver
y fast tacky film.
C

7177

8 oz. *CAN'T SHIP BY AIR.
PERMATEX #2 – I Love this stuff!
Since 2006, I've used form-a-gasket #2

non-hardening sealer

on water and
air-cooled engines with exceptional results. It is the only material I'll use on gaskets, slip fit connections, threaded connections, etc. I also
use it on the keyway of harmonic balancers so that oil cannot leak out, threaded studs that could leak water or oil. Yes, it is "old fashioned"
– it has been in use since at least the
50
's (maybe longer). Will move with the installed gasket and stays soft & sticky. Try it – I think
you'll
love it too. 3 oz. tube goes a long way.
ENGINE DISCOUNT !
see Blue pg. MK-2
PICTURE #
TORQUE ONLY
32
-
34
Ft. Lbs.
"Stock" ALUMINUM Idler Pulley:
All Corvairs
These machined pulleys look stock, have LESS mass than the stock and are perfectly balanced. The aluminum is
clear anodized. Pulley should be heated to
400

degrees to install bearing.
Pulley With New Bearing Installed:
Simply press into your idler bracket
C

11556
1 lb.
Complete Idler Unit:
Aluminum Pulley & New Bearing installed in cleaned
idler bracket. Your old unit has a REFUNDABLE CORE VALUE (see price list.)
C

11557
2

lbs.
1961-63 High Performance ENGINES – 98/102HP & Turbo
We now have
PREMIUM CAST PISTONS
that are
BETTER
than the GM original pistons.
Rebuilt Smog Idler Pulley & Bracket:
We clean, blast, paint and install a new bearing.

PRICE INCLUDES A REFUNDABLE CORE VALUE.
Bearing Only
C5445
10 oz.