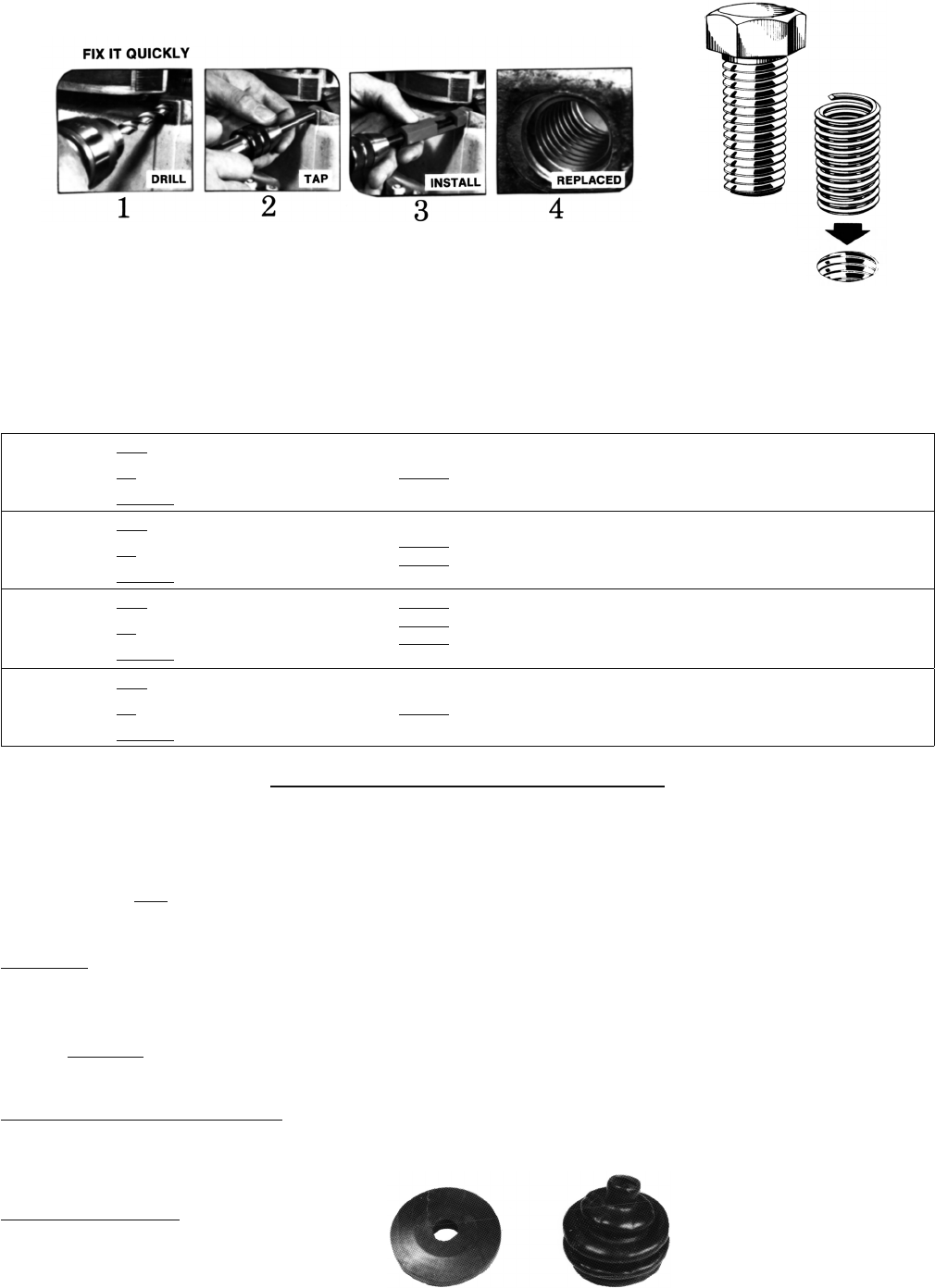 i
WARNING:
Products on this page can expose you to a chemical, which is known to the St

ate of California to cause cancer or reproductive harm. **For more information go to www.P65Warnings.ca.gov**
174
HELICALLY COILED INSERTS
STAINLESS STEEL Helical Thread Inserts:
Replace threads yourself when and where you need them at a fraction
of the cost and trouble of a Machine Shop.
YOU NEED:
1 – Drills

3 – Special Installer
2 –
Our Special Taps
4 –
Insert
LOCK-NUT:
Blue Loctite heIps lock inserts into place. Suggested!

.02 oz.

C5303

1/2 oz.
MOST COMMON BOLT DIAMETER SIZES – 1/4", 5/16", 3/8"
1/4"
COARSE
INSERTS: 0il pan bolts, vaIve cover bolts, some shroud bolts.
C3215
1 oz.TAP
C3213
6 oz.
5/16"
COARSE
INSERTS: Carb. studs in head.
C3218
1 oz.
INSERTS: Rear housing (pulley end) bolts into block.
C3219
1 oz.
3/8"
COARSE
DRILL
C3440
2 oz.
INSERTS: Manifold studs, temp. head sender (61-69 exc. Turbo & 140).
C3222
1 oz.
INSERTS: Manifold studs in head, rear engine studs.
C3223
1 oz.
INSERTS: Engine head stud into block – upper & lower and starter bolt holes in bell housing.
3/8"
FINE
INSERTS: 140 & Turbo head temperature switch & thermister.
C5611
1 oz.TAP
C5609
6 oz.
HEAD (Crankcase) STUDS
DO NOT REMOVE UPPER OR LOWER STUDS UNLESS IT IS NECESSARY.
It is not considered advisable to remove and replace all studs just so they are new. We normally
will not disturb a stud unless it
"comes out by itself"
or the threads are so bad that it must be removed. We also
cannot
tell you for sure which size stud to get. If a
"stock"
one just
"backs out"
then a new standard might work fine or you might need to go to a
.003 OR .006
(or possibly years ago someone already used a .006!)
. We just can't
tell ahead of time. The new stud needs to go in and
"grab"
or when you go to torque the head nuts the studs will just turn. We can tell you that if the stud removes most of
the threads in the block that you will need to
install an insert.
NOTE:

There is no real way to measure the

.003 OR .006

threads. These were terms that GM used but it refers more to
the pitch and width of the threads than the actual overall diameter .
— — — — — — SEE PAGE 13 FOR A LISTING OF ALL STUDS — — — — — —
INSERTS
You have your choice of
HELICOIL
or
TIME SERTS
. If you've never used HELICOILS you may find the TIME SERTS easier. Also, the TIME SERT has a flared head and will
NOT
"travel" into the open end stud holes like a HELICOIL may. With HELICOILS you need to use
standard
studs. With TIME SERTS you need to use
.006 studs
and may still not
get the full torque on the stud, but the stud still should
NOT
pull out.
LOCTITE:
We also suggest BLUE LOCTITE for use on the inserts and on the stud threads.

LOCTITE LOCKNUT

listed above.
The
.02 oz.

is enough for about 2 inserts and studs and the

.2 oz.

should almost do all studs in a block.
STUD KITS for INSERTS:
KIT gives you (1) .006 stud and (1) .02 loctite for use with TIME SERTS.
UPPER HEAD STUDS – C8660 4 oz.

LOWER HEAD STUDS – C8661

4 oz.
"BOOT" DIPSTICK
1960-64

C95

2 oz.