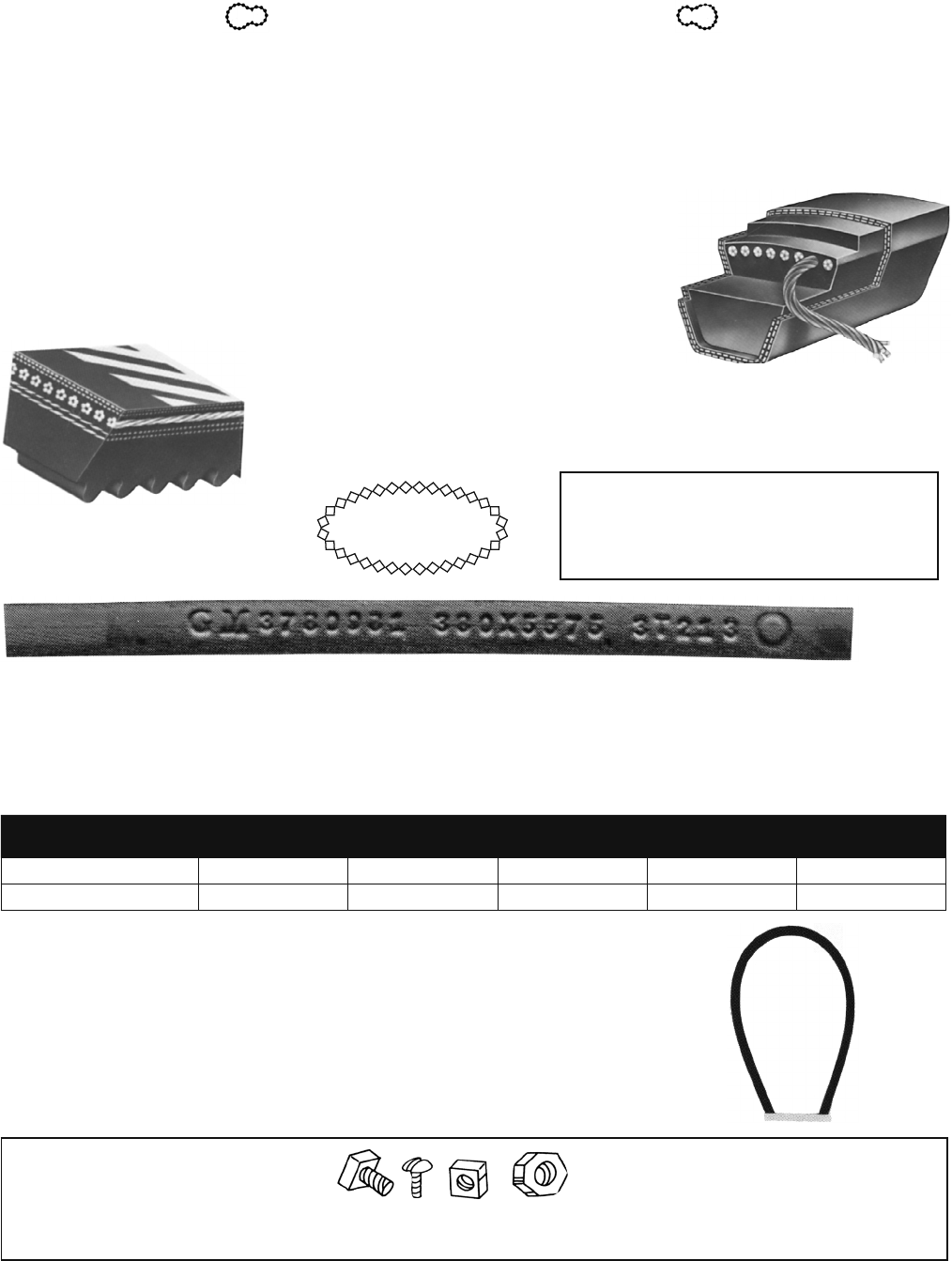 i
WARNING:
Products on this page can expose you to a chemical, which is known to the St

ate of California to cause cancer or reproductive harm. **For more information go to www.P65Warnings.ca.gov**
14
FAN BELTS
Carry a spare and necessary tools – SPECIAL WRENCH – see page 334
For years, Corvair fan belts were a problem which was increased by belt companies selling (and continue to sell) belts that are not correct for Corvairs.
Our Ultimate Belts are premium belts that have eliminated these problems.
ULTIMATE FAN BELTS
Ultimate wrapped belts are custom made for us to our specs with a strong double wrap.
The "Clark" belt
is made
overseas and is slightly more flexible than the "Otto" belt which is made in Mexico with slightly thicker wrapping fibers.
The wrap was original with GM belts and helps the belts stay in the grooves, run cooler and last longer. "Clark" or
"Otto," you can't buy a better belt.
OTTO:
C8704

1 lb.

OTTO for variable pulley: C8705

1 lb.
SLOTTED-GROOVED
Some customers prefer a "SLOTTED" belt and this is the "ULTIMATE" of the "SLOTTED" belt.
1. Flexible but NOT too flexible. The grooves let the belt curve and flex to make corners and dissipate heat.
2. "RAW EDGE" - grip the pulleys so there is less slippage,
3. LESS flipping and breakage.
SLOTTED-GROOVED:
C6488

1 lb.
MORE FAN BELTS
EXACT REPRO BELTS!
These quality wrapped belts are produced and marked just like the factory original belts. The markings on the "fan belt" are shown molded into the black
wrapped outer casing. For show or go these will ADD that "finishing touch" to your Corvair.
"GOOD" BELTS
These are various brands of belts that will work fine for most applications. May be wider than the originals. Usually slotted style.
ALL 1 lb.
1960-69
FAN BELT
1961-65
A/C BELT
1966 A/C BELT
(exc. 140)
1966 140 A/C
1967-68 ALL A/C
SMOG PUMP
NO A/C
EXACT REPRO
C10940
C10941
C10942
C10943
C10945
"GOOD BELTS"
C364
C1796

C1796

C4476

C1795
BELT GUIDES
Keeps belt on.
Idler Pulley By Distributor:
Used Only

CU2599

4 oz.
Also see "NOS" on website.
Guide On Top Shroud By Fan:
Used Only

CU2598

6 oz.
BELT TENSIONER KITS: See page
15
ENGINE REBUILDS
engine rebuilds
The
PISTONS, VALVES & RINGS

are the most important parts in an engine rebuild.

CLARK PISTONS

are the best available and all take
original style
Corvair
rings. These were fully retooled and engineered in 2000 to give us
SUPERIOR PISTONS
.
Please check your engine • • • BEFORE you order!!
Take the time to check your head numbers, block ID#, and plston numbers. Engines and parts get "all switched around."
Check pgs. 1 & 2
and/or ask our
TECH
people if you aren't sure!
TIGHTENING FAN BELTS:
You don't want your belt too loose
or too tight. One good method is to tighten the belt when
the engine is cold. Tighten so that you can just spin (slip)
the generator or alternator pulley by hand.
Store belts "flat"
not coiled!