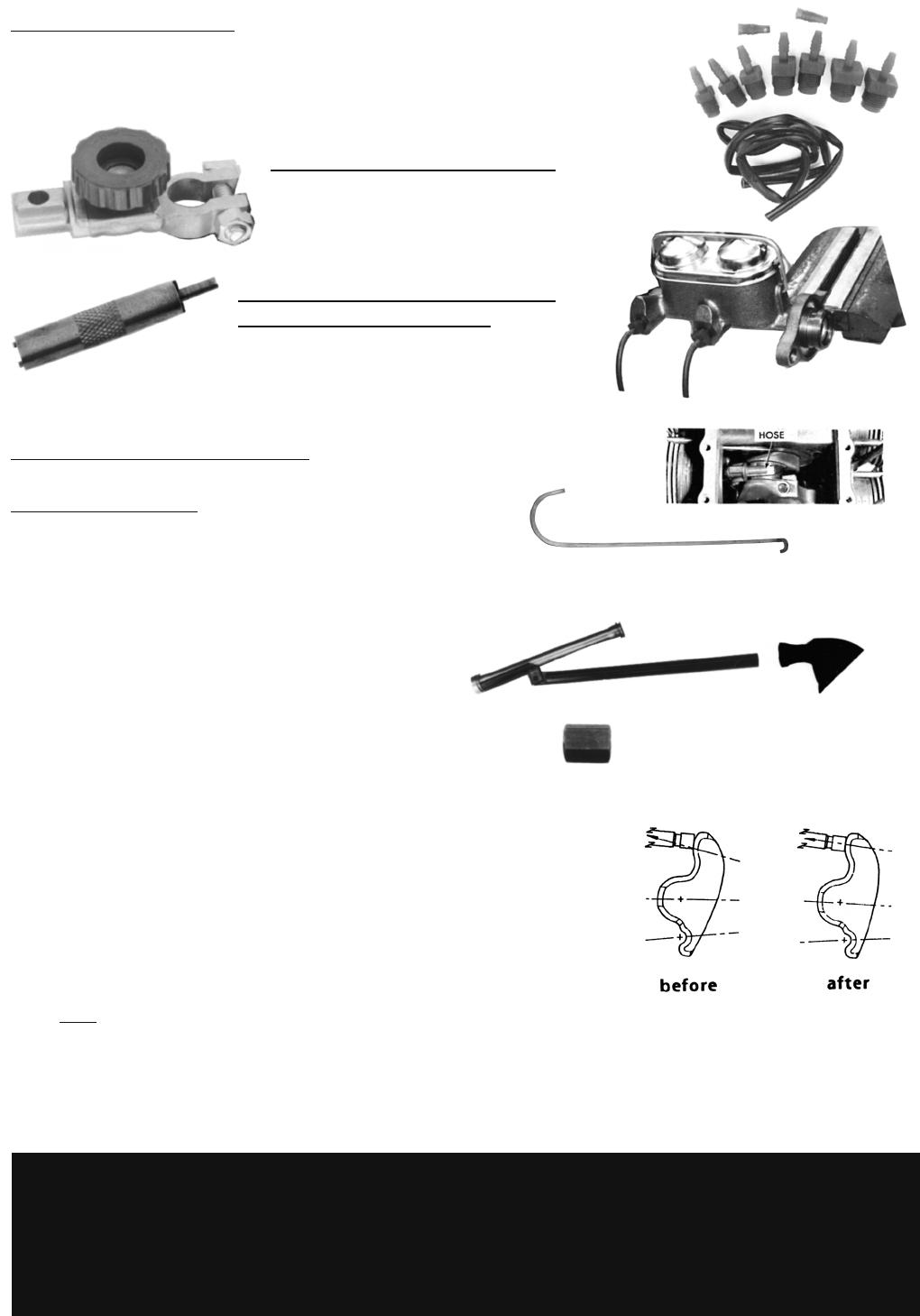 i
WARNING:
Products on this page can expose you to a chemical, which is known to the St

ate of California to cause cancer or reproductive harm. **For more information go to www.P65Warnings.ca.gov**
Bench Bleeding Set
Bleed your master cylinder before installation and save a lot of leg pumping. Nearly all manuals suggest bench
bleeding. Most times, a master cylinder will bleed fine, but I've been surprised how long it can take with some
dual master cylinders. This set gives you plastic screw adaptors and rubber hoses for use on all 1962-69
master cylinders. It will work with 1960-61, but you will need to block one outlet.
Top Quality
Great safety feature when you are working on your car.
Twist the knob to make or break the connection.
You can even remove the knob.
C9329
1 lb.
HEADLIGHT & WIPER SWITCH
RETAINER "RING" TOOL
1960-64 Cars & FC. Remove these without damage
to the retainer or your dash.
C12603
8 oz.
ENGINE TOOLS
CONNECTING ROD BOLT HOSE –
6 pieces of hose to put on connecting rod bolts
to protect journals as you remove or install rods (as suggested by GM Shop Manual).
C4878
4 oz.
Thermostat Adjusting Rod:
Use to hook onto the thermostat rod & pull out end
so you can adjust the swivel.
C13365
6 oz.
CYLINDER HOLD DOWN SLEEVES
Set of 12 rubber sleeves as described in "How To Hot Rod Corvair Engines". Used to hold cylinders to block while assembling engine so cylinders
don't keep pushing out of block while turning the crank, For all years.
C5341
8 oz./set
PUSH ROD TUBE REMOVER
Easily remove those push tubes with no damage to them or your engine.
Used from under the engine. Manifolds do not need to be removed.
BLIND ENDED NUTS –
For accurately torquing head studs into block.
Double nuts can move or ruin threads.
BLIND ENDED NUT FOR EXHAUST MANIFOLD STUDS
This blind ended nut is perfect for installing manifold studs into the manifold.
Double locked nuts just don't work.
C7270
2 oz. ea.
PUSH ROD GEOMETRY KIT
This Kit allows you to determine exact length of push rods needed to compensate for thicker gaskets,
machined gasket surfaces, reground cams, etc. (For more information and push rods, see page 20.)
Correct length has many benefits with regards to reduced valve train noise and less wear and tear
on all components, especially the valves, valve stems, and guides. Kit includes all necessary parts
and detailed instructions. For all engines.
C8640
2 lbs.
more info – C8640A

free

1 oz.
NOTE:
You will need access to large dial calipers or send the adjusted push rod back to us for "reading".
1/3 VALVE COVER – For Adjusting Valves
Corvair valves should
REALLY

be adjusted with the engine running. The problem is that the hot oil will drip on you. Use our 1/3 valve cover (the lower
third) and easily adjust the lifters running. We don't recommend trying to cut one of your old ones with a hacksaw; it is very difficult.
1/3 Valve Cover – used cover; cleaned & blasted; includes gasket
(use your stock bolts)
C1445X
1 lb. each
333
CLARK Page #ers!!
Do not worry if you are "missing" page numbers –
we skip pages and add pages like 271A, 271B, etc., as needed.
C13145