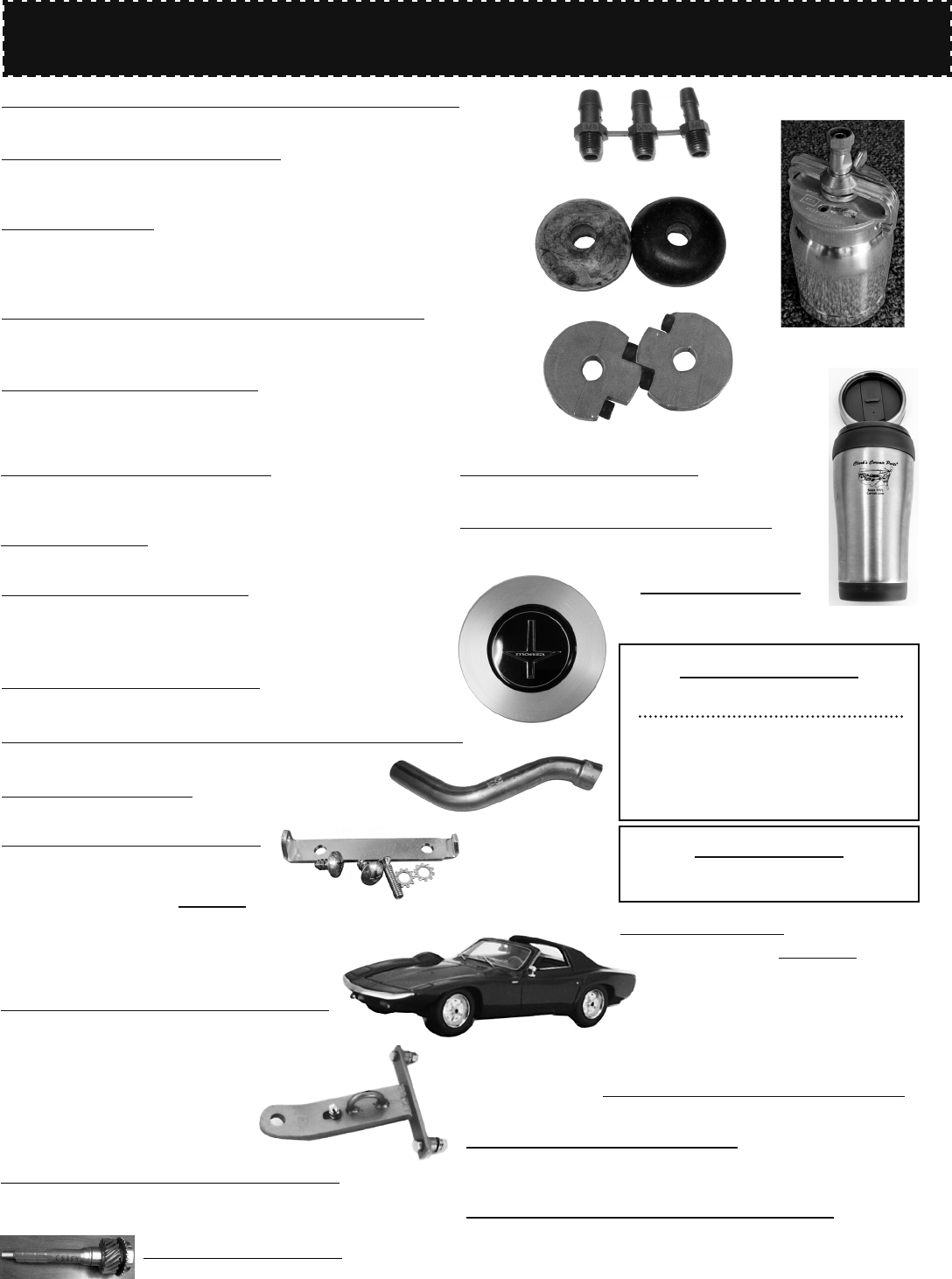 i
WARNING:
Products on this page can expose you to a chemical, which is known to the State of California to cause cancer or reproductive harm. **For more information go to www.P65Warnings.ca.gov**
C12661
CX9049
C8756A
CX9105
All items on
DWG
pages will be on sale starting on these dates, if not already sold.
Prices on the website & when ordered from us will reflect the discounted prices.
June 1-30 =
10% off

/
July 1-31 =
15% off

/
Aug 1-31 =
20% off

/
Sept 1-30 =
25% off

/
Oct 1-Nov 30 =
30% off
24
Sharpe 1 Qt. New "Dripless" Stainless Paint Cup
Never used.
CX9100
$29.00 2 lbs.
5 sets of 3 Hose Connections
All are 1/8 pipe thread one end, OK with gas, 1/4, 5/16, 3/8 hose barb on other
end – twist or cut to separate.
CX9101
50¢ 2 oz.
Plug Wire Boots
This aftermarket style was used for years before we reproduced the original 1 piece
style. Come with white wax, cleans easily waxed & cleaned shown. Center hole
approximately 1/2". Sold set of 6.
CX9103
$9.00 6 oz.
1/8 Scale Model of Red 1963 Corvair Coupe
We sold out years ago. This one is perfect but clear plastic of box was damaged.
Model is perfect.
CX9104
$89.00 6 lbs.
Weltmeister Hydra-Stop Kit
For air-cooled Porsche to prevent timing chain tensioner total failure. New, complete
with instructions. W# INS0023.
1965 Wheel Cover Inserts
Set of 4. Aluminum with 66-69 style plastic Monza insert.
Remove old insert; held in by supplied screws. Only 2 sets left.
Corv-8 Book – Older Edition
Approximately 100 pages and 100 photos.
CX9054
$10.00 1 lb.
Pipe – Used to Sell for Corv-8 Header Connection
2 7/8" inlet.
C8756A
$19.00 4 lbs.
65-67 Console "HR"
Red, small vinyl flaw near cup holder.
CX9053
$119.00 12 lbs.
1963-65 Mirror Bracket Kit
Less the gasket.
CX9049
$4.95 4 oz.
CX9100
CX9101
CX9103
C12581
CX9121
Hands Wheels
WILL BE DISCONTINUED WHEN GONE
(2) Hands Wheel:
Wheel and spinner only
(no spinner retainer). Only 2 – use as spare?
Can be drilled for 4 or 5 lugs. Make sure to
let us know 4 or 5 lug when you order.
Phillips Halogen High Beams
Lens design may not match your low beams. Sold set of 2. All Corvairs.
DELCO Speaker
Fits 65-69 but not original & no foam contour.
C884X
$35.00 4 lbs.
1 Set of Front 65-69 KYB
High pressure shocks.
CX9108
$159.00 8 lbs.
1967-69 Style DELCO NOS Radio
Complete except for chrome surround, in original box.
Push button.
CX9109
$229.00 10 lbs.
Clark Travel Mug
Holds 12 oz.
Fitch – Phoenix Model
This is a very limited, detailed, high quality run of about 150 1:43 scale
models of the dramatic Phoenix. Model is mounted inside a display case
with engraved numbered plaque signed by John Fitch.
1965-69 Corvair Towing Hitch
Similar in appearance to the factory hitch.
Rated 1200 lb.
max tow & 300 lb. max tongue weight. Takes a
3/4
" ball shaft.
NOTE: Requires that the rear grill be removed and 2 holes be
drilled in pinch weld behind top of grill; top of grill must be cut.
The center lower bumper bolt is replaced by
supplied bolt. Hitch is pictured upside-
down in photo.
Rampside Cab Only Cover Sale
See Old Main Catalog page 290 (while supplies last).
Tool Sell-Off
Slightly Used
Sanden SD5 A/C Compressor
Used for testing of our kits.
CX8103X
$89.00 20 lbs.
Miscellaneous EXHAUST
Steel Muffler Straps: 60-63 Car
1-2 $1.50

3+ $1.25 ea. 8 oz.
Reconditioned Exhaust Manifolds
Includes studs & nuts.
1960, 61 original style:
LEFT SIDE
1961 original style:
RIGHT SIDE
– Aftermarket NO TRIM
Apparently when these were made they ran
out of trim and never finished them.
Transfer your trim.
CX6084
Corv-8 Input Shaft
NEW – Last one.
C5354
$399.00 4 lbs.