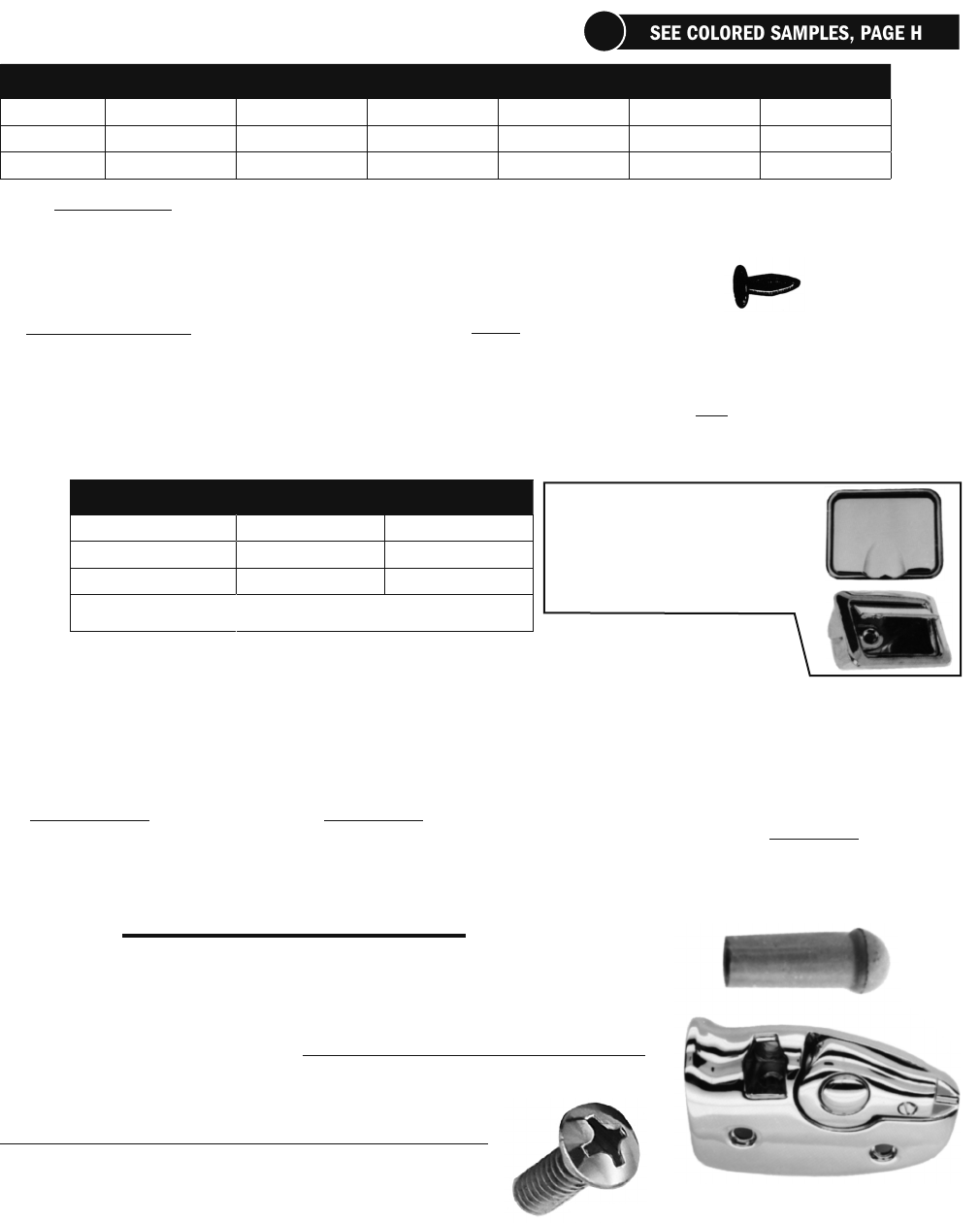 i
WARNING:
Products on this page can expose you to a chemical, which is known to the St

ate of California to cause cancer or reproductive harm. **For more information go to www.P65Warnings.ca.gov**
C93
C12616
293
ADDITIONAL SUGGESTED TOP PARTS
5 – "WELLS":
The

"canvas"

material where the top folds down in behind the rear seat. This material is usually badly deteriorated and is easiest to
replace when a top is replaced. These are cut and sewn exactly like the original, including the
"cardboard"
reinforcing strip where the retainers
(included)
attach to the rear
seat. We have some colors in the original style material,
(dyed cloth with rubberized backing)
. Originally the 1962-64 wells used mat erial that
"matched"
the interior colors
approximately. As far as I know for 1965-69 only black and beige were offered
(although some may
want to use the colored ones)
. The

Non-Original

still look
original
when installed.

COLOR SAMPLES
SUGGESTED!
ALL
2 LBS. EACH
NON-ORIGINAL
BLACK
NON-ORIGINAL
BEIGE
ORIGINAL
DARK BEIGE
ORIGINAL
AQUA
ORIGINAL
DARK BLUE
NON-ORIGINAL
DARK TAN
1962-64
C4522

C4524

C7597

C7599

C7603

C9875
1965-69
C4523

C4525

C7598

C7600

C7604

C9876
SAMPLES
SAMW-NOB

SAMW-NB

SAMW-ODB

SAMW-OA

SAMW-OBL

SAMW-DT
Colored VINYL WELLS –
We are now offering the

"well"

area behind the rear convertible seat made just like the original except from

CLARK

upholstery vinyl
that matches your interior. Not factory original but a change that you may want to consider.
ADD COLOR CODES FROM page 264 to END OF PART NUMBER
. (example:
C11333
HB
)
62-64 Ct.
VINYL
well
C11333
3 lbs.
65-69 Ct.
VINYL

well

C11334

3 lbs.
CONVERTIBLE OWNERS –
Get the well!!! If you are replacing a top, really consider replacing the well. If you end
up needing to do it later, you need to completely remove the rear part of the top.
Top Well Retainers –
All of our wells come with retainers.

Full Sets

62-64 –

C4885P

2 oz.

65-69 –

C4886P

2 oz.
6 – "WELL" INSULATION:
Replaces that old moldy or "flaky" insulation behind the convertible rear seat. Cuts down on engine sound.
Padding must be glued in (die cut for exact fit).
SUGGESTED GLUE –
C3735
3 lbs.
7 – SIDE CABLES:
These are the stranded stainless cables that go the length of the sides of the top (above the windows). They are often worn and
frayed and the only time to easily replace is when doing your top. These are very good reproductions but do vary a little from the originals.
ALL
6 oz. each
1965
(
NO spring)

C6024

C6024P
1966-69
(
WITH spring)

C2091R

C2091R
SCRE
WS – 1965-69
SIDE CABLES: Set of 2 original size

C6099

1 oz./set
(1 set needed / cable) Set of 2 oversize
C6100
1 oz./set
8 – FRONT BOW BLACK WEATHERSTRIP:
Seals to top of windshield.

See pages 215 & 218.
9 – TACK STRIPS:
1962-69 Convertible tops have a black dense

"cardboard"

type material that the tacks or staples go into. They vary in thickness from
5/16" to as much as 3/4" thick. We have a similar waterproof material but it is only 3/32" thick and in sheets 1' x 2'. By using plenty of C7033 glue on
page 266
, the old
material can be removed and the new cut and glued in until the needed thickness is reached. Can also be used for retainer tack strip below rear window.
C6150
1 lb.
10 – CONVERTIBLE FELT STRIP:
This thick felt strip goes on the top of the first top bow back from the windshield. Helps to keep top from
62-64 Only
"flapping". Replace that missing or deteriorated one. Glue in.
C7641
8 oz.
11 –
STAINLESS Convertible Top STAPLES!
I've checked original tops and the staples have

NO RUST.

We can supply these staples to
fit standard
ARROW T-50
hand staplers. With a 1/2" leg they are perfect for your top installation.
FAR SUPERIOR
to regular steel staples.
NOT INCLUDED
with any
CLARK
tops or
KITS
. (250 should do most installations. Your first top? You may want more.)
250 STAINLESS STAPLES C7527X
2 oz.
12 – CONVERTIBLE TOP BINDING – Front & over rear window – see page 295A
OTHER TOP PARTS
ANTI-RATTLE –
(Convertible sunvisor)
Light gray rubber knobs on end of visor that clip into the mirror. New ones hold visor steady. Fits all 62-69 Convertibles.
1965-69 Convertible REPRO Chrome Sunvisor Pivot Assembly
Excellent repro for this hard to rechrome part. Will fit 68-69, but finish is bright chrome (not satin). Includes sunvisor
nylon bushing (C7725), tighten screw as tight as you can!
Sold as a pair.
C12616
3 lbs./pair
62-69 Conv't Top Sunvisor Pivot Screws
Fit all years. Set of 6 polished stainless screws to attach the front catch to the front
windshield header. Replace those rusted, rounded screws.
Set of 6 –
C13230
1 oz./set (set does both sides)
Plastic Cleaner:
8 fl. oz.

– Removes soil, grease, smudges, helps scratches disappear. Great for: older
convertible top rear windows, speedometer and gauge lenses, motorcycle windshields, wheel cover inserts, etc.
NOTE: Not suggested for new plastic windows (use warm water & very mild soap).
C106

10 oz.
SOLD
EACH
SEE COLORED SAMPLES, PAGE H
N
62-67 & 68-69
REAR ASHTRAYS
See page 309B
C13230