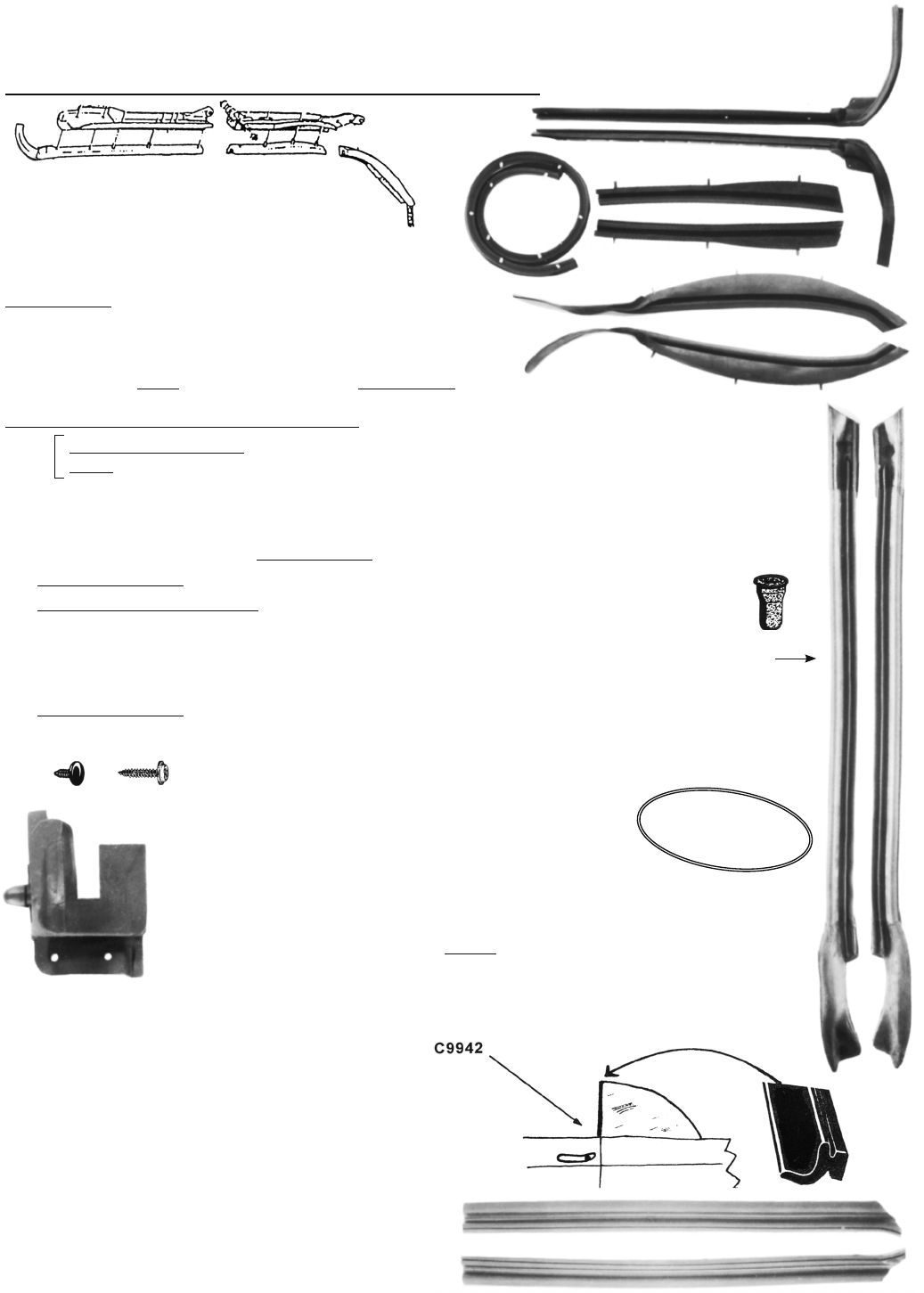 i
WARNING:
Products on this page can expose you to a chemical, which is known to the St

ate of California to cause cancer or reproductive harm. **For more information go to www.P65Warnings.ca.gov**
215
'60-64 CAR WEATHERSTRIPS
Please read page 213 before ordering!
1962-64 CT ROOF RAIL WEATHERSTRIPS
Now you can replace those hard or missing pieces!
These have been finally reproduced and are excellent!
The Set includes all 6 side pieces with studs and the front
bow cross weatherstrip with retainers installed.
SORRY – we CANNOT break sets.
PLEASE NOTE:
There is a major confusion about the front bow strip.
The molded ends ARE NOT on the front bow strip. They are on the (2) front side
strips. They are bonded on. The originals have cracked where bonded so they appear
like they are not part of the side piece – BUT THEY ARE!
Sold as a set ONLY. Nuts, screws & plugs not included.
1962-64 Convertible COMPLETE SET
C8492
8 lbs./set exact repro
ATTACHING NUTS & SCREWS: Enough to attach weatherstrip to both sides. May not be original style.

C7152

2 oz./set
PLUGS: For 62-64 Convertible front bow weatherstrip (set/10)

C8500

4 oz./set
CONVERTIBLE FRONT TOP BOW WEATHERSTRIP
1962-64 Convertible:
Attaches to front of top and seals against top of windshield chrome. Common leak area.
Exact repro comes in Roof Rail Set above (shown coiled above).
See note above!
EXACT REPRO:
Perfect repro with clips installed.
C8463
1 lb.
WEATHERSTRIP PLUG:
Used on 1962-64 Convertibles front bow strip and 1961-64 original weatherstrip
as attached to rear edge of rear deck lid. Sold Set of 10.
C8500
4 oz./set
62-64 CONVERTIBLE WINDSHIELD PILLAR WEATHERSTRIP
This weatherstrip goes on the backside of the windshield pillar where the door vent window frame seals against. 1962-64 Convertible.
EXACT REPRO:
Exact cross section and MOLDED ENDS.

Another Clark Improvement.
Sold as a Pair only. Also order retainers.
62-64 CT
C8009
1 lb./pair
62-64 Windshield Pillar Weatherstrip Screws & Retainers:
Sold as a Set for both sides.
Exact screws and plastic retainers not included with weatherstrips.
C9069
1 oz./set
62-64 CONVERTIBLE DOOR
PILLAR "FLAP"
This rubber "flap" goes on the rear door pillar where the quarter window pivots.
EXACT REPRO
(
exc.
No metal insert. Fits and works great).
SOLD AS A PAIR ONLY.
EXACT REPRO
C9942
8 oz.
Set of
4
SCREWS –
C6915
1 oz./set
1962-64 CONVERTIBLE
Quarter Window
RUBBER STRIP – Exact Repro
This rubber strip goes on the front edge of the quarter window and seals
to the front door window. Correctly
MOLDED
for each side.
Does
NOT
have metal insert.
SOLD AS A PAIR ONLY.
EXACT REPRO
C8204

12 oz./pair
RUBBER FOR REPLACING 1/4 WINDOW CHANNEL:
Enough for both
Not
in set
MULTI-KITS
see Blue pg. MK-15
C9942
C8204
C8204
C8492