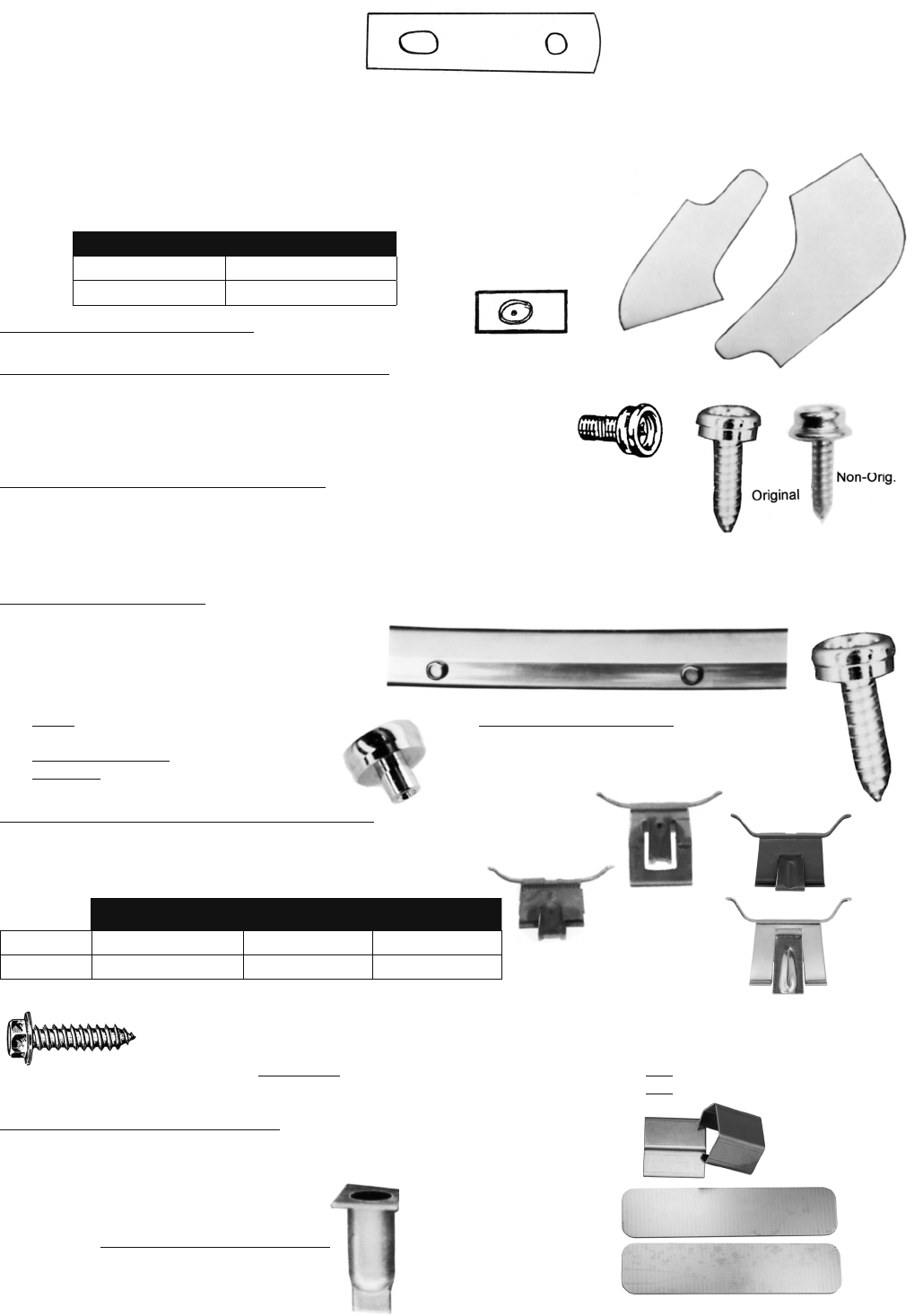 i
WARNING:
Products on this page can expose you to a chemical, which is known to the St

ate of California to cause cancer or reproductive harm. **For more information go to www.P65Warnings.ca.gov**
294
OTHER TOP PARTS
TOP BOW SPACER
There are 2 of these rubber pieces at each end of the bow that goes above the driver's head. Old ones often get hard or "squish out".
Sold Set of 4
C6721
4 oz./Set
BLACK PLASTIC TOP BOOT BAG –
1962-69 Convertible.

EXACT

reproduction.

REQUIRED for concours. COMES

with our top boots.
For holding convertible top boot
(as it came from the factory).

C704

8 oz.
TOP BOOT FOAM PADS:
These foam pads are glued inside the top boot on both ends to give the
boot shape and protect it from the sharp top mechanism. Replace those missing or crumpling pads.
Come with
our new top
boots. Die cut for accuracy. A vinyl glue or spray can glue works well.
SEE PAGE 266.
SOLD IN MATCHED SETS
ORIGINAL THICKNESS
ORIGINAL SNAP THAT FITS IN TOP BOOTS – 62-69 Convertibles
Snap attached to metal slide. Requires cutting some stitching on back side of top boot to install.
C3675
1 oz. ea.
62-69 Convertible Rear Armrest Threaded Snaps
Replacement for missing or rusty snaps that go on the 62-69 CT rear armrests.
NOTE:
The thread is larger than the original so you need to drill out the old nut with a #21
drill and tap with a 10-32 tap. The snaps will then thread right in. 1962-64 & 65-69 – 4 needed per car.
Threaded Snaps (sold each)
C575
1 oz.
Original Screw Style Top Boot Trim Snap – 1962-69
These now come in our complete sets of snaps (see below). You can also order them separately. If you have ordered
the non-original (C574) in the past, you can now replace them with these exact originals. Chrome plated brass with screw
through the center. 3 used for 1962-64; 5 used for 1965-69 boot trim by rear window. Can also be used to replace the snaps
without screws if they pull out.
Individually
(with screw)

C12650

1 oz.
Non-Original
C574

1 oz.
Set of 5
(with screws)
C12651
5 oz.
Oversized Non-Original
C574X
1 oz. ea.
Top Boot Trim Snap Sets:
These are the snaps that are swedged on to the trim at the back of the convertible top that the top boot snaps to & includes ones
with screws through the center. These are chrome plated brass like the originals and are quite easy to install.
Another Clark Repro.
Why should they be replaced?
●
The snaps can wear and not snap as tightly.
●
The chrome plating can wear off.
●
When snaps are removed, you can buff or polish the trim
without buffing chrome off snaps. Sets come w/ all snaps
(correct # of swedge & screw snaps – plus one extra swedge style), installation tool, instructions & special drill bit to make removing old snaps easy.
Full Set
62-64 C5725

12 oz.

Individual "Screw in Center" Snaps
65-69
C5722L

12 oz.

Sold each with screw

C12650

1 oz.
Individual Swedge Snaps
C5722X
1 oz.
Sold Set of 5 w/ Screws

C12651
5 oz.
Swedge Tool
(comes in full sets)
C5722T
2 oz.
CLIPS FOR CONV'T. TOP BOOT TRIM TO BODY
These clips have not been available for years. The old ones
(if even present)
are often rusty or fatigued.
Our sets include
instructions for completely removing and installing the stainless trim the top boot snaps to.
Even includes
the exact location and numbers of clips needed.
We suggest you purchase the FULL SETS.
FULL SETS of both styles
CLIPS & full instructions
CLIPS used on
the SIDES – each
CLIPS used along
62-64 Conv't.
C11667 8 oz.

C11665 1 oz.

C11666

1 oz.
65-69 Conv't.
C11670 8 oz.

C11668 1 oz.

C11669

1 oz.
Instructions only for 62-64 = C11667K
1 oz.
Instructions for 65-69 = C11670K
1 oz.
CT TRIM STICK SCREWS –
1962-69 Ct. – These are the screws that attach the rear window
"trim stick" to the body (under the well).
ORIGINAL SIZE – Full Set of 17 – C8200 6 oz./set

Each – C8201

1/2 oz.
Oversized
(for stripped holes)
Each – C8205
1/2 oz.
CT TOP BOOT MOLDING "Fix" – 1962-64
For the convertible top boot stainless molding that the ends fall off! This isn't pretty but it works and keeps the end
from getting lost! It is a pair of stainless sleeves that snap over the molding and a reinforcement piece for behind.
Sold as a pair.
C8257
4 oz./pair
C11666
C11665
C8257
62-69 Convertible Drain
2 needed per car.
See page 295A.
C575
C12650
C574
C11669
C11668