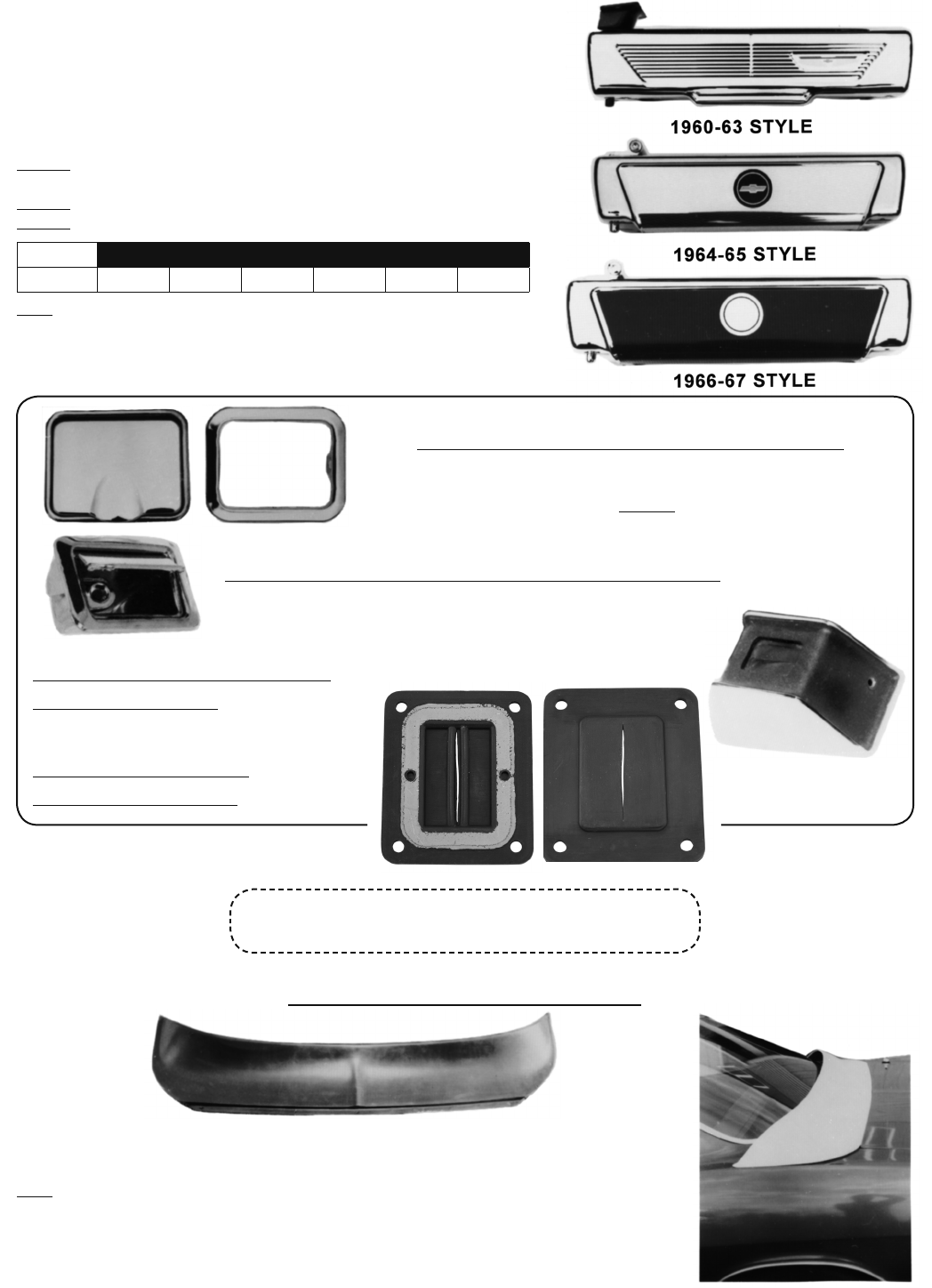 i
WARNING:
Products on this page can expose you to a chemical, which is known to the St

ate of California to cause cancer or reproductive harm. **For more information go to www.P65Warnings.ca.gov**
Top View
Bottom View
309B
TISSUE DISPENSERS
These are
excellent REPROS
(some suppliers may call them
"PERFECT"
) but I feel you
need to know the following:
1.
The
"EMBLEMS" are simply decals

(originals were real emblems)

.
2. The pivots
ARE NOT
always perfect and may require a washer to make level.
ALL

dispensers come with a box of tissues.
1960-63
– These appear identical except that the pivot brackets vary by years and the
dispenser for
62-63
are slightly higher.
1964-65
– Virtually identical to originals.
1966-67
– Photo
DOES NOT
show Chevy bowtie in the middle of the decal.
3 lbs ea.
1960

1961

1962

1963

1964-65

1966-67
Dispenser
C11140

C11141

C11142

C11143

C11144

C11145
NOTE:
Tissue suppliers have made the tissue boxes slightly smaller so it is necessary to
crumple some paper and put it at each end of the box in the dispenser. Additional tissue
boxes can be purchased locally.
62-67 CT. REAR ASHTRAYS
You can finally replace those rusty, pitted rear ashtrays and trim rings.
Fit left or right.
Includes trim ring.
1962-67 Convertible
REAR ASHTRAY – C8148
10 oz. ea.
CORSA SHIFT BASE:
Nice repro but not quite show quality. Rubber flap not included.
Corsa Shifter Base "Flap":
An exact repro
with metal insert "flap".
C1724
4 oz.
Set of 4 nuts that hold flap in
C8232
2 oz.
Chrome Base Screws (set of 2)
C6914
1 oz./set
Non Original – Die-Cut "Flap"
C3016

2 oz.
68-69 Conv't. REAR ASHTRAYS
These fit right in the rear arm rest and look like the originals including having "flat bulge" along the opening edge –
may be "brushed" rather than polished chrome.
C10959
8 oz.
REAR AIR SCOOP
This fiberglass scoop fits behind the rear window on 1965-69 Coupes and Convertibles. It sticks up about 2" to
help force air into the grill.
NOTE:
To leave the grill installed you must cut off the last inch of the steel grill where it goes under the engine lid
to allow this panel to take its place. Otherwise, you have to remove the grill and that means you have nothing to
attach the rear window bottom trim to.
For a convertible
you'll need
to support the top boot trim that rests on the "grill".
u
(Plus UPS AH – See page 204)
1965-69 Tail & Backup outer trim rings
see page 95
C8131