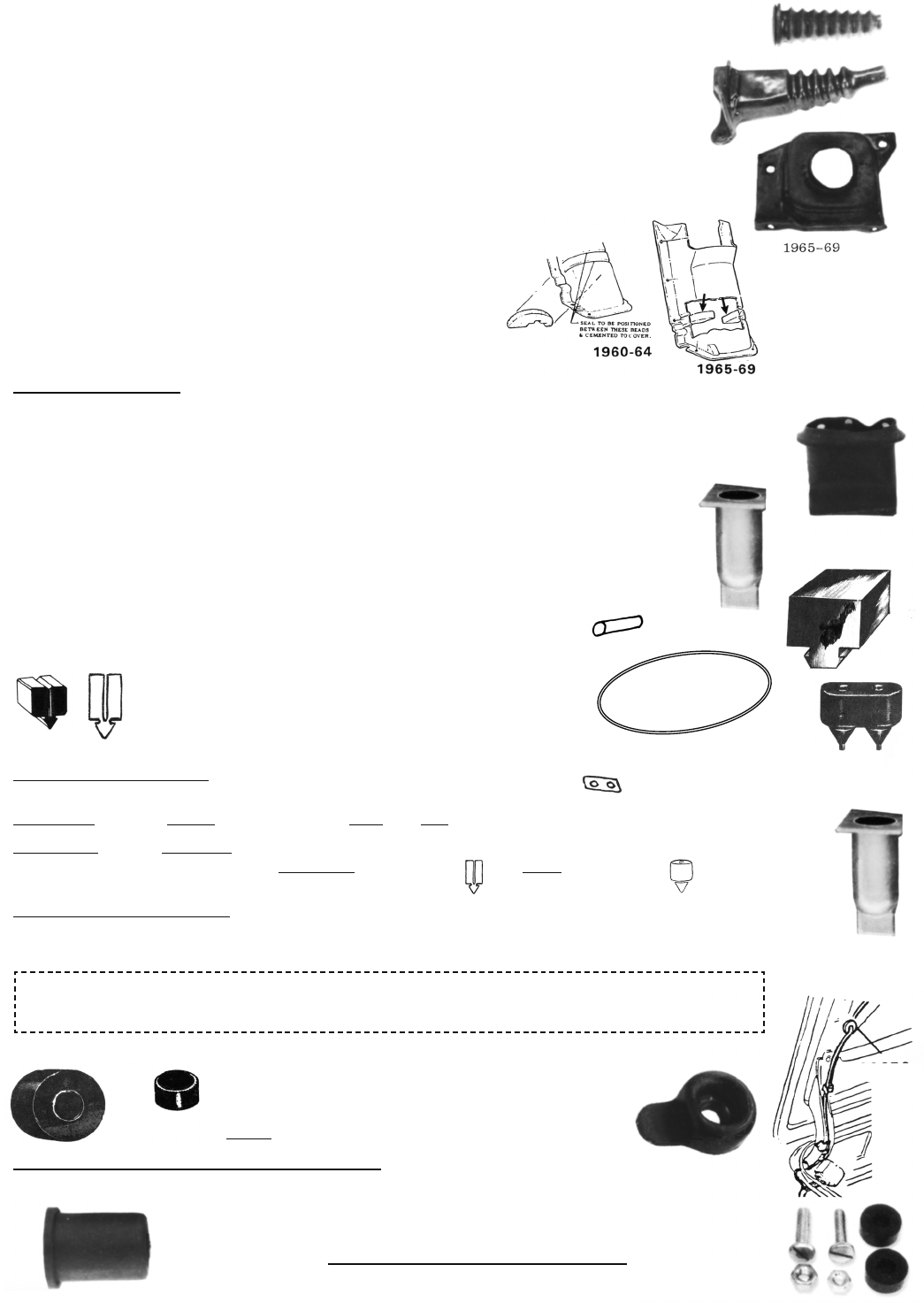 i
WARNING:
Products on this page can expose you to a chemical, which is known to the St

ate of California to cause cancer or reproductive harm. **For more information go to www.P65Warnings.ca.gov**
C392R
233
RUBBER PARTS
BOOTS –
END OF TUNNEL –

Where accelerator rod comes out the end of the tunnel.
CLUTCH CABLE BOOT – '65-69:
Very good repro, but does not have original metal insert.
At rear end of tunnel.
C98A
6 oz.
SHIFT ROD BOOTS –
Where shift rod comes out the end of the tunnel. Both are excellent repros,
but do not have the original metal insert.
1960-64
C97R
6 oz.
1965-69 Screws (full set)
C4439
1 oz./set
GROMMETS – End of Tunnel – See page 235
TOE PANEL COVER SEALS
This dense foam seal gules to the cover (over the cables beside the accelerator
pedal). It helps prevent vibrations and keeps the cold air from coming into the car
from the lower tunnel pan area.
C4870R or C6040 glue suggested – page 213.
1965-69 Cars
C8405
6 oz. (2 pieces)
61 FC GROMMET
for choke cable thru the floor, not exact but works fine.

C7364

2 oz.
For 2 oval holes inside engine air inlet area. Apparently original for 1965. (Some still have the retainers in the holes). These let water out
and keeps road dirt, etc. from being sucked in. These will fit 1965-69. Order retainers separately.
DRAIN "BOOT"

C5786

ea. 2 oz.
OVAL RETAINER

C5786R

ea. 2 oz.
BUMPERS – RUBBER
CLUTCH & BRAKE PEDAL BUMPERS:
Stops pedal when you release.
DASH BUMPERS:
Set of 10 small rubber pieces used in Spyder & Corsa dash to cushion
and prevent rattles from the gauges.
C753
1 oz./set
DOOR BUMPERS
FRONT DOORS – CARS –
Bumps against the body.
1960-64 (
exc.
4-Door) 2 per door
C355
1 oz. ea.
1960-64 All 4-Door
1 per door
C355A
1 oz. ea.
1965-69 All
2 per door
C356
1 oz. ea.
CONVERTIBLE DOOR "BUMPER"
– These are found on the door and door pillar.
62-64 – page 225
BUMPER KIT: 1960-64 – 4-DOOR –
Enough bumpers for 2 FRONT and 2 REAR doors
(includes Wagons)
.
C355K
4 oz./
kit
REAR DOORS:
1960-64 – REAR DOORS (includes Wagons) – Used 1 rectangular and 1 round per door.
RECTANGULAR

C355A

1 oz.

ROUND

C355R

1 oz.
1965-67 – 2 per door
C356
1 oz.
WAGON REAR "Lift Door" BUMPER:
2 needed

C356

1 oz.
FC DOOR BUMPERS – See pages 230-231
WHY HOLES IN RUBBER BUMPERS?
Almost all rubber bumpers have a "hole" or "slit". This is to aid in installation. If there is a round hole,
use a blunt end punch to push into the hole and extend the tip into the hole (do not push so hard you break off the tip). Bumpers with "slits",
use a wide blunt object. Bumpers with "tail" – stick "tail" through hole & pull gently.
LICENSE LIGHT WIRE GROMMET –
Usually very hard from engine heat. 1965-69 engine lid. C9650

2 oz.
ENGINE LID BUMPERS:
Attach to the engine lid and prevents
rattles, 2 needed per car,
EXACT REPRO.
1960-64 C354

1 oz.
SCREWS – For 1965-69 – Set of 2
C4329
1 oz./set
1960-64 Engine Lid Bolt/Bumper Kits:
Now you can replace those rusty bolts that screw into
the body & rubber bumper presses on. Sold set of 2 correct length bolts, 2 jamb nuts & 2 bumpers.
C865
4 oz.
LID SPRING BUMPER:
1960-64 Cars – Slightly different from the original but will work
and looks the same when installed.
C5383
1 oz.
1961-65 4 Spd.
REPRO
BACKUP SWITCH BOOT
Top quality repro. Has the 2 holes for the wires (for orig. switch only).
C11554
2 oz.
MULTI-KITS
see Blue pg. MK-17
Convt. 1/4 Panel Drain
See page 295A
Wagon Door Drain
See page 222
C356
C355
C355A
C9650
C865
C354