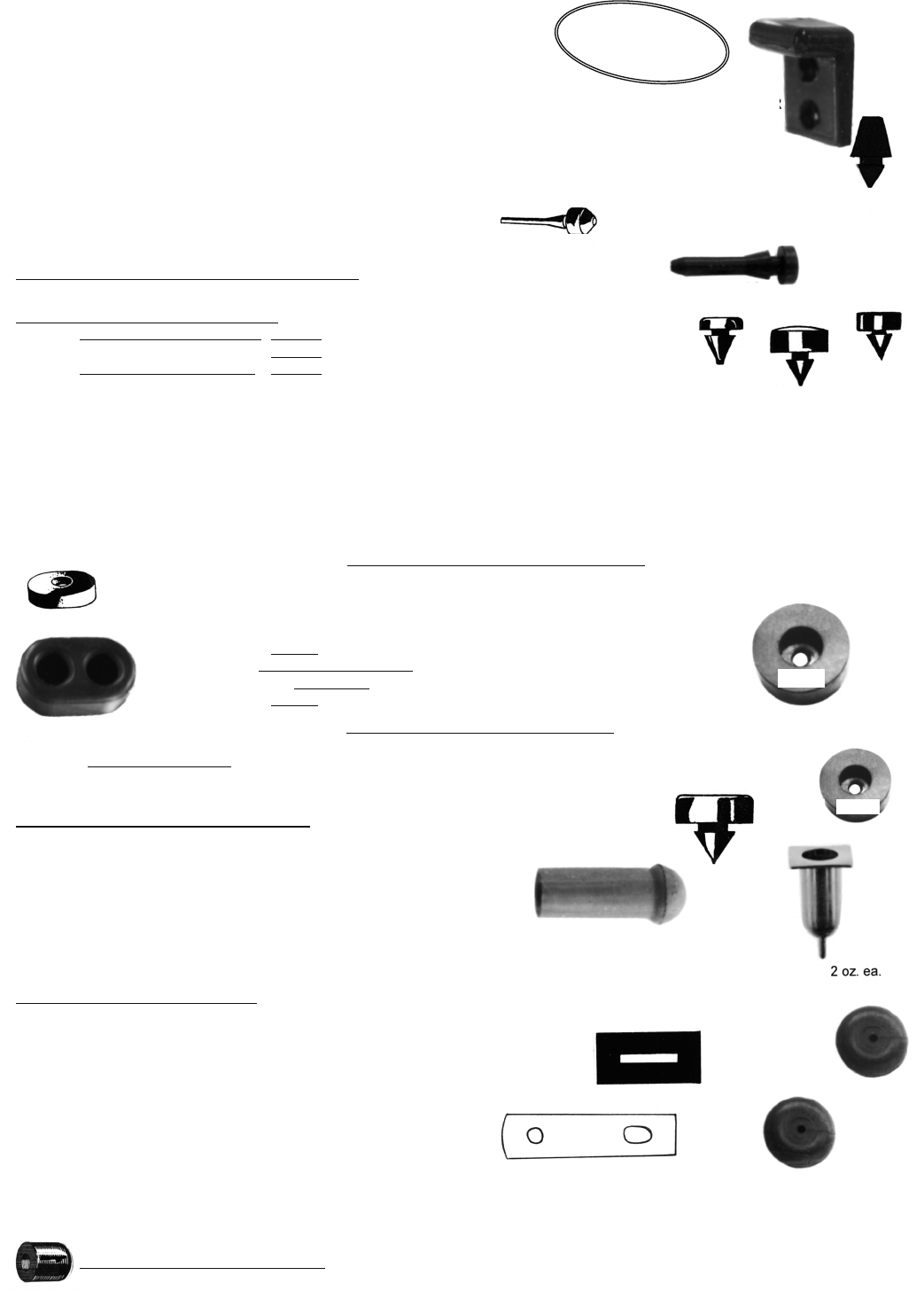 i
WARNING:
Products on this page can expose you to a chemical, which is known to the St

ate of California to cause cancer or reproductive harm. **For more information go to www.P65Warnings.ca.gov**
234
MULTI-KITS
see Blue pg. MK-17
RUBBER PARTS
BUMPERS – RUBBER
GAS DOOR BUMPERS:
1960-64 gas door bumper (1 needed)
Rampside/Loadside tailgate (4 needed)
EXACT REPRO –
with metal insert
C1069R
2 oz.
Screws (Set of 2) for C1069R bumper. Screws are exact but head diameter slightly larger
(You'll never know).
C1069RX
1 oz.
1965-69 gas door:
Replace when painting or just to reduce vibration.
EXACT REPRO (2 needed)

C357

1 oz.
Glovebox Bumpers:
For glovebox door. 1960-69. Sold 2 per Set.
(more glovebox – page 284)
Exact repro

C853R

2 oz./set
65-67 ASHTRAY RUBBER BUMPER:
Keeps ashtray from rattling. Installs in body.
Often missing or deformed (very small and fragile.) 1 needed.
C2563A
1 oz.
LICENSE PLATE BUMPERS:
Exact repros

(not exact tor FC – very good)
FRONT LICENSE RUBBER BUMPER:
1 needed
1961-65 FC
C11619
1 oz. ea.
1 needed
1965-69

C532

1 oz. ea.
REAR LICENSE RUBBER BUMPER:
2 needed
1960
C534A
1 oz. ea.
1961-63 Cars
C534B
1 oz. ea.
1961-65 FC
C11618R

1 oz. ea.
GROMMET – REAR LICENSE PLATE WIRE:
Through the rear engine door. 2 needed. (not original on FC but work great)
1961-62 Station Wagons
C6869
2 oz. ea.
1961-63 FC
C11610
1 oz. ea.
LICENSE RETAINERS & SCREWS – See page 179A
SEAT BUMPERS
BUCKET SEAT & BENCH SEAT RUBBER BUMPERS (Stops)

1960- 66 Buckets: 2 needed per seat
1967-69 Buckets: 1 needed per seat
The back of the front seat rests on (2) of these. Stop rattles. Old ones get brittle. All are excellent reproductions.
There were several styles used for 1960-64. These may not match yours.
1960-64 Cars
C4377
2 oz.
1961-65 Vans
C354
2 oz.
SCREWS – 1960-64 Cars

– Set of 4 –

C4317

1 oz.
1960-69
2-DOOR FRONT BENCH SEAT –

(same as 65-69 Cars)
1965-69 Cars –
EXACT REPRO
C92R
2 oz.
SCREWS – 1965-69 Cars

– Set of 4 –

C4330

1 oz.
65-67 (Exc. CT) EXACT REAR SEAT RUBBER BUMPER:
Correct oval shape with metal insert.

C10930

2 oz.
Wagon SEAT BUMPER:
1961-62 Wagons use 2 of these bumpers. They go behind the rear seat and are what the "board"
(that bridges the hole when the rear seat back is folded forward), bumps against when it is in the upright position. Complete with screws.
SOLD SET of 2.
C10956
2 oz./set
TRUNK HOOD BUMPERS –
Replace and keep hood tight. 2 NEEDED
TRUNK LOCK GASKET – SEAL – See page 90
Convertible Parts
ANTI-RATTLES (Sunvisor) – Inner end of sunvisor. 1962-69

C93

1 oz. ea.
DRAINS – Rear Seat Area – 62-69 CT – See photos & more info page 295A.
1965-69 Convertible 1/4 Window Plug:
This 2" black plastic plug is used on each side, below the metal panel that covers
the access hole to the window mechanism.
C4227
2 oz.
RUBBER TOP SPACERS:
The manuals call for rubber spacers between the rear trim stick
below rear window and body. Most are either missing or badly crushed. Spacer leaves a space
for water to go down past as it is supposed to. 1962-69 All. Sold "half" Set of 9 and Full Set of 17.
Full Set: C6118
4 oz./set
1/2 Set: C6117
2 oz./set
RUBBER TOP BOW SPACERS – 62-69
C6721

4 oz./set
There are 4 of these rubber pieces, at each end of the bow that goes above the driver and
passengers head. Old ones often get hard or squash out. Sold Set of 4.
Engine Grommets
WIRE GROMMETS –
TO HEAD SENSOR (by distributor) 1961-69 All
TO THERMISTER – left shroud, Turbo & 140
Exact Repro

C1278R
2 oz.
RUBBER PLUGS FOR BALANCER TUBES:
for 3/16" Tube

C3784

1 oz.
for 1/4" Tube
C3785
1 oz.
The backup wires go thru this where they go thru the rear metal.
1961-64
Exact Repro
C9011
2 oz.
C1069R
C357
C853R
C2563A
C532
C534C
C534B
C4377
C10930
C92R
C399
C1278R
C9011