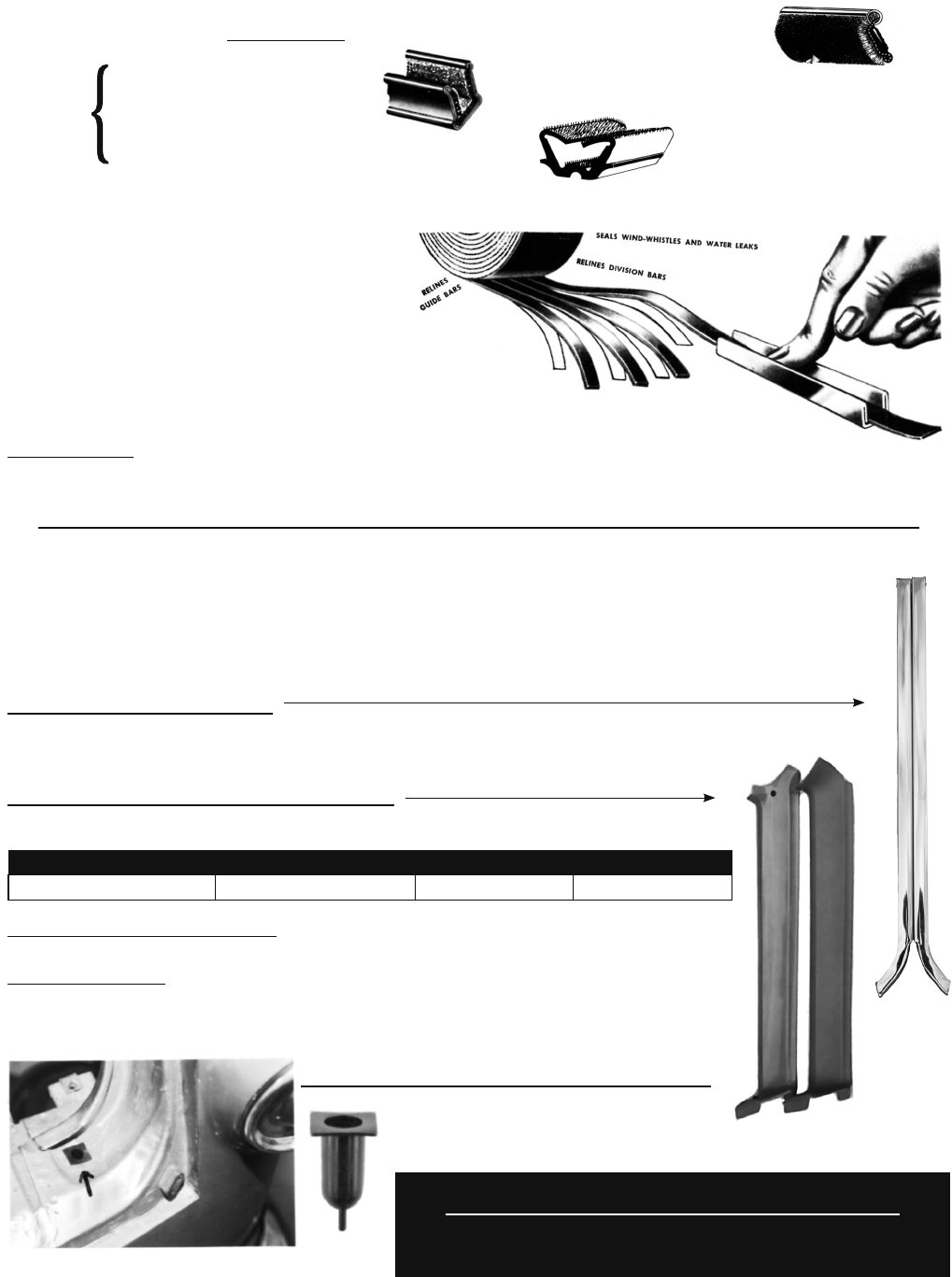 i
WARNING:
Products on this page can expose you to a chemical, which is known to the St

ate of California to cause cancer or reproductive harm. **For more information go to www.P65Warnings.ca.gov**
222
DOOR FUZZIES & CHANNELS
FUZZIES – SEE PAGE 220 FOR ORDERING.
CHANNELS –
2 TYPES ARE USED – Some may vary slightly from the originals but fit and look perfect.
FLEXIBLE – ("felt" covered rubber)
BLACK MOLESKIN CHANNEL LINER
This self-adhesive material is used for relining window channels
that are no longer available. Clean out the old liner and any rust.
Stick this in. Also reduces rattles. Fits all years.
2" wide x 10 ft.
C3737
6 oz.
DOOR PAPER
This special waterproof paper is used to line the inside of the door so water
and moisture is less apt to warp the door panels. Fits all years. One is enough
for front door or rear side window. (all cars).
CAULKING STRIPS:
Work great for attaching door paper (1/8" x 1/4" x 12" long)
Box of 60 pieces –
C3201
1 lb.
Box of 20 pieces –
C3201X
6 oz.
See pages
223-226
DOOR, VENT, QUARTER WINDOW GLASS INSTALLATION RUBBER FABRICS
Many of the windows in Corvairs are held in the frames (or channels) by a special rubber material. The large pieces of glass are usually pretty easy to replace; the vent
windows are harder and some require rivets to reassemble. The chrome weatherstrip channels on the front of the quarter windows also use this material.
Rubber for Vent Windows
60-69 cars (1 does both sides)
C196A
6 oz.
61-65 FC (1 does 1 side)
C196AF
6 oz.
Rubber for Rear Quarter Window Front Edge Trim:
62-64 Ct & 65-69 all cars
NOS & NOS used (1 does both sides)
C196A
6 oz.
65-69 CP & CT repro trim (1 does both sides)
C196AR
6 oz.
Rubber for Side Glass into Bottom Channel:
1 does 2 side windows – '60-69
C772
10 oz.
1965-69 Coupes & Convertibles – excellent Clark repro of the chrome trim that goes on the front edge of the 1/4 window & holds the weatherstrip.
Chrome finish is better than most NOS. Now you can replace those scratched, pitted or rusted trim. Usually can be replaced without removing the window
;
instructions included. (Do not fit 4 door) Sold as a pair.
C2586
2 lbs.
1965-67 Windshield Pillar Plastic Trim
They are just as nice as the originals and even include the metal sleeves for the screws. Now you can replace those cracked or
brittle pieces. Easy to paint ABS plastic. See primer & scuff pads below. All 1 lb. ea.
Coupe/4 Door Left (drivers)
Coupe/4 Door Right
Conv't Left
Conv't Right
Set of Chrome Screws (enough for both sides):
Fits 65-67 Coupe/4 door, 65-67 Conv't (2 extra screws) & 68-69 Coupe.
Plastic Primer & Scuff Pad:
Spray plastic pillars, kick panels, door knobs or any plastic & most rubber before applying any
automotive paint. We suggest using an ultra-fine scuff pad before priming.
Plastic Primer:
15 oz. spray can
C13329
1 lb. (no air shipping)
Ultra-Fine Scuff Pad
C13330

2 oz.
C2586
Lakewood Rear Door/Hatch Drains
Those small holes in the bottom corners are supposed to
have rubber drain plugs. I'm surprised Chevy did not make
them "snap" in, but these fit just like the originals.
PLEASE HAVE PART NUMBERS
With over 15,000 part numbers, we want to be sure you get the parts you need.
Don't forget the Multi-Kits.