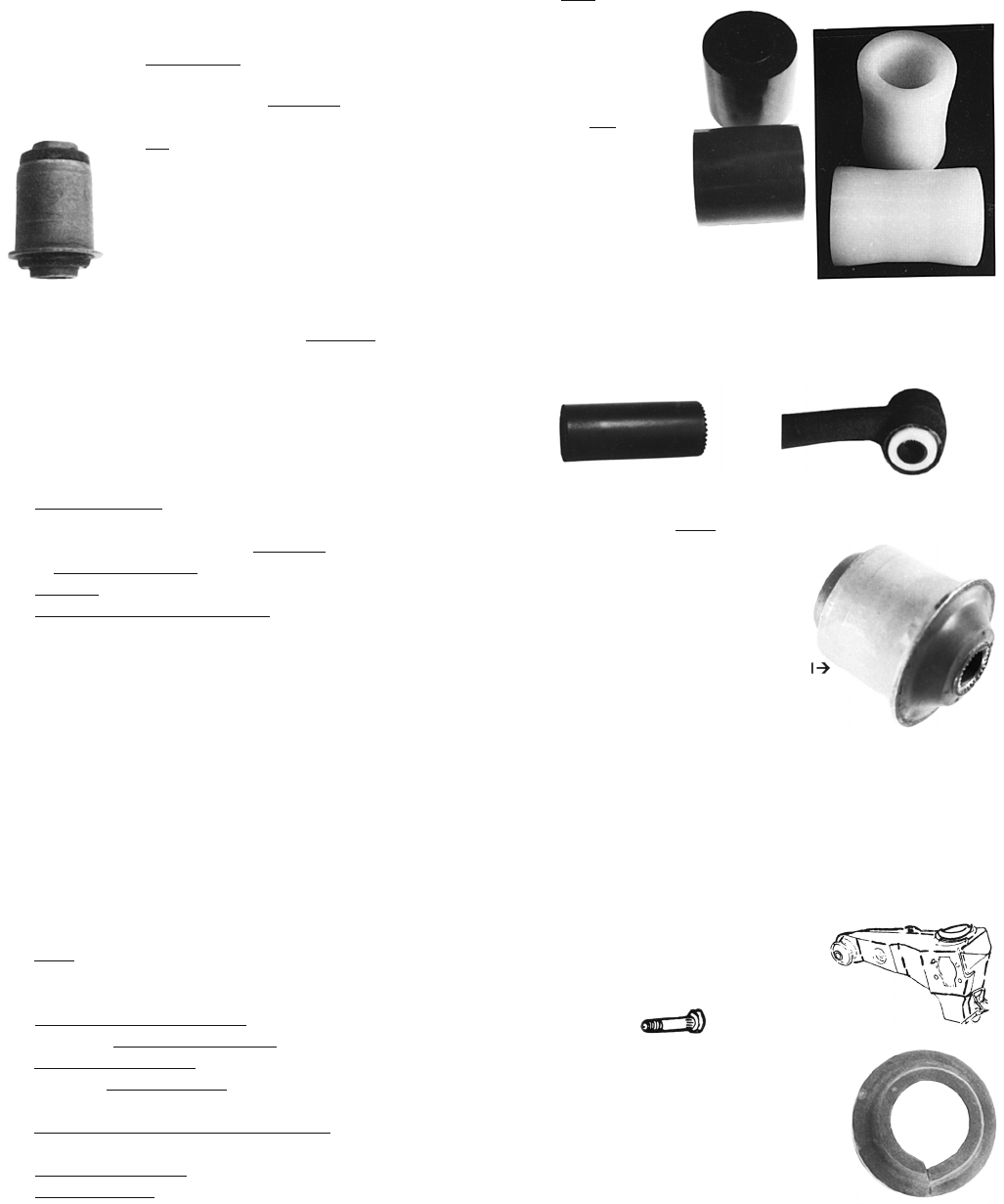 i
WARNING:
Products on this page can expose you to a chemical, which is known to the St

ate of California to cause cancer or reproductive harm. **For more information go to www.P65Warnings.ca.gov**
164
1965-69 REAR SUSPENSION
15.
STRUT ROD BUSHINGS
GM never supplied replacement bushings for the strut rods, but we have been selling these since 1978. It takes several hours and you must remove
the inner sleeve (I suggest new ones). Replacing rubber and nylon bushings really requires a press: the rubber - shell style can be hammered in. Please
consider rebuilt rods on pg. 163. Also see the performance bushing on pg. 167B. Whichever you choose, it will be a great improvement over old, worn,
brittle or swollen bushings!
All come with complete instructions.
IF YOUR OUTER BOLTS ARE MORE THAN
5
YEARS OLD – REPLACE! (see #9) and use ONLY our special long nut #13 (page 163).
Molded Rubber Bushing
Only Available
in our rebuilt strut rods. See pg. 163 (#14).
RUBBER
BUSHINGS
– NO SHELL – LOOK STOCK
We suggest Rebuilt Rods – page 163.
4 needed to do both sides –
NOT easy
.
SET of 2 –
C4376A
8 oz./set SET of 4 –
C4376
1 lb./set
RUBBER – SHELL
These are steel shelled bushings that easily press into your old struts. These are not
perfect but easier to install. These end up with a slight "tilt" in the rods & do not stick out
the same amount on both sides. Will be slightly off center when installed but use all stock mounting parts.
Set of (2)
C7873
1 lb. 8 oz./set
Set of (4)
C7874
3 lbs./set
''NYLON''
BUSHINGS – 4 needed to do both sides.
Set of (2)
C4604
8 oz./set
More Nylon Bushings – see page 167B.
Set of (4)

C1899

1 lb. /set
REPLACEMENT SERRATED SLEEVE
For rear strut rod bushings. (4) needed to do both sides.
Sold each.
C5788
6 oz. ea.
16. INNER STRUT BOLT: I suggest the
COMPLETE UNIT
.
Note: Only use the self-locking nut supplied and just snug. Don't "tighten".
The area needs to pivot.
BOLT & NUT ONLY "Gr 5"
C639
6 oz.
"Gr 8"
C4605
6 oz.
COMPLETE
: BOLT, NUT & (2) SPECIAL WASHERS

"Gr 8"

C4605W

8 oz.
17. BRACKET: Often broken, bent, or fatigued. Either side –
See USED page 364 & "NOS" on website
18. BOLTS – BRACKET TO DIFFERENTIAL:
2 sets needed
per car (4B, 4LW)
"Gr 8"
C2173
6 oz./
set
19.
(TRAILING ARM)
Both Styles require press to install bushing.
NEW TORQUE ARM BUSHING:
We had our suspension manufacturer retool these to look more original and use a higher
quality rubber. You'll notice a light wax coating on the surface of the rubber like many original bushings. This improves the life
of the rubber. Now you can get a bushing that will perform exactly as the factory designed them to. Sold each.
Performance Only Torque Arm Bushings
MONOBALL – must be welded in –
Page 167B
NYLON – easier installation –
Page 167B
20.
REBUILT TORQUE ARMS:
Sandblasted, new bushing installed and painted black – with studs ( #22).
All 1965-69 – Left = Drivers Side LEFT –
C7583
15 lbs.
RIGHT –
C7584
15 lbs.
NOTE:
PRICE INCLUDES A CORE FEE WHICH YOU WILL BE REFUNDED WHEN YOUR GOOD ARM IS RECEIVED BACK TO
US POSTPAID. CORE VALUE LISTED AFTER PART# IN PRICE LIST.
21.
COIL SPRINGS:
SEE PAGE 140
22. STUDS – REAR BRAKE BACKING: Go in rear torque arm.
C2885R
2 oz.
NUTS & LOCK WASHERS: Set of 4 for studs.
C2885A
2 oz. /set
23. BOLT – BOTTOM SHOCK: (Bolt, lock washer, nut) "Gr 8"
C4774
6 oz.
24.
SHOCK ABSORBERS:
SEE PAGE 137-139
25. TOP SHOCK NUT - STAINLESS STEEL TOP NUT: Regular ones come with shocks. With stainless steel at least the nut won't rust!
26.
CUSHIONS – RUBBER:
Top of coil spring tower.
C189
1 lb. ea.
27. RUBBER BUMPER: Attaches to cone in rear spring. Sold each.
C716
6 oz.
C2051
C2885A
C189