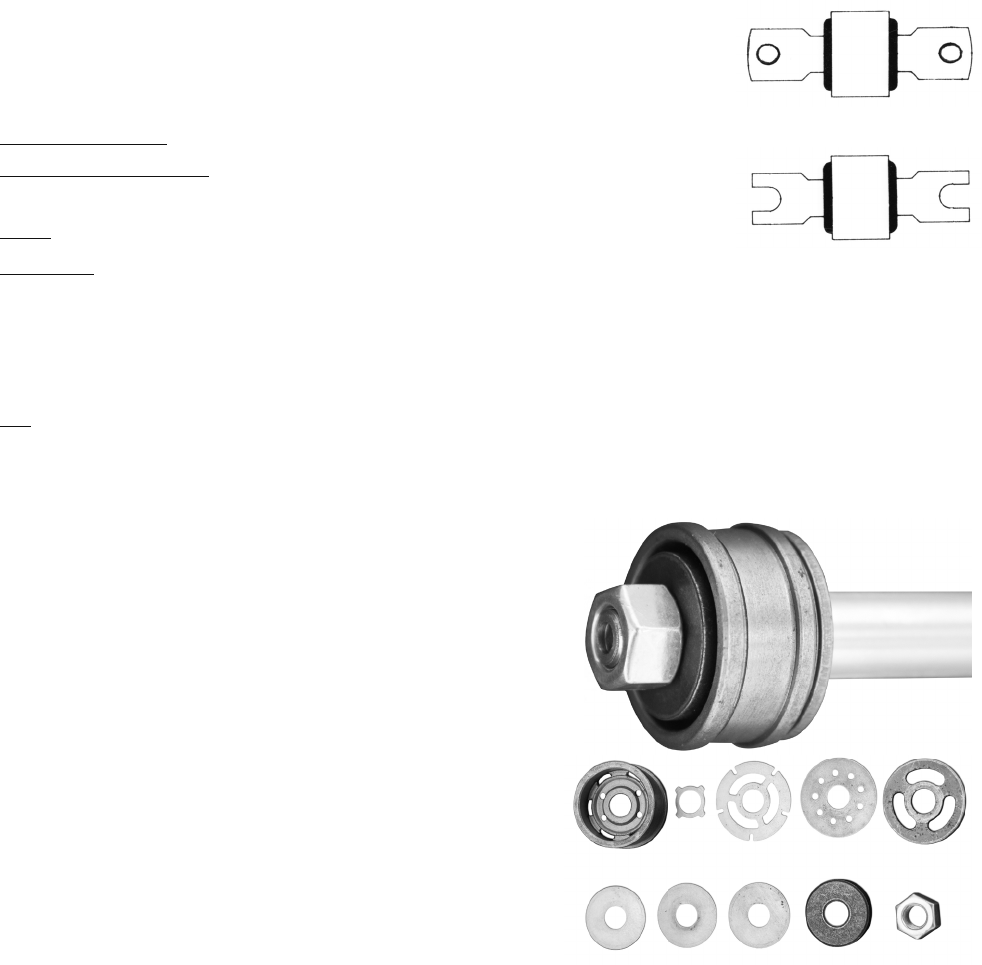 i
WARNING:
Products on this page can expose you to a chemical, which is known to the St

ate of California to cause cancer or reproductive harm. **For more information go to www.P65Warnings.ca.gov**
137
ABSORBERS
NEW SHOCKS
All our shocks are new. Very few shock companies still list shocks for Corvairs, and the few that do are often selling
"substitute" shocks that "should fit". Our Hi-Tech shocks are custom made exclusively for us and are an exact fit & valving.
EXACT FIT
1960-64 Cars & Vans
Our Hi-Tech shocks fit just like the original GM shocks.
Bottom – 0riginal:
Style Bottom used on all our 1960-64 Hi-Tech shocks. Fits bolt holes exactly.
Bottom – Non-0riginal:
Supplied by most shock companies. 60-64 Koni shocks on
page 139 are this style bottom. We suggest FW & LW with this style.
Body:
Our shocks fit through the openings. No cutting or hammering!
Extension:
This is very important!
The rear of a 1960-64 Corvair depends on the shock to limit the bottom a-arm travel. Our shocks are within the original
specifications, and have a built in oil control valve that helps stop the shock just before the end of its travel. Shocks other companies
suggest often have an extension that exceeds the original specifications by 1 1/2" to 2" with no special internal valving!
1965-69 Cars
ALL of our 1965-69 shocks fit
EXACTLY
using the original size bolts.
We have an agreement with one of the largest shock absorber factories to design
and manufacture their upgraded "High Tech" Progressive Shock Absorbers for
your Corvairs.
Their proven technology is achieved through an advanced valving system
which uses a designated number of multi-shim packs based on the vehicle
specifications. This system delivers self-adjustment automatically while driving.
The result is a unique combination of superior ride comfort and exceptional
handling under all conditions. Most of the shock absorbers during the past 50
years use only one washer and a spring. This limits the shock absorbing action to
either ON or OFF (no self adjusting during driving).
Additional Features and Benefits: See Gas versions #7
1. Every unit is 100% quality control tested, which includes actual unit cycle
testing
to ensure consistency and are marked as a provantage shock.
2. All shocks look & mount exactly like the factory originals.
3. A special blend of severe duty SYNTHETIC hydraulic fluid is used on all
hydraulic shocks for long life and heat resistance.
4. The inside tube is high quality cold drawn extruded steel (seamless) which
is then precision honed to ensure 100% sealing, consistent performance, and longer life.
5. The highly polished piston rod has a "triple lip" style seal designed for self-lubrication. This provides total sealing under all types of
driving, friction generated heat, and adverse conditions. The design allows the performance and life of our shock to surpass most of
6. All of the mounting bushings are 100% natural rubber specifically compounded for the weight of the vehicle and the type of driving
Our C109R bushings must still be used for the "lower" of the top bushings on all 65-69 front shocks –
does not come with any front shocks – order separately.
7.
Gas versions:
These versions are identical to the "regular" shocks but are charged with Nitrogen gas which helps to eliminate
cavitation in the oil (foaming), increases overall performance while delivering a slightly firmer & better handling car.
Hi-Tech Progressive Shock Absorbers for Corvair
Original
Non-Original