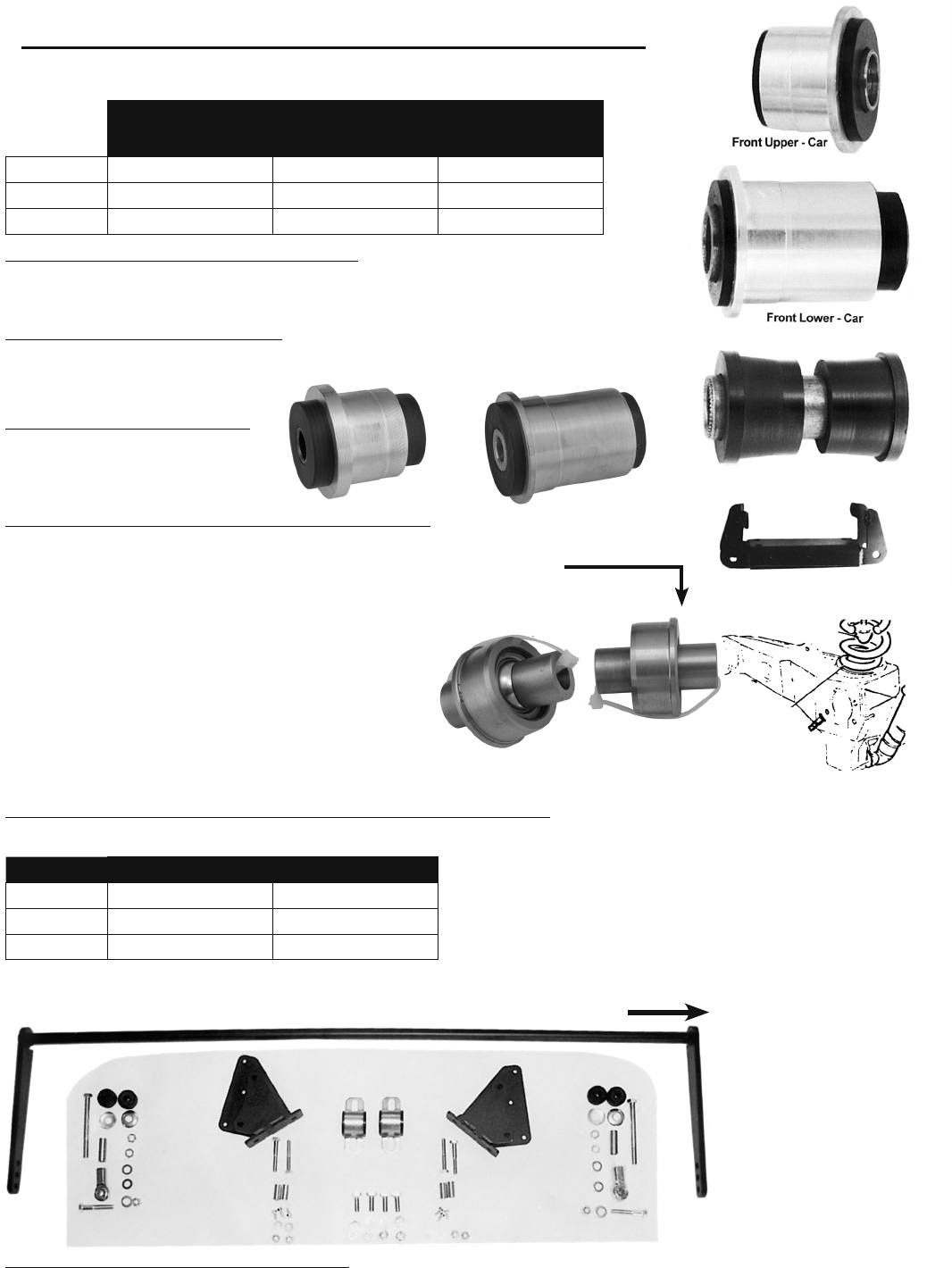 i
WARNING:
Products on this page can expose you to a chemical, which is known to the St

ate of California to cause cancer or reproductive harm. **For more information go to www.P65Warnings.ca.gov**
167B
Performance Nylon Bushings
C2051P
C2050P
A complete performance bushing. Self-lubricating black MDS (molybdenum disulfide) filled bushing with center sleeve
& aluminum shell (on most). Just remove your old stock bushing and replace with these.
Front Upper A-Arm
(Set of 4) does both sides
Front Lower A-Arm
Cars = Set/2; FC = Set/4
(does both sides)
Rear Lower A-Arm
(Set of 4) does both sides
60-64 Cars
C1665EP
1 lb.
C1664P

12 oz.

C3070P

2 lbs.
61-65 FC
C4907P
2 lbs.
C3070P
2 lbs.
C3070P
2 lbs.
65-69 Cars
C1665LP
1 lb.
C957P

12 oz.
- - - - - - - - - - -
Front Stabilizer Center Link Nylon Bushings:
Set of 2 upper & 2 lower Bushings.
No sleeves (use stock sleeves). We suggest stock rubber for outer end bushings.
1962-63 with stock bars

C111EP

4 oz./set
1964-69 with stock bars

C111P

4 oz./set
1965-69 Rear Strut Rod Bushings:
2-piece bushings with machined "stops" at each end for
easier installation. One set includes (2) 2-piece bushings and 2 new serrated sleeves. One set is enough for one
strut rod; order 2 sets to do both strut rods.
C1899P
1 lb./set
1965-69 Torque Arm Bushings
One set does both sides. Nylon and aluminum.
1965-69 Upper Transmission Crossmember Bushings
2 new nylon bushings, new sleeves & new aluminum shells. Enough for both sides.
C2050P
1 lb. 8 oz./set
"MONOBALL" REAR TORQUE ARM ASSEMBLIES
These bearing units replace the original rubber bushings at the front end & will lead to a stiffer but more controlled ride.
NOTE: you must weld them in place and if you decide to go back to original, it will require some work so consider carefully
before making your decision. Come with complete instructions & hardware for both sides.
Set of Monoballs
C2826
4 lbs.
LOWER CONTROL ARM BRACKET
Lowers attaching point for rear control arm (under drive shafts) so wheels
move more nearly paraIlel.
C5118
5 lbs.
STABILIZER BARS – EARLY CARS & VANS
Add a front or rear stabilizer bar to your Car or Van for added control and handling fun. Each bar includes complete hardware and step by step instructions.
For Vans, Greenbriers, & Rampsides – direct bolt on, perfect fit and greatly improves handling.
1960-64 Cars
C6045
15 lbs.
C2306R

16 lbs.
1965-69 Cars
Discontinued
C2308R
30 lbs.
1961-65 Vans
C5067
25 lbs.
C5068
25 lbs.
Finally a bar that fits and is quite
easy to install. The main bar
is 3/4" diameter, which most
consider a good all around rear
bar diameter. Prototype was used
in over 50 races including Watkins
Glen. Includes all hardware &
instructions. No welding required,
but you must drill some holes.
Large rubber bushings & heim
joints are used to connect bar
to the body brackets. Little or no
decrease in ground clearance.
Replacement Crown Stabilizer Bar Bushings – Small Grommet:
8 needed for rear & 8 needed for front.
Set of 4
C376
6 oz./set
Individual
C396
2 oz. ea.
1965-69 Rear Stabilizer Bar
C2826
C1899P