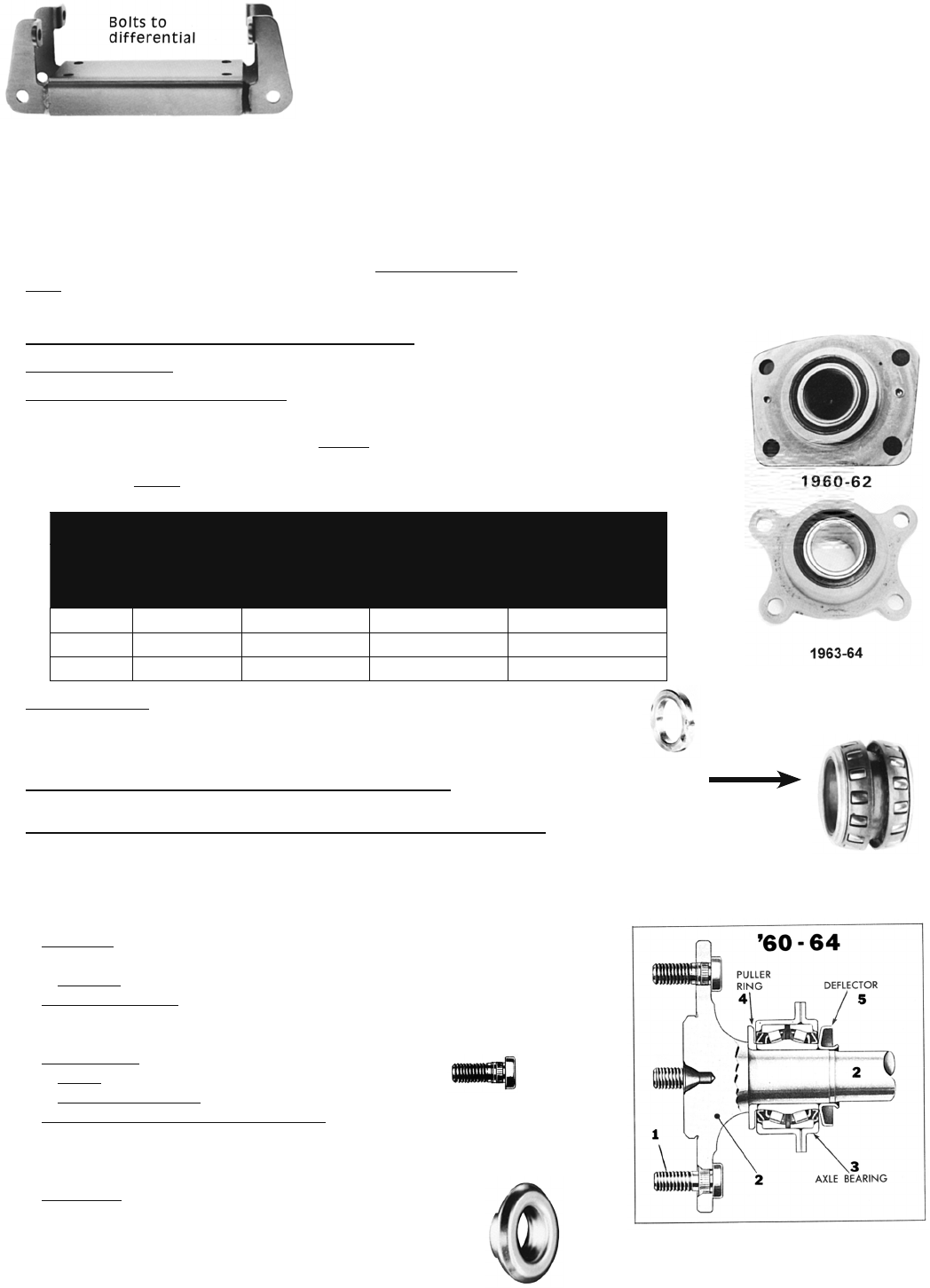 i
WARNING:
Products on this page can expose you to a chemical, which is known to the St

ate of California to cause cancer or reproductive harm. **For more information go to www.P65Warnings.ca.gov**
165
LOWER CONTROL ARM BRACKET
Relocates the pivot point of the lower control arm to be parallel under all conditions. The addition of this
part alone will reduce oversteer and improve tire life. With the addition of the bracket and rebuilt control
rods you will find that not only does the car corner better but tracks straighter on the open highway.
There is no change in ride feel. I cannot think of any other modification that makes this much difference
for this little money.
1965-69
C5118
5 lbs.
REAR AXLE
(WHEEL)
BEARINGS
1960-64 CARS & 1961-65 VANS
The rear axle bearings are probably the most dangerous part of the whole car. It is not uncommon for the axle shaft to pull right out. In some cases
the axle shaft just worked out and in others the bearing has failed. The 1965-69 style fixed this but people with the earlier style should not ignore any
possible bearing noises!
ANY NEW OLD STOCK BEARINGS SHOULD BE REPACKED WITH GREASE AS THE OLD GREASE IS USUALLY HARD.
NOTE:
The 1960-62 (stamped steel housing) will fit 63-64 (although it is not as snug in the lower a-frame opening). The 1963-64 (cast iron housing)
will not fit 1960-62 opening without considerable grinding.
CLARK REPRO AXLE BEARINGS: See page 166
GM BEARINGS:
Original "swivel" bearings as supplied on the car, becoming very rare.
AFTERMARKET BEARINGS:
We seldom have these.
GREASING NOTE:
Do not over-grease original or repro bearings. GM
DID NOT
pack them full like the front wheel bearings. If you use
too much, grease will be forced past seals and can get on brake shoes. Grease all rollers & races plus a little extra
in the middle, but
DO NOT
pack!
AXLE BEARINGS: Complete units – all come with new puller ring
GM
Seldom have
AFTERMARKET BEARINGS
Seldom have
1.178
1960-62 Cars

See Pg. 166

C713

4 lbs.

C713R

X

4 lbs.
1.178
1963-64 Cars

See Pg. 166

C714

4 lbs.

C714RX

4 lbs.
1.375
1961-65 Vans

See Pg. 166

C1187

4 lbs.

None
LOCKING RING:
Help insure bearing stays on. Can't be used with deflector (#5 below).
Press on after bearing unit. Not originally used by GM.
1960-64 Cars
C5442
4 oz.
1961-65 Vans (FC)
C5443

4 oz.
REPRO CAR & FC AXLE BEARINGS: Info – See page 166
1960-64 AXLE PULLING/PRESSING TOOLS: See page 338
REAR BEARING & AXLE PARTS
1960-64 CARS & 1961-65 VANS
1. LUG STUDS: 1960 Cars
C4398
2 oz.
1961-64 Cars & 1961-65 Vans
C591
2 oz.
LUG NUTS: Cars & Vans
C592
2 oz.
2. AXLE FLANGE & SHAFT: (Less Studs & Less Bearing) –
(SEE USED PAGE 357)
1960-64 Cars
C1371

10 lbs. *

seldom have new
1961-65
Vans
C2045

12 lbs. *

seldom have new
3. AXLE BEARINGS: See Above
STUDS: Hold bearing on – Cars & Vans
C2551
4 oz.
NUTS & L0CKWASHERS: For stud – Set of 4
C2885A
2 oz.
4. REAR AXLE BEARING – "PULLER RING WASHER": Come with complete bearing units (above) &
some Clark Repro Kits (pg. 166). Always ruined when removing bearing. These are heavy duty repro.
1961-65 FC (Vans)
C9932
6 oz.
5. DEFLECTORS: Mushroom shaped metal water and dust deflector.
1961 - 65 Vans
C1384
4 oz.
Note: If you do not have the full bearing tin dust shield, the deflector
goes on as in the diagram. Otherwise, it goes on in the opposite direction.
REBUILT YOKES
See page 126
COMPLETE 1963-64
BEARINGS PAGE 166