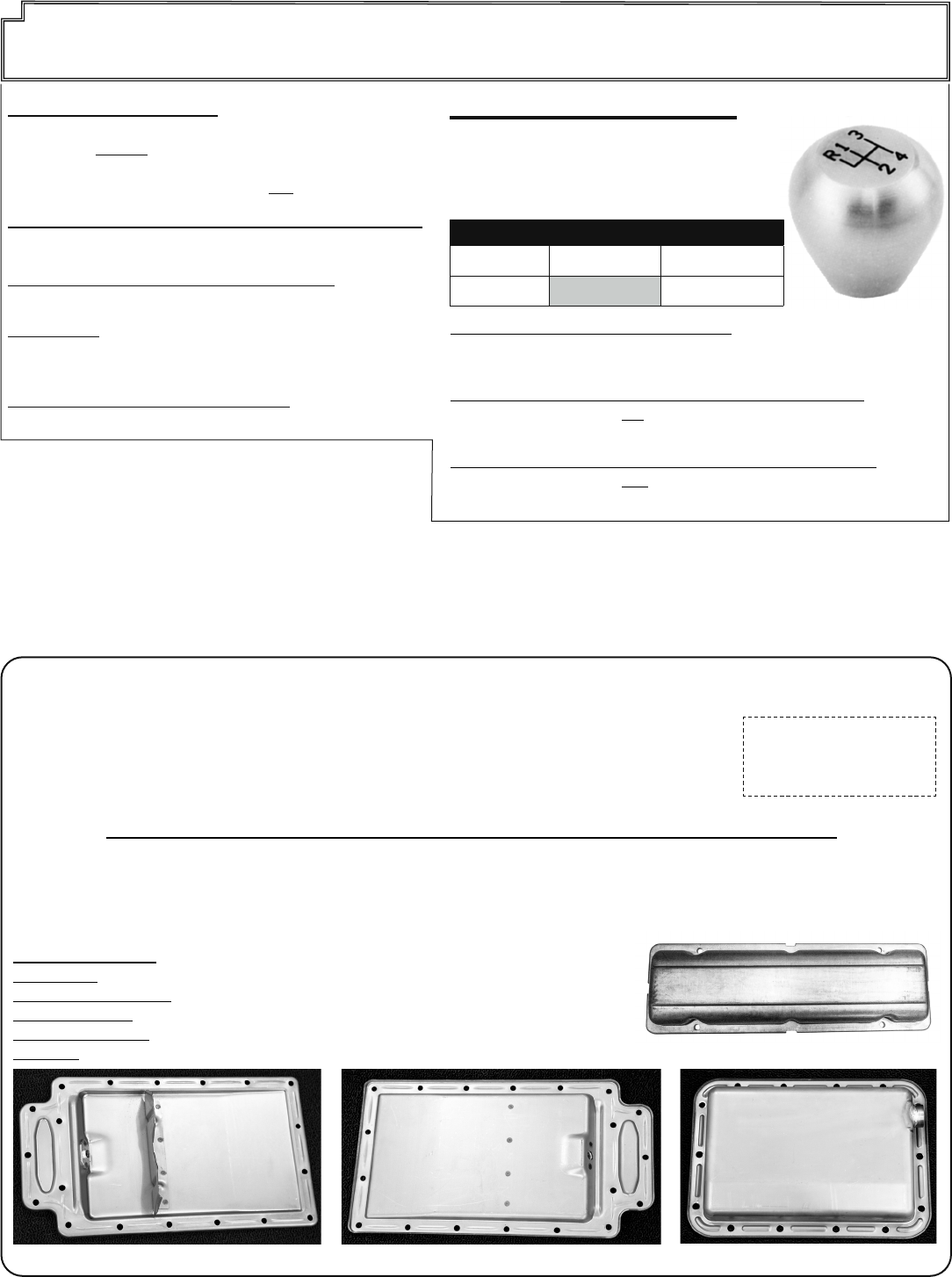 i
WARNING:
Product

s on this page can expose you to a chemical, which is known to the State of California to cause cancer or reproductive harm. **For more information go to w

ww.P65Warnings.ca.gov**
16
Fender Skirts
60-64 4 Door with clips:
Set of 2
CX567
$95.20

5 lbs.
60-64 4 Door No Clips:
Set of 2 (some rust & grime)
Note: 4 Door Fender Skirts Do
NOT fit Wagons.
VW Starter Bushing Reamer
For eccentric and concentric bushings – discontinued when gone.
Bumper Guard Clamps – 1965-69 – REAR
Not exact – but do work – fits rear. 1 used per guard.
Bumper Guard Clamps – 1965-69 – FRONT
Not exact – but do work – fits front. 1 used per guard. Bolts NOT included.
CUSTOM KNOBS
FOR CARS & FCs
Machined aluminum, finished in clear or black
anodize
with a 3 speed pattern engraved on the top. Pattern is
painted black on clear; white paint on black for contrast.
Largest diameter approximately 1 7/8" x approximately
2" high.
All 6 oz.
Cars
FC
3 speed clear
C6693C
$9.60

C6693CF

$11.50
3 speed black
C6693F
$11.50
CDs On Sale While Supplies Last
Corvair printed ads, nearly 250!
C12539
$3.00
Tool-Revolving Hole Punch "Pliers"
6 size holes
C12814

$12.15 12 oz.
Connect portable CD, iPod, MP3 through regular radio.
Poly Locks – Rocker Arm Nuts
Set of 12. Will not work with roller rockers.
C2827
$39.00 1 lb.
All remaining items on DWG pages 14, 15 and 16 will be on sale for 20% off
from August 30, 2023–November 30, 2023.
Prices on the website & when ordering will reflect the discounts as of August 30.
DWG
No 4-Spd left
"STOCK" OIL PANS, VALVE COVERS & PG PANS
* * * 50-60% THICKER THAN STOCK * * *
1
– Better stamping than originals
3
– Very stiff, will not distort
4
– Bolts less apt to deform holes
5
– Excellent gasket sealing
7
– Plating looks like NOS
REPLACE THOSE RUSTY, DENTED, DISTORTED OLD PANS
Now you can replace them with these brand new reproductions. Stamped to match the originals exactly, these pans and covers are made from
50-60% thicker steel. This not only makes them more durable, but also improves gasket sealing. The original engine and Powerglide pans are known
to distort around the bolt holes and flex in-between the bolts which makes it hard for the gasket to seal snugly. The thicker steel on the new pans
reduces the distortion and flex to spread the clamping force more evenly over the gasket, improving the seal and reducing leaks. The oil pan does not
come with a drain plug. The PG pan is ready for you to attach your stock PG dipstick tube.
Order gaskets from catalog.
ALL IN STOCK
Engine Oil Pan
C2838
8 lbs.
1 = $112.00
2+ = $105.00/each
Oil Pan & 2 Valve Cover Set
C2838V
16 lbs.
$185.00
PG Transmission Pan
C2837

8 lbs.

1 = $110.00

2+ = $105.00/each
Oil Pan and PG Pan Set (one each of C2838 and C2837)
C2838P
16 lbs.
$210.00
Valve Cover (sold each)
C4232R
8 lbs.
1 = $44.50
2+ = $41.85/each
Inside Oil Pan
Outside Oil Pan
PG Pan
New PG Pans included
in all PG trans rebuilds
THANKS TO YOUR ORDERS
THE REPROS KEEP COMING!!