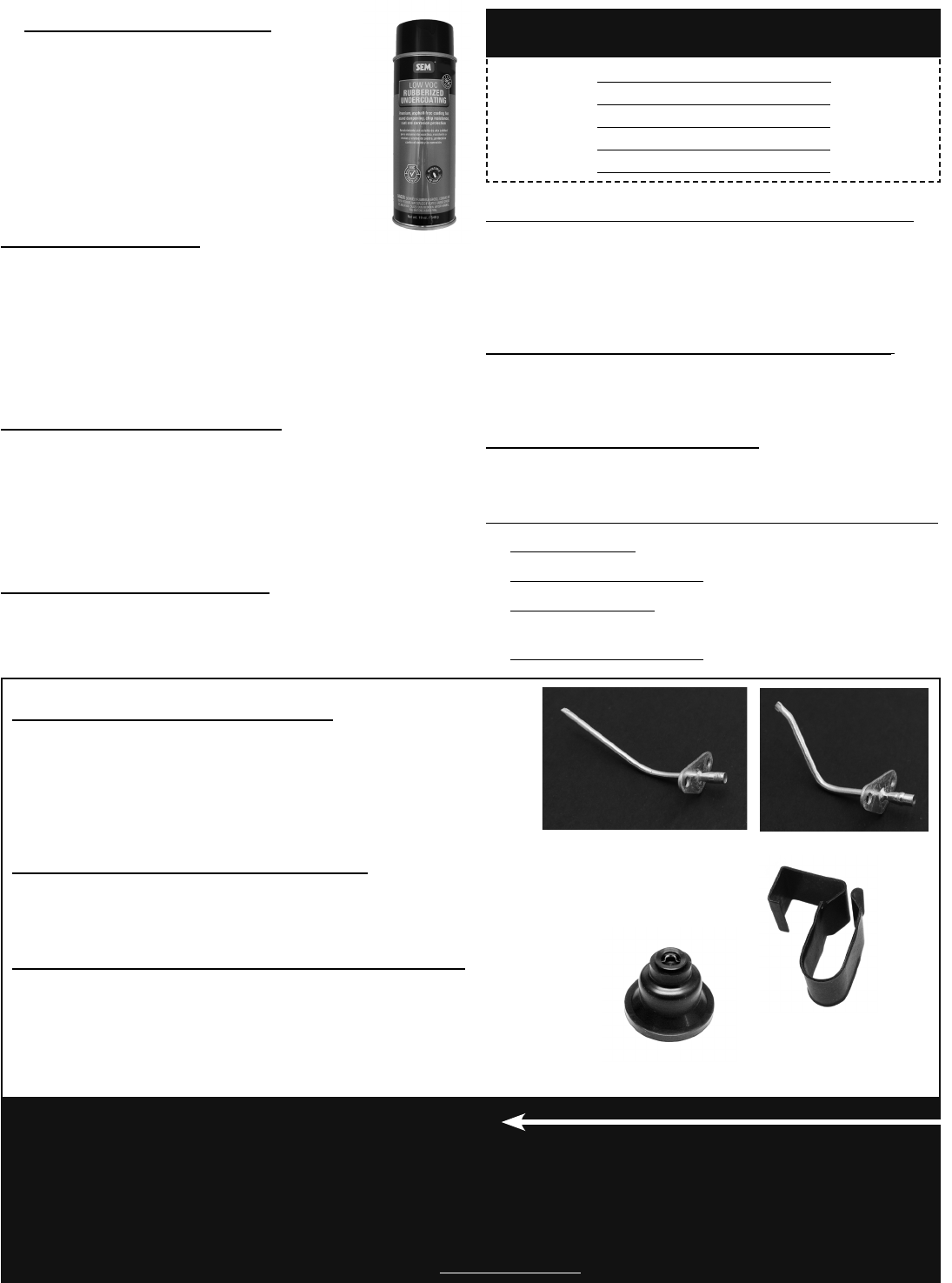 Best Undercoating
Cal says this is the best spray undercoating he's ever used.
Great to refresh old original undercoating, sticks great (as
long as old undercoating is not oily) and has the black color
& sheen. If using on bare or painted metal it sticks well & 3-4
coats start looking like the dealer undercoating. The 19 oz. can
goes a long way. Our other undercoating C1293 is browner/
black in color, does not stick as well to paint & does not build
up to look like dealer undercoating.
Gas Tank Caps
We are reproducing all Corvair gas caps to appear more original than previous
options. The outside of the caps is an almost perfect copy of the originals.
The main difference is the venting inside the caps. Expected Fall 2022.
1960 Cars
C4529
$16.00
6 oz.
61-64 Cars
C446A
$17.55
6 oz.
61-65 FC – primed
C1012P
$19.35
6 oz.
65-69 Cars
C447B
$19.50
6 oz.
64 PG Generator Bolt
64 Powerglide equipped cars originally used a generator mount bolt with no
bushing. Check your generator mount bracket for the size of the bolt hole,
a 3/4" x 1" oval hole requires the rubber bushings, a 5/16" x 3/4" oval hole
does not.
C4350P
64 PG, no bushings
$1.85
2 oz.
C4350
60-64 w/ bushings
$9.15
4 oz.
Permatex Ultra Slick
Engine assembly lubricant. Adheres to component surfaces to prevent scuffing
and galling during initial start-up. Very slick & sticky, use on engine bearings,
lifters, rocker arms, and gears.
65 Telescoping Column Steering Box
We added this part number for the 65 and possibly early 66 telescoping
steering wheel steering boxes with the slightly shorter shaft. If you have one
that needs to be rebuilt you can send it in for rebuilding. See page 408 in our
Main Catalog for steering box identification information.
C10867T
$574.60 incl. $230.00 core
15 lbs.
FC Directional Cancelling Cam
Correct cancelling cam for the 64-65 FCs. Similar to the C9695 60-64 car
cancelling cam but it is a bit shorter.
Softer Weatherstrips
Clark's trunk weatherstrips have always been some of the softest available, as
of Fall 2021 they are even softer.
NEW Steering Boxes Back IN STOCK by April
?
Positration Plate Sets:
C1245
– Back in Stock
?
1960-62 Red Ryder Front Shocks – A few left:
C2832
$24 each
?
1964 Front Grill Seconds – Complete Grill & Emblem: Some minor dings,
scratched paint or not masked perfectly:
CX7290
$99.00
?
CORSA Tech Guide Vol. 4 (no CD):
C4230X
$27.00 1 lb.
YEARS SERVED
# OF EMPLOYEES
Special Thanks to All Our Employees!
Windshield Washer Nozzles
Estimated Summer 2022
Replace those corroded and clogged nozzles. Made just like the originals.
60-64 Car
C7647
$12.00
2 oz.
65-69 Car
C7648
$12.00
2 oz.
Gasket for 60-69 nozzles
C7245
$2.65 each 1 oz.
Set of 4 screws and 2 gaskets, 60-69
C7648G
$5.95

2 oz.
Set of 4 screws, 60-69
C7648
$1.55

1 oz.
Windshield Washer Hose Clips
These clips hold the windshield washer hose in place at the rear of the trunk.
Originals tend to get lost, break, or rust away. Exact repros. 2-3 used.
New Windshield Washer Pump Bellows
Pump rebuild kits have not been available for years and you had to replace the whole pump
with the non-original C7890 pump. Now you can rebuild the old pump with a new bellows.
Includes detailed installation instructions. Also order valve assembly below.
C8962A
61-69 bellows
$12.00
2 oz.
C588A
61-62 valve assembly
$12.50
4 oz.
C588
63-69 valve assembly
$12.50
4 oz.
C7648C7647
C1726
C8962A
CORSA National Convention
We plan to attend the CORSA National Convention in Georgia in 2022. We will have one employee and a
display of new reproductions. Check in at our booth and your name will be put on a list that will qualify you
for an 8% discount good for orders placed at the show, on the phone or on our website, plus the discount
extends through the Tuesday after the show! You MUST check in at our booth to qualify. The 2022 convention
runs from July 12th-16th. We will be at the show Tuesday and Wednesday all day and Thursday morning.
For more details check out CORSA's website at
www.corvair.org.
2
i
WARNING:
Product

s on this page can expose you to a chemical, which is known to the State of California to cause cancer or reproductive harm. **For more information go to w

ww.P65Warnings.ca.gov**