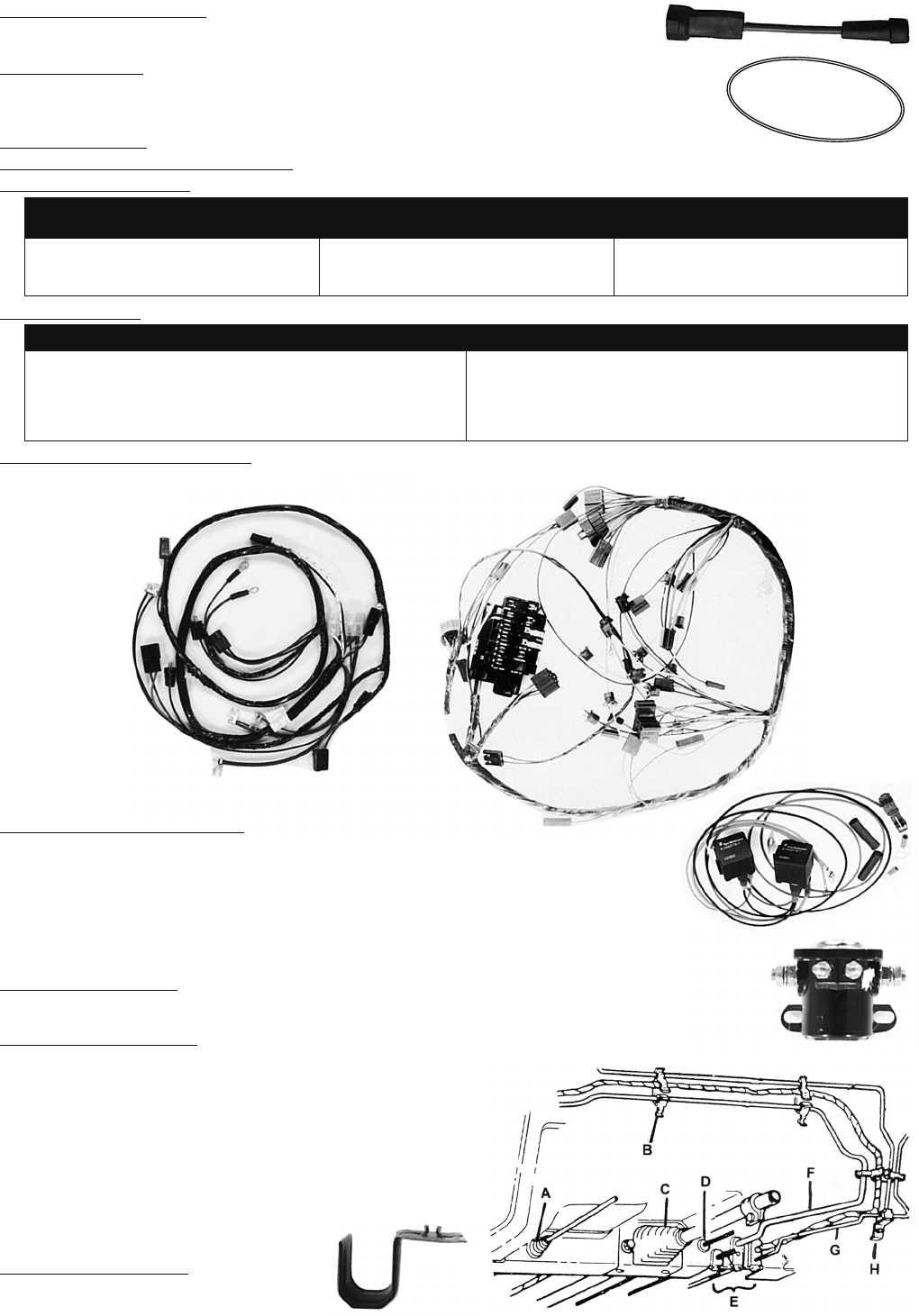 i
WARNING:
Products on this page can expose you to a chemical, which is known to the St

ate of California to cause cancer or reproductive harm. **For more information go to www.P65Warnings.ca.gov**
63-64 Engine
61-64 Style
Dash Harness
98B
HEATER ADAPTOR WIRE:
1960-64 Cars & FC. The original heater motor had a round stud connector
(comes w/ repro harnesses). If your heater has a round stud, you don't need this adaptor wire. Most motors have a
flat spade stud & require this adaptor wire to connect it to the main body harness.
C3954
2 oz.
SPEAKER WIRES:
Our replacement single dash speakers do not come with wiring. Transfer your old one or order these.
Radio to Front Speaker: 1960-69
C8404
10 oz.
Single Rear Speaker Wire – Radio to Rear: 1961-64
C12107
12 oz.
CLOCK HARNESS:
1961-64 Cars & 1961-65 FC

C12049

4 oz.

1965-69

C12050

4 oz.
1960-69 CIGARETTE LIGHTER WIRE
C12048

4 oz.
POWER TOP HARNESS:
1 lb. ea.
1965
-

69

Switch to Circuit Breaker & to Connection
Above Starter
1965
-

69

from Connection Above Starter through
Attached Rubber Grommet to Relay by Top Motor
1962-64 (exc. Spyder)
C9128
A/C HARNESSES
1961-64 Dimmer Switch to Selenium Rectifier
C12040
8 oz.
1963-64 Main A/C Harness
C12041
1 lb.
1962-64 Dash Harness to A/C Cutout Relay
C12044
8 oz.
1962-64 Ignition Switch to Blower Switch
C12045

8 oz.
1962-64 Evaporator to Compressor
C9126
10 oz.
1965 Main A/C Harness (has striped wires)
C12042
1 lb.
1966 Main A/C Harness (solid color)
C12043
1 lb.
1965-66 Dash Harness to Cutout Relay
C12046
8 oz.
1966 Compressor to Fast Idle Solenoid
C12047
8 oz.
1965-68 Evaporator to Compressor
C9127
10 oz.
LOW FUEL WARNING MODULE:
This unit "reads" the resistance from the fuel tank sender going to the gauge and can be used to light a small bulb and/or
Piezo buzzer (neither included). It can be adjusted. You could start with an empty tank & add 2 or 3 gallons and set it so the light just comes on. Will control other devices
up to 1 amp. Includes basic instructions.
C12099
12 oz.
HARNESS DISCOUNT
see Blue pg. MK-7
u
Tail Light sockets & electrical connectors: Next Page
HEADLIGHT AUTO-OFF RELAY:
With day-time running lights on many cars, I like to
drive my Corvairs with the headlights on, but I was always afraid I'd forget to turn them off. Now, no dead battery if I do forget.
Installs in about 1/2 hour. Comes w/ instructions; do not need to cut or splice wires.
C13054
1 lb.
STARTER "RELAY KIT" –
Starter always start? Want to be sure?
Does your Corvair solenoid sometimes just click even though you've replaced it & checked the wires? Does your starter just
barely turn over when hot? You receive a relay with all the wires and complete instructions. The relay can be installed inside
the engine compartment by the regulator or on the other side of the firewall (out of sight). The relay sends a full 12V to the starter every time.
"Relay Kit"
C2056R
4 lbs.
DOME LIGHT WIRING:
Door jamb switches to light. Complete with connectors. 2 & 4 Door.
VAN DOME LAMP WIRE:
Voltage regulator to dome lamp. 1961-63 Van (not Rampside)

C12078

8 oz.
GLOVEBOX LIGHT KIT –
See page 93
1960-64 Rear of Tunnel
A.
Accelerator Boot: At end of tunnel. 60-64 Cars
C101
2 oz.
B.
Clips: Harness, Brake & Gas. 61-64, 3 used.
C6897R
2 oz.
C.
Std Shift Rod Boot: Does not have metal insert. 60-64
C97R
8 oz.
D.
Emergency Brake Cable Grommet. 60-64 Cars
C855
1 oz.
E.
Grommets: Harness, Brake, Gas & Clutch. 2-3 needed.
Cut end to make short one.
C7241
2 oz.
F. & G.
Gas Lines: See page 68
H.
Brake Blocks ("Ts"): See page 150
1960-69 TUNNEL CLIP:
Vinyl Covered Metal
Holds harnesses & lines for various years. Clips into the floor
Exact repro.
C13038

2 oz.
C2056R
C13038