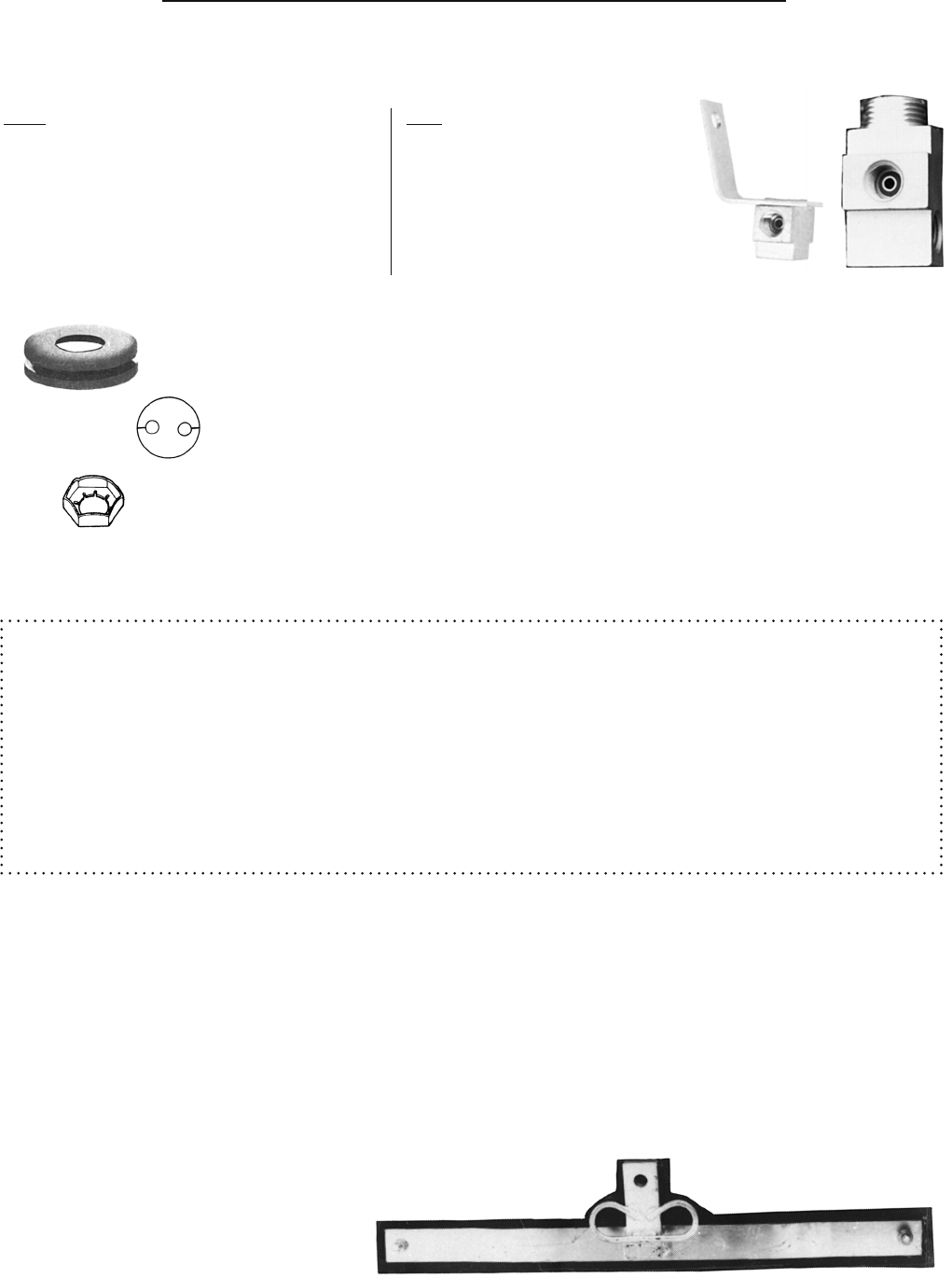 i
WARNING:
Products on this page can expose you to a chemical, which is known to the St

ate of California to cause cancer or reproductive harm. **For more information go to www.P65Warnings.ca.gov**
150
MORE IMPORTANT BRAKE PARTS
BRASS BRAKE "T's" (blocks) – REPLACE
These blocks have not been available in over 25 years and
really should be replaced
when doing a brake job. The brass
"cone"
gets compressed by repeated tightening of
the brake lines and can corrode and / or the brass threads can fatigue, making it a likely area to leak. If you replace these after bleeding the brakes you have to bleed the
brakes again.
"I would not reuse any old originals."
FRONT BRAKE "T's" –
60-61 Cars

are along left side of the
gas tank,
62-69 Cars
are under dash,
FC
are on front cross member.
65-66 Cars (with
3/16"
line to rear)
C3906F
6 oz.
65-66 Cars (with
1/4"
line to rear)
C3906FL
6 oz.
67-69 to front
C3907
6 oz.
67-69 to rear
C3907R
6 oz.
REAR BRAKE "T's"
65-66 with
3/16"
to rear
C3906R
6 oz.
66-69 with
1/4"
to rear
C3906RL
6 oz.
Brake Grommets
Brake line through front inner wheel well. The front steel brake lines on each side go through a rubber grommet.
Often brittle or ruined when removed.
1960-64 Cars order (1) C6021G and (1) C5684
C6021G
2 oz.
1965-69 Cars order (2) C5684
C5684
1 oz.
Grommet –
Brake Line through "Front Fire Wall"
By master cylinder through firewall. C6868
excellent replacement
. C6869
EXACT REPRO.
1 HOLE
1960-61 Cars
C6868
2 oz.
2 HOLES
1962-69 Cars
C6869
2 oz.
NUT:
For brake connector that sticks into trunk.

1962-66 Cars – 5/8"

C3710

1 oz.
1967-69 Cars (2 needed)
C6151
1 oz.
Long Fuel Lines:
Ordering BRAKE LINE SETS?
This is the perfect time to order the LONG FUEL LINES to save on shipping costs – see page 68.
Discontinued Parts!
Chevrolet has discontinued most Corvair parts. We are reproducing important ones as quickly as we can but small parts usually take
$1,000–$4,000. Bigger parts have cost us over $50,000 (for 1 part). Your orders help us to reproduce more of the parts you want.
We answer letters, faxes, email & return phone calls.
CLARK'S – more than parts!
TRAILER HITCHES – Cars & FC
These are copies of hitches made during the 60's and 70's by a major Hitch Co. They all take 3/4" ball shaft and are designed to use existing holes in bumper in all cases
except 1960-64. These hitches are extra strong. Be sure your rear bumper is attached well! All are similar to picture but painted with black epoxy.
Class 1
100 lb. tongue, 1,000 lb. trailer
1960-69 Cars
C1098
16 lbs.
1961-62 Wagons
C1096
16 lbs.
1961-65 Vans (FC)
C1097
20 lbs.
Brake Line Warning
Replace those brake lines, especially if your car or FC has the original brake lines; DO NOT WAIT! Replace them even if they look perfect on
the outside. The reason, brake fluid attracts water (even today's car manufacturers suggest bleeding the system every 2 years!) If the water
stays in one area of a line for too long, it can easily rust from the inside. Don't put yourself, your passengers or your classic vehicle at risk.
Wheel Cylinder/Brake Hose Installation Warning
for all Cars & FC's
If you are replacing a wheel cylinder, you must remove the brake hose from the body. If you leave the hose attached to the body and just spin
on the wheel cylinder, you risk the hose being twisted while tightening. This may force the hose against the tire rim or suspension.