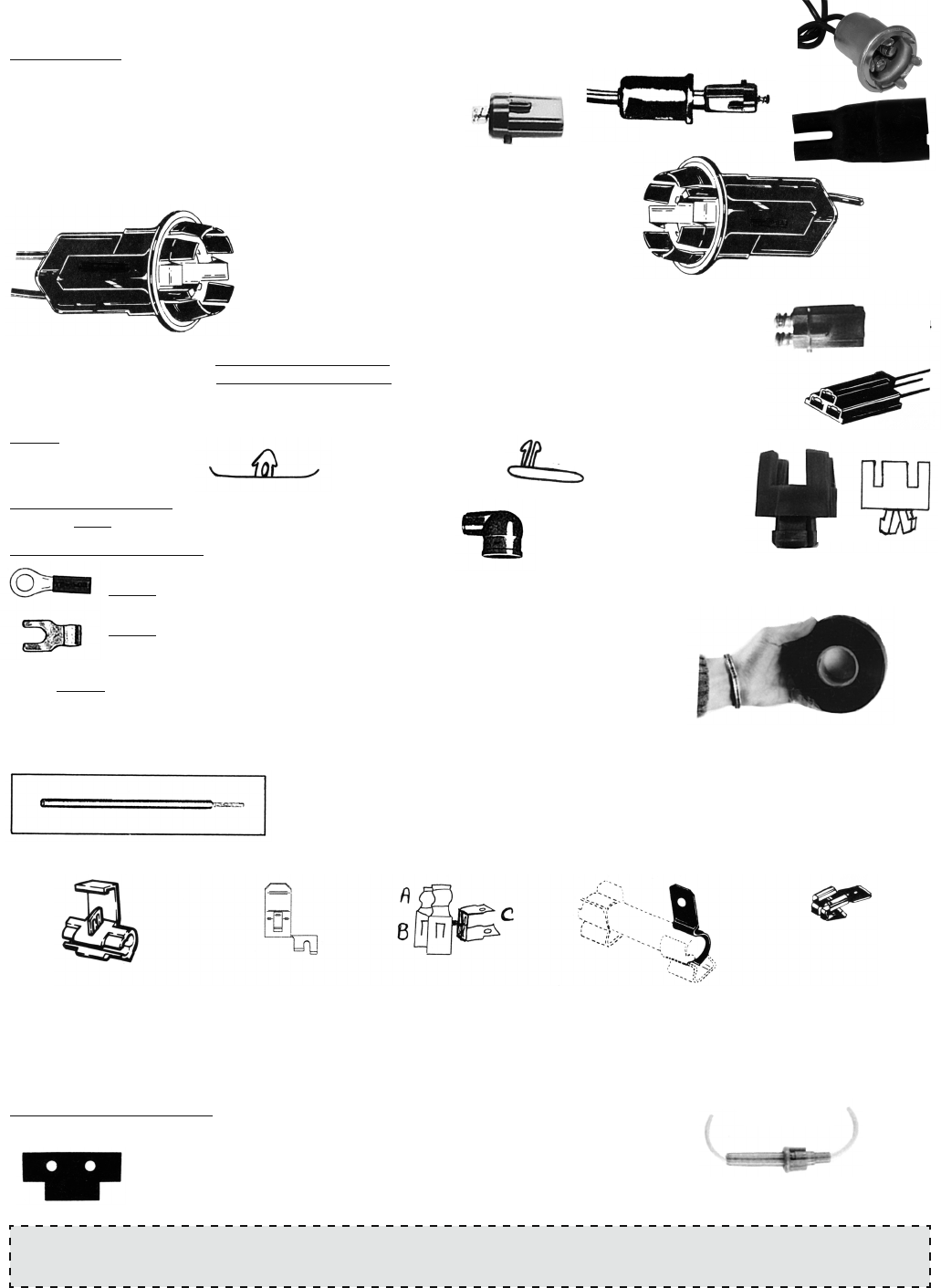 i
WARNING:
Products on this page can expose you to a chemical, which is known to the St

ate of California to cause cancer or reproductive harm. **For more information go to www.P65Warnings.ca.gov**
C6172
99
Replacement Tail & Backup Sockets –
with wires
60-64 Replacement Stop Light Socket
Now you can replace that corroded tail light socket in 1960-64 Cars & Vans. Takes a little work but includes complete instructions.
(Remove old one, install new and peen over.) Splice to old wires.
C6172
2 oz.
63-64 New Tail Light Units with NEW wiring, see page 93B.
BOOT – Tail Light Socket:
1960-64 exact replacement.
Slides over end of tail light socket to reduce corrosion.
C6839
2 oz.
1960-64 Backup Light Plug
C6093

4 oz.
Back-up Plugs & Boots:
You get 2 "NOS" rubber boots and plugs attached to black wires.
One has 2 wires, the other has 1. Cut and splice in.
1960-64 Cars
CX3413
8 oz.
'65-69 Tail & Backup
1 WIRE – Backup ('65-69)
C2559

4 oz.
2 WIRE – Tail Light ('65-67
– right
)('68-69
– left
)
C2558

4 oz.
3 WIRE – Tail Light ('65-67)
1965-67 left side / 1968-69 right side
C6779
4 oz.
DIRECTIONAL SOCKETS:
1960-64 front directional socket

C2558

4 oz.
1965-69 front directional socket
C5104
4 oz. Comes with terminals; solder your wires.
DIMMER SWITCH HOUSING & CONNECTORS:
1960-69. Splice into harness.

C2557

2 oz.
PLASTIC RETAINERS – for engine harnesses:
Usually break when harness is removed.
2 STYLES – These come on our reproduced harnesses.
ELECTRICAL CONNECTOR:
1965-69 – Goes on frame by battery. Small positive cable joins here. "Always" broken!

C6802

2 oz.
Screw:
Goes thru connector
C6827
1 oz.
Rubber Connector That Covers Stud: 1965-69 Alternator
C3962
2 oz.
SET of 5:
C3301
1 oz./set
SET of 5: Per picture. For 14-18 GA. Wire
C6095
1 oz./set
For 10-12 GA. Wire
C6096
1 oz./set
BLACK WIRING TAPE – Non-Adhesive:
This is the original style tape used on the wiring harnesses. (Not a substitute for
replacing 30+ year old harness!) "Standard" electrical tape size roll.
3/4 " most harnesses
C9948
6 oz.
1 1/4" underdash harnesses
C9949
6 oz.
"FUSIBLE LINK" CABLE
This fusible link wire was originally used on the battery cables of 1965-69 Corvairs. It is also used on the replacement
Delco cables we sell. The Non-GM cables do not have it and you may want to add it.
Usually 4-6" was used. In case
of a short the link will melt, acting like a fuse. Can be added to positive cable on 1960-64.
Sold by the foot. Order 4 and get 4 feet.
C5455
2 oz. /ft.
Quick Splice
Fuse Clip
Fuse Clip & Tap
Fuse Tap
Piggyback Tap
Put 2 wires inside, push down on metal
tab and close cover. Your 2 wires are
connected. 14-18 GA. wires.
Fuse clip that accepts
wire. Also fits dome
light.
Several used on 1965-69
fuse blocks.
C –
Taps for plug on wires.
Insert at end of glass fuse.
Discontinued
Slide on terminal and
this leaves another
terminal.
FUSE HOLDER w/ WIRE:
No fuse included. I like to keep 1 or 2 in my shop; you never know when you'll want one.

C4897

4 oz.
FUSE BOX GASKET:
1960-66 Cars & 1961-65 Vans
(Does not fit 1967-69)
This gasket goes behind the fuse box to prevent wires and connections
from shorting to the body. Old ones often are shriveled, torn or missing.
C7248
2 oz.
Doing a Show Car?
The new EXACT repro harnesses are a must!
'65-69
C6093
C6839
CX3413
C5104
C6802