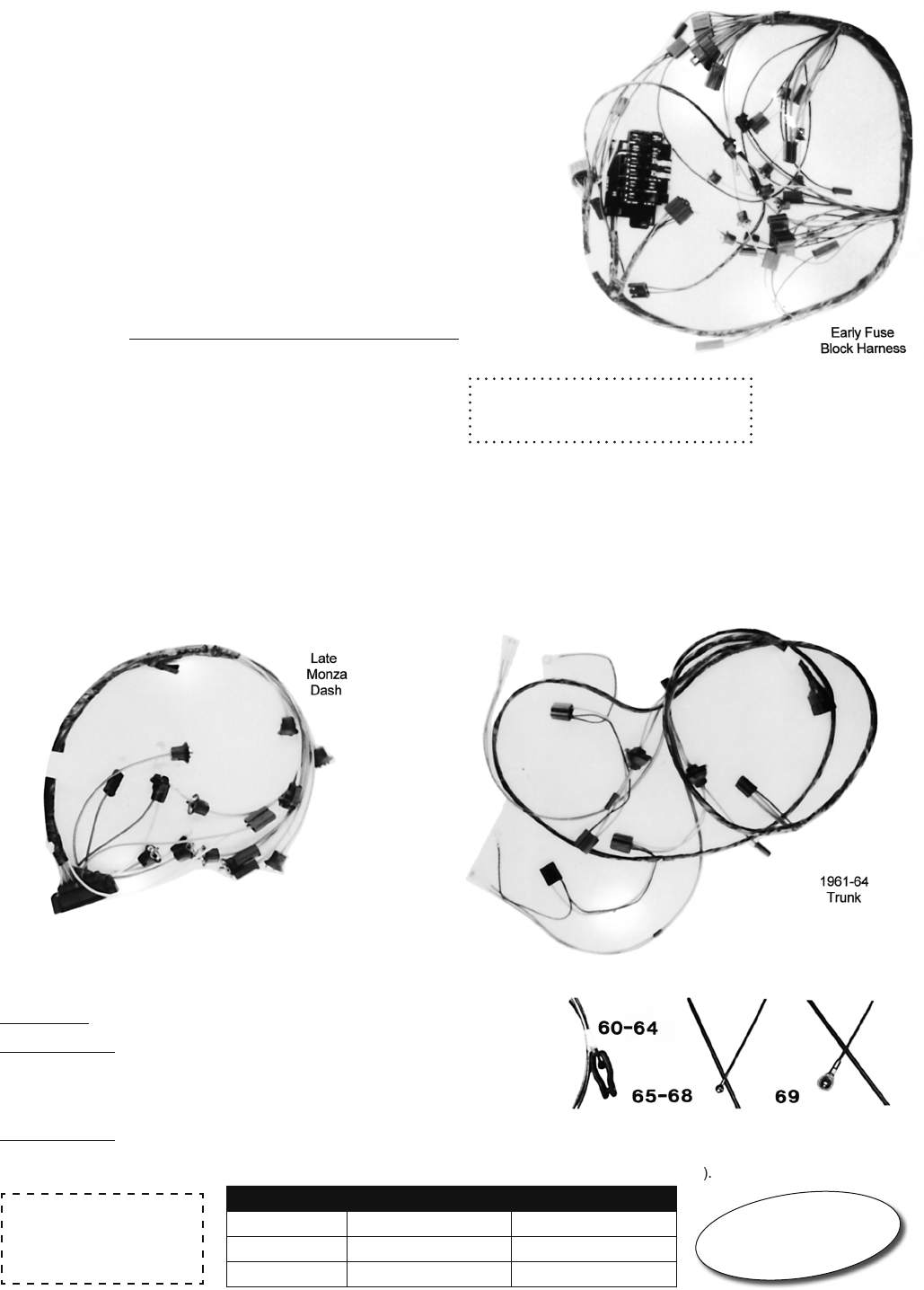 i
WARNING:
Products on this page can expose you to a chemical, which is known to the St

ate of California to cause cancer or reproductive harm. **For more information go to www.P65Warnings.ca.gov**
MK-7
Clark Multi-Kits
ELECTRICAL HARNESS KITS
We no longer supply HARNESS MULTI-KITS
the choices & combinations have become too complex!!!
WE DO OFFER A "HARNESS DISCOUNT"
These harness items
MUST

ALL BE ORDERED AT THE SAME
TIME, ON THE SAME ORDER
to qualify for the discount.
The discount applies to
ANY WIRES, HARNESSES, & HARNESS
RELATED PARTS listed on PAGES 81, 97, 98, 98A & 98B
.
YOU WILL RECEIVE A DISCOUNT OFF THESE ITEMS BASED
ON THE TOTAL VALUE OF THE HARNESS ITEMS.
HARNESS Order Value
Discount
INTERNET ORDERS:
You can order all of these wiring parts on the internet and it will automatically add the total for harnesses separately from
other parts and show you your total discount.
Don't forget; all harnesses must be on one order.
You may mix harness parts with any other items on an order. Our order entry computer & internet site will
separate which items qualify & give the discount on the correct parts.
REPLACE THOSE OLD HARNESSES & AVOID WIRING PROBLEMS!
Not only can the connectors
corrode, but moisture can also get into the ends of cut wires &/or crack the insulation corroding the copper. This
increases resistance which can lead to larger problems.
All items that qualify have an "h"
after the price in our price list.
CLUTCH CABLE KITS
These are the most often needed parts for replacing a clutch cable.
There are many other parts you might consider for restoring this whole system.
BASIC KIT:
Clutch cable, jamb nut, return spring, adjusting rod swivel and special clip.
ULTIMATE KIT – 60-64 CARS
BASIC KIT

plus we

add

pedal shaft bushings and retainer, pedal bumper, foam seal for
cables
(by accelerator pedal),

plastic cable guide and screws

(by accelerator pedal)

,
ULTIMATE KIT – 65-69 CARS
BASIC KIT

plus we

add pedal shaft bushings, pedal bumper, foam seals for cables

(by accelerator pedal)

, plastic cable guide and screws
(by accelerator pedal)
, pulley in tunnel, cable "antirattle" (

NOT

included but

suggested

– clutch cable boot

C98A

).
60-64 Cars
C10282
2 lbs.
C10283
3 lbs.
65-68 Cars
C10284 u

4 lbs.

C10285 u

5 lbs.
1969 Cars
C10286 u

4 lbs.

C10287 u

5 lbs.
All 65-69 CLUTCH CABLE
See page 204
INDIVIDUAL PARTS
see pgs. 112-114