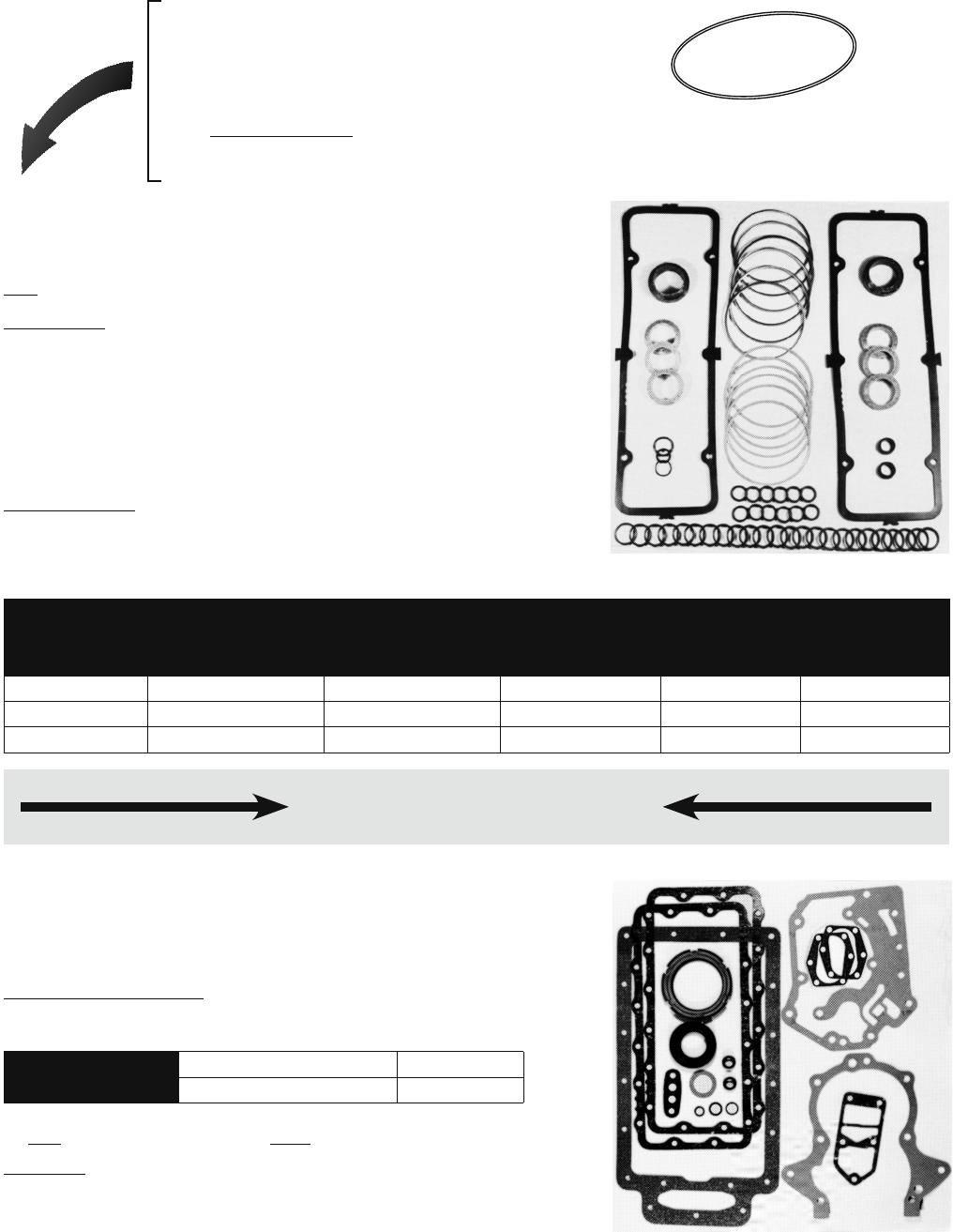 5
i
WARNING:
Products on this page can expose you to a chemical, which is known to the St

ate of California to cause cancer or reproductive harm. **For more information go to www.P65Warnings.ca.gov**
Full Engine Seal Set –
You Need
For a FULL ENGINE REBUILD ORDER
"A", "B", "C", and "D Optional Foam Seals". (Also see page 3 for Kits that include all of these).
"C"
INTAKE VALVE STEM SEALS
"D"
OPTIONAL FOAM SEALS: C203, C204, C1075, C1076, C2285, C2286A
NOTE:
We also offer all seals and gaskets separately in following section
"E"
ENGINE DISCOUNT !
see Blue pg. MK-2
"A" HEAD SETS
Head gaskets, cylinder to block gaskets, o-rings, exhaust packings and valve cover gaskets).
Viton
= 1 is enough for full engine.
Viton Head Set:
Enough for 2 heads

(except for the 1/2 set)
INCLUDES: head gaskets
cylinder
to block gaskets
VITON push tube and oil cooler seals
VITON vent tube and fuel pump o-rings
HI -TEMP valve cover gaskets
manifold to head & manifold to crossover
(correct for your engine)
Big Bore Viton Sets: Enough for 2 heads
Also see page 7
Same as above but with:
solid copper head gaskets which are a must for cylinder bore +.030
or more. The copper head gaskets are usually reuseable and are acceptable for stock engines.
ENGINE
VITON
Regular Head Gaskets
(Enough for 2 heads)
VITON 1/2 Set with
Regular Head Gaskets
(Enough for 1 head)
VITON BIG BORE
Gaskets – Stock
(.032 thick)
VITON BIG BORE
Gaskets
(.042 thick)
VITON BIG BORE
Extra Thick
Gaskets
(.052 thick)
1960-64 All
C677V 1 lb.

C677VX 8 oz.

C677VB 1 lb.

C677VBT 1 lb.

C677VBTH

1 lb.
1965-69 All (exc. 140)
C678V
1 lb.
C678VX
8 oz.
C678VB
1 lb.
C678VBT
1 lb.
C678VBTH
1 lb.
1965-69 All 140
C679V
1 lb.
C679VX
8 oz.
C679VB
1 lb.
C679VBT
1 lb.
C679VBTH
1 lb.
"B" MAJOR BLOCK SET
NOTE:
These (2) Sets are interchangeable for all years. Only real difference is oil pan gasket. Cork is
best, paper is good for new pans and aluminum pans.
Includes Gaskets and Seals for:
Oil pan, oil drain plug gasket, top block cover (2), bell housing
(gasket & crank seal), rear housing (gasket & seal), distributor, oil cooler adaptor & oil cooler seals,
oil pump, gen./alt. adaptor gasket.
1960-69 Major Block Set
Comes with cork oil pan gasket

C120

1 lb.
1960-69 Major Block Set
Comes with "paper" oil pan gasket

C122

1 lb.
For Viton bell housing & crank pulley seal ADD V to C120 or C122
ON WEBSITE – Click on either number in the chart & the "V" option will display below.
FRESH –
Because we sell hundreds of gaskets every week, you
always
get fresh, new gaskets
(not sets years old)!
Need another CATALOG SET?
FREE with a parts order – CAT-0