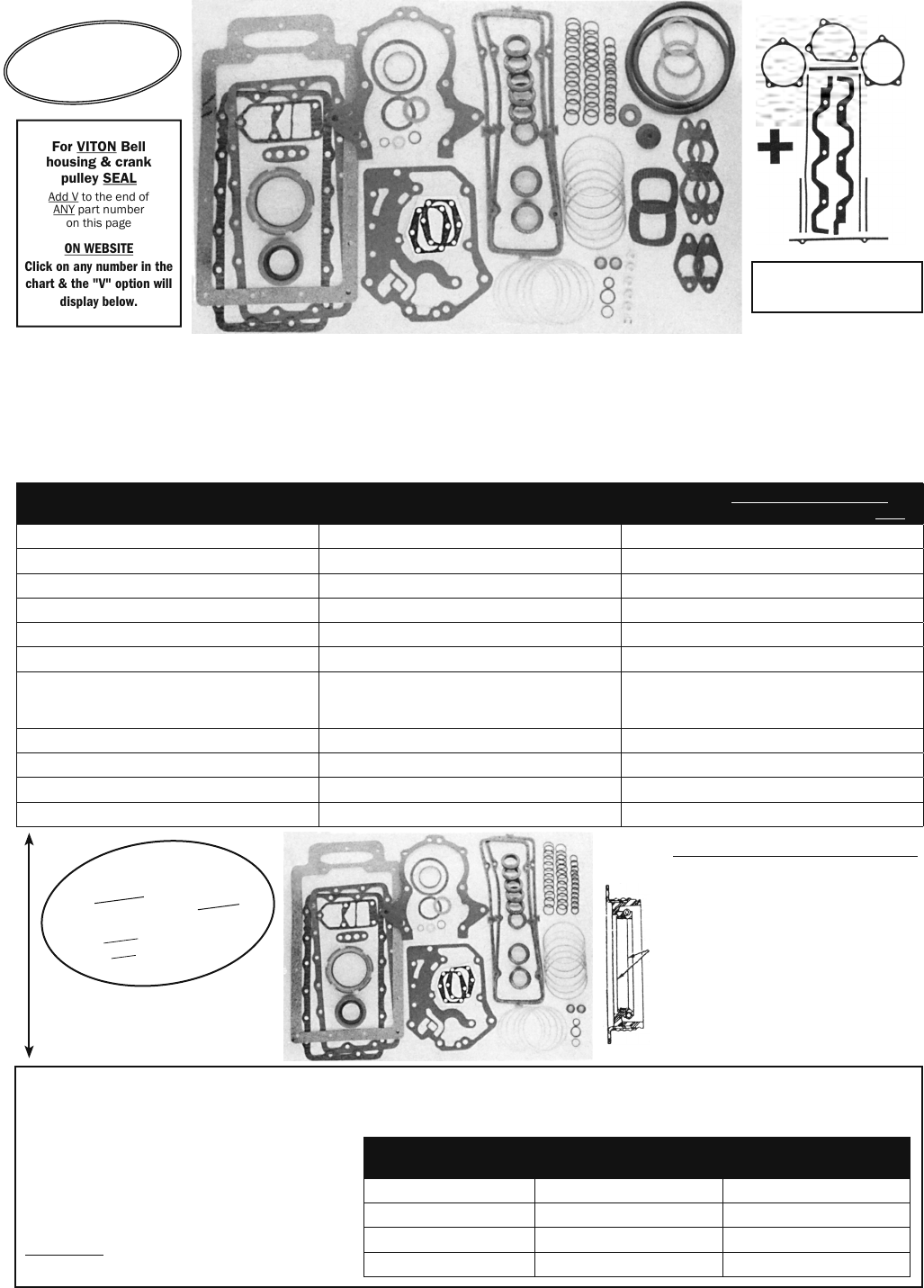 3
i
WARNING:
Products on this page can expose you to a chemical, which is known to the St

ate of California to cause cancer or reproductive harm. **For more information go to www.P65Warnings.ca.gov**
The "I Want EVERY Gasket" ENGINE GASKET SET
OKAY – YOU ASKED FOR IT!
One part number that will give you every single possible replaceable gasket, head gasket, seals, exhaust packings, manifold "col-
lars", valve cover gaskets, foam shroud seals, Viton o-rings, teflon valve stem seals, dipstick boot or grommet, all air cleaner gaskets, seals, carb. base spac-
ers and gaskets
(does

not

include carb. rebuild kits).
Basically this
KIT includes
everything

(and more)
listed as
Part "A", "B", "C" and "Optional"

listed
on
pages 5 & 6
. All
KITS
come with
CORK
oil pan gaskets and dipstick boot (grommet).
See page 1 - be sure you are ordering for the right year.
The only
replaceable engine rubber that
WILL NOT
be included is the "perimeter" engine seal (weatherstrip) and rubber grommets. You save about
5% OFF
individual
part prices. Each
SET
will be individually boxed with a list of each part. All components of these
SETS
will be our
very best top quality – NO COMPROMISEI
Year (All 3 Lbs. each)
Complete "I Want Everything Gasket Set"
(With Regular Head Gaskets)
Gasket Set (
With NO Head Gaskets
)
Order Big Bore Gaskets Separately - Pg 7
1961-63 Cars (exc. Turbo)
C6357
C
6358
1961-64 FC & 1961-62 Lakewood
C6361

C6362
1964 Cars (exc. Turbo & A/C)
C6359

C6360
1964 Cars with Air Conditioning
Use
C6357
Use
C6358
1962-1964 Turbo (includes Turbo base & outlet
gasket, chrome inlet to head gaskets, exhaust pipe
thru shroud collars)
1965-69 Cars (exc. 140, Turbo & 64 A/C)
C6365

C6366
1965 with Air Conditioning (65 Style)
C6367

C6368
1965-66 Turbo (See note for 62-64 Turbo)
C6369
C6370
1965-69 140 hp.
C6371
C6372
For VITON Bell housing
& crank pulley SEAL
Add V to the end of
ANY part number
on this page
INSTALLING ENGINE SEALS CORRECTLY
1. Remove old seals and clean area
2. Apply a light coat of lubriplate or oil on
outer ribbed surface to aid installation.
From the Shop Manual –
Coat seal with a
high melting point grease between
the sealing lips on the inside
diameter. Seals to be installed
must have this grease, which is retained for
the life of the seal (any quality all purpose
chassis grease will do.) 3. Be sure seal area
is smooth & coat with oil. 4. Seal area can
be polished with 600-800 grit sandpaper.
The "I Want The LEAST Complete" ENGINE GASKET SET
I need to completely reseal this engine but only want what
MUST BE
replaced.
CLARK TOP QUALITY of course!
Year (All 2 Lbs. each)
WITH REGULAR
Head Gaskets
WITH NO
Head Gaskets
1960-64 Cars & 61-64 FC
C9225
C
9226
1965-69 Cars (exc. 140 HP)
C9227

C9228
1965-69 Cars with 140 HP
C9229

C9230
These
SETS INCLUDE
a complete
HEAD GASKET Set "A" page 5
and
MAJOR BLOCK Set "B" page 5
(with cork pan gasket)
And
TEFLON VALVE STEM SEALS "C" page 6
ADD "V" to any part # in chart for VITON CRANK SEALS
ON WEBSITE – Click on any number in the chart & the
"V" option will display below.
See page 1 to be sure you are ordering for the correct engine.
"FLAT" side of stock head
gasket goes against head.
ENGINE DISCOUNT !
see Blue pg. MK-2
SEALING
LIPS
Individual SEALS &
GASKETS – Pages 4-8
Click on any number in the
chart & the "V" option will