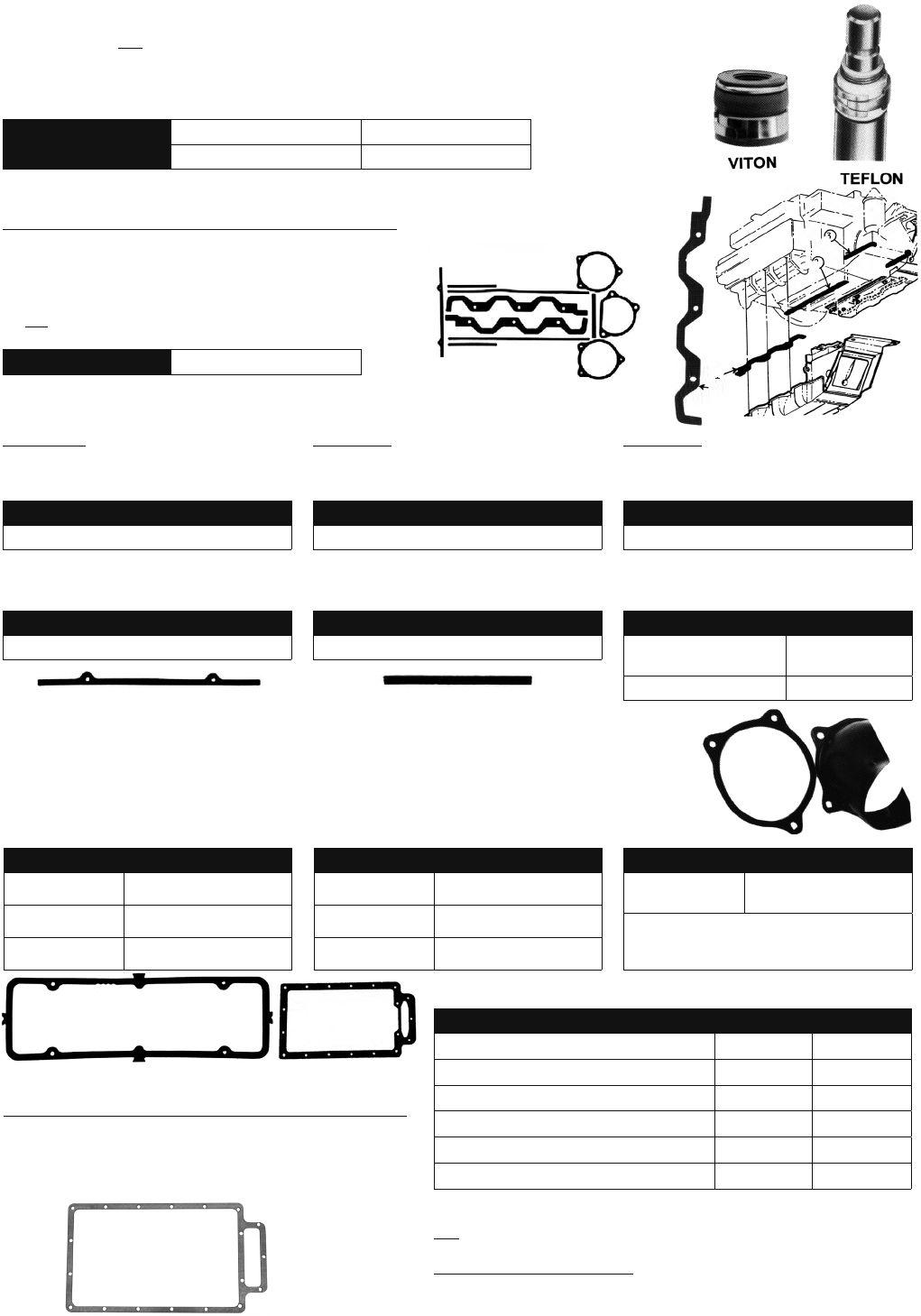 6
i
WARNING:
Products on this page can expose you to a chemical, which is known to the St

ate of California to cause cancer or reproductive harm. **For more information go to www.P65Warnings.ca.gov**
"C" VALVE STEM SEALS – VITON OR TEFLON
Valve stem seals go
only
on the
intake valves
. The solid Viton ones replace the original seals. Teflon seals last longer and
are just as easy to replace. Machine Shop doing your head? Take these seals with you and remind them to install them.
Many places are glad to have you bring the parts as they know the usual hassles to get them.
(DO NOT INSTALL ON EXHAUST VALVES.)
Viton Valve Stem Seals
Set of 6:

C1030

2 oz.

Set of 3:

C1030X

1 oz.
Teflon Valve Stem Seals
Set of 6: C5857A 2 oz.

Set of 3: C5857

1 oz.
"D" OPTIONAL FOAM
ENGINE SHROUD FOAM SEAL KIT – BLACK – ADHESIVE BACKED
Help keep water out and heat into your heating system.
Note:
These seals are included in our
"EVERYTHING"
Gasket
Sets and some "Multi" Kits. Check that you don't end up with an
extra set. The
Kits
include a Turbo seal and seal originally used
only on
61
-
64
but we have discounted the set enough so these
are free.
Also available separately below.
INDIVIDUAL FOAM SEALS
"E" INDIVIDUAL GASKETS & SEALS
PERMATEX #2:
See page 13 for more info. 3 oz. tube

C715

2 oz.
GASKET REMOVER SPRAY:
Quickly removes baked on gaskets, adhesives, glues and carbon. When using
on aluminum, rinse off after use. Helps prevent scratching of gasket surface.
C5779

12 oz.
CAN'T SHIP BY AIR
VALVE COVER GASKETS: 1960-69 ALL GM VALVE COVERS
OIL PAN GASKETS: 1960-69 ALL
PICTURE #1: FOAM SEAL –
Fits between lower
shroud and head. Helps keep any oil that leaks
from valve cover from getting into shrouds, and
helps keep out dust and water.
1960-69 – either side – (2) required
PICTURE #2: FOAM SEAL –
Fits inner edge of
lower shroud and block (near oil pan). Keeps oil
leaks from pan from entering shroud.
1960-69 – (1) is enough for both sides
PICTURE #3: FOAM SEAL –
On sides of lower
"skid" plate – as shown.
1960-69 – (1) is enough for both sides
FOAM SEAL –
Goes at the bottom of the shroud
at lower back of engine. The one that you see
when you first remove rear alr outlet grill.
1961-69 ALL
FOAM SEAL –
Original for 1961-64. Can be used
on 1965-69. Fits between front shroud (where gas
line comes thru) and top of engine block.
1961-64
FOAM SEAL –
Fits all cars and vans

1961

-69.
Where heater hose adaptor ducts bolt to shroud.
Prevents heat loss.
1961-1969
Left Side All
Right Side All (exc. Turbo)
Right Side – Turbo
C2286A
2 oz.
4 Hole Valve Cover Gaskets
Rubber & Cork
C3018 ea
4 oz.
Blue Silicone
C10912 ea

4 oz.
6 Hole Valve Cover Gaskets
Rubber & Cork
C6119 ea
4 oz.
Blue Silicone
C10912-6 ea

4 oz.
Aluminum Valve Cover Gaskets
Clark & OTTO valve
"Econo" & No Name Aluminum valve covers use any
cork or rubber gasket listed above. (4 or 6 hole as
needed) Trim side tabs as needed.
1
2
3
NOTE: "Paper" type suggested only for new GM pans or aluminum pans.
Super Cork & Rubber
C199
6 oz.
"RUBBERY" composition
C3129

6 oz.
SILICONE OIL PAN GASKET
C10914
6 oz.
Cork & Rubber
(thinner – for aluminum pans)
C199T
6 oz.
"PAPER"
– GM style
C200
6 oz.
"PAPER"
– Aluminum pans
C3937
6 oz.
SILICONE GASKETS ABOVE:
Exact Replacement,
HIGHER
temperature range,
MORE
oil resistant, and can be
REUSED
several times.
Sold EACH.
NOT in ANY of our KITS.
OIL DRAIN PLUG GASKETS:
1960-69 ALL pans including aluminum (not for
oversize plugs). We offer the original style nylon and copper (less apt to crack or
allow plug to loosen). NYLON –
C439
1 oz.

COPPER –

C6057

1 oz.
COPPER (for oversize plugs) –
C6060

1 oz.
C2285
STOCK OIL PAN REINFORCEMENT "RAIL"
This steel piece is about 3/16" thick and completely reinforces the
bolting of your stock steel oil pan and should eliminate leaks. Comes
with correct length bolts, order gasket separately.
C203A