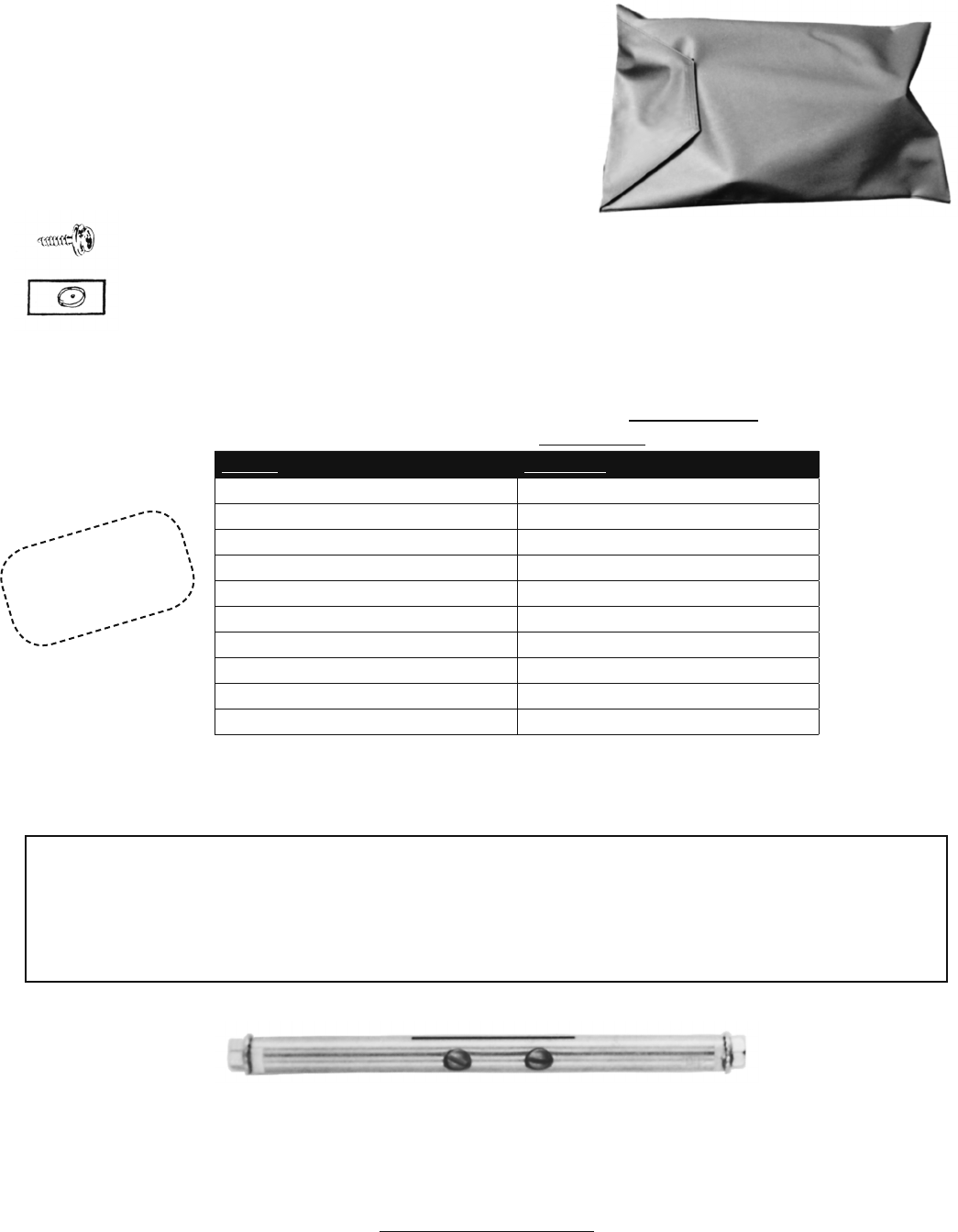 i
WARNING:
Products on this page can expose you to a chemical, which is known to the St

ate of California to cause cancer or reproductive harm. **For more information go to www.P65Warnings.ca.gov**
276
Convertible
TOP BOOT Vinyl
"Bag"
Top boots originally came in a black plastic bag
(needed for "CORSA" shows)
, but it is a tight
fit and not particularly
"fancy"
looking.
Clark's
now offers a larger vinyl
"bag"
that will make it
easy to store and protect your top boot. One end opens and closes with velcro.
All colors are the same as used on
CLARK
upholstery.
ADD COLOR CODES from page 264 to END of PART NUMBER.
(i.e. C11331
HB
)
1962-64
TOP BOOT "bag"
C11331
2 lbs.
1965-69
TOP BOOT "bag"
C11332
2 lbs.
Online Ordering – See pages 269C & 273
TOP BOOT FASTENERS –
1962-69 Convertible

C574

1 oz.
These are the ones that a screw goes through and they hold stainless trim around rear of top of window. The top boot snaps over these.
Replacement style. Use only as needed.
ORIGINAL SNAP THAT FITS IN TOP BOOTS –
1962-69 Convertible

C3675

1 oz.
Requires cutting of some stitching to install.
Repro Top Boot Trim Clips & Screws – See page 294
See the following videos on YouTube
Search at YouTube or Google or go to our home page
www.corvair.com
YouTube Videos and click on links.
SUBJECT Most are 4-15 minutes
SEARCH FOR
Cal's Rampside completely in parts
"Rampside in parts"
Cal's Rampside finished!
"Cal's Rampside"
PM Magazine about Clark's (1985)
"Corvair Love Affair"
Clark's on WGBY Public TV "Making it Here" (2005)
"Clark's Corvair-Making it here"
Clark Tour Part 1 (order processing)
"Clark's Corvair Tour Part 1"
Clark Tour Part 2 (machine shop)
"Clark's Corvair Tour Part 2"
Clark Tour Part 3 (upholstery shop)
"Clark's Corvair Tour Part 3"
Clark Tour Part 4 (making a catalog)
"Clark's Corvair Tour Part 4"
Clark Tour Part 5 (boring cylinder)
"Clark's Corvair Tour Part 5"
Most popular repro parts
"Clark's repro parts"
NO RETURNS DUE TO COLOR
Because we send samples, we will
NOT
give any refund on any item because you decide you don't like the color.
GET A SAMPLE FIRST!
Clark
Videos
"MAILING SERVICES"
are expensive. some customers have returned parts using a
"MAILING SERVICE"
and have been shocked to learn that they have been charged
50-100% above
the actual UPS rate! If you ship something to us that we said we'd cover the shipping, we will only pay the
actual UPS rate
.
Always put a
"packing list"
with your name and address inside any box you send us. Sometimes the return address on the outside is damaged
or missing and we don't know who it is from.
ALL
Clark
REBUILT CARBS are
"PREMIUM"
with new shafts
It has become nearly impossible to rebuild carbs using the old throttle shafts. We want you to receive the
BEST
possible rebuilt carb so all
Clark
rebuilt
carbs are
"PREMIUMS"
with
new shafts
.
OVERSIZE SHAFTS?
We even check the hole in the carb base and if necessary the hole is honed
+.020
and
an oversized new shaft is installed. Either way you get a carb with shaft fit as good as a factory new one. PLUS – We mill the bottom of each carb so they
are perfectly flat!
See page 57 for
"PREMIUM"
carb part numbers.
TEST EQUIPMENT!
Unlike most rebuilt electrical units,
CLARK REBUILT ELECTRICAL UNITS are 100%
disassembled before being cleaned and inspected.
This requires more labor and special equipment, but we want these units as close as we can make them to the day they left the factory.
Please
RETURN YOUR CORES!
When you order rebuilt parts from
CLARK'S, you get the BEST!