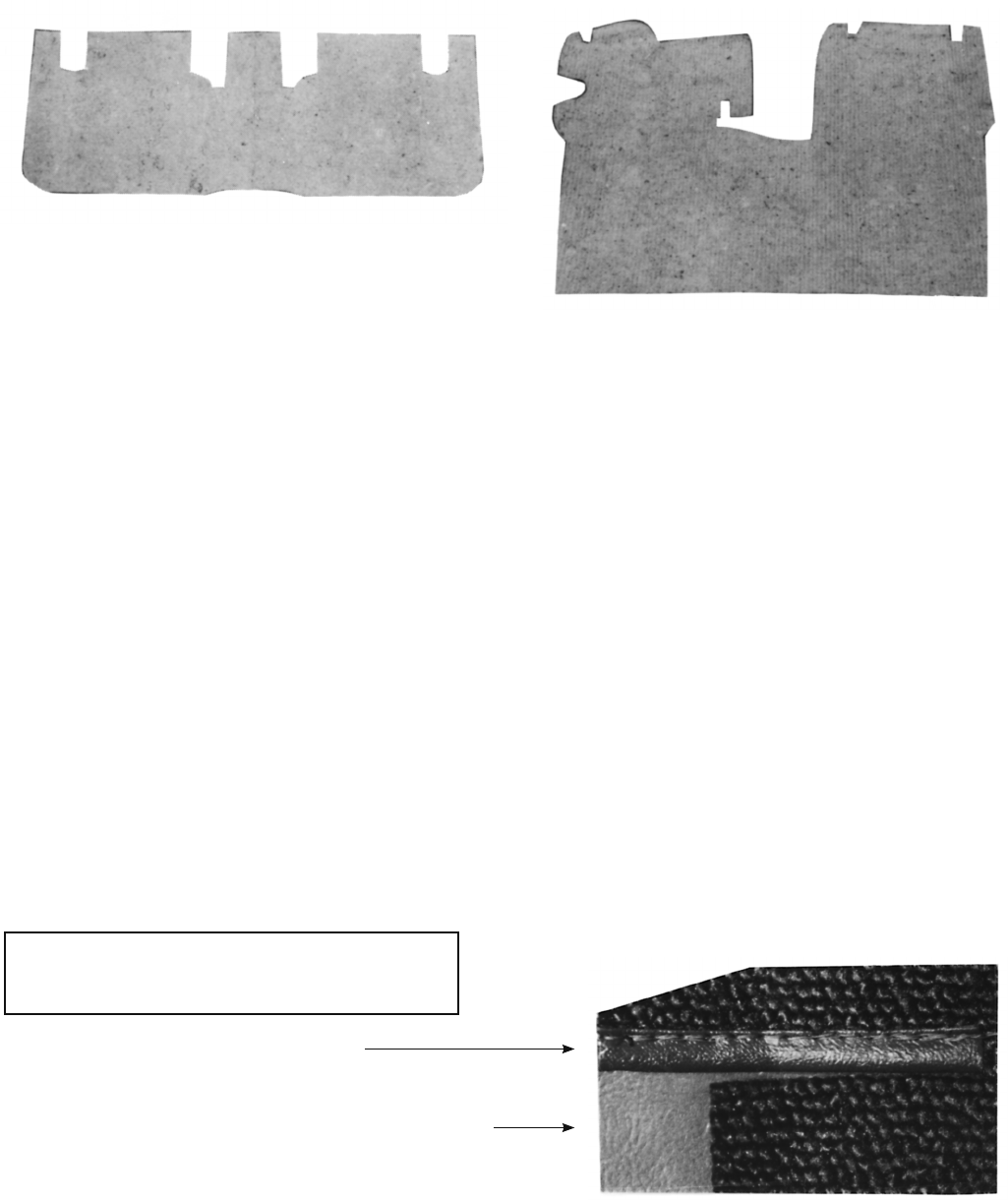 i
WARNING:
Products on this page can expose you to a chemical, which is known to the St

ate of California to cause cancer or reproductive harm. **For more information go to www.P65Warnings.ca.gov**
We start with original thickness padding die cut on our large
cutting machine.
The left picture above is the padding for the rear of
a 1960-64 Coupe. Notice the cut outs forming over the tunnel, and for extending along sides of the seat.
The right picture is a 1965-69 front carpet pad showing cut outs for the accelerator pedal and dimmer switch.
All our padding is prepared with this devotion to details.
277
CUT &
SEWN
MADE
HERE
CARPETS
We will show you just some of the reasons why you get the
BEST, MOST ORIGINAL LOOKING and FITTING CARPET
when you get your carpet from Clark's Corvair Parts.® Inc.
JUTE PADDING
GLUE
Glue? They're going to bother mentioning glue? So you
think we are getting a little "sticky" in pointing out aspects
about our carpets? Just read on ... We use special water
resistant glue to glue the padding to your new carpet (just
like the factory did). This is very expensive, messy, a time
consuming job, but one that we do for you.
["Competitors" have sold carpets for years with their
padding just thrown in – YOU have to glue it in, YOU have
to get the glue.]
PRIDE
We started making our rst Corvair carpets in 1975 in our
home. Original samples were taken out of our personal
cars for accurate, original patterns. Over the years we
have continued to improve them. Pride is part of what
goes into each of our car pets and that's why on the back
side of each carpet you will see our name
"Clark's Corvalr Parts,® Inc."
Everyone involved in producing these car pets wants you
to know that we take a personal interest in each one.
THREAD, BINDING & VINYL
Although relatively small in relation to the overall carpet, the thread, binding, and vinyl pieces are still very important.
Our thread is so strong it is nearly impossible to break. Like the thread, the binding and vinyl are top quality and color
coordinated with the carpet. Binding will be exactly where the factory designed for it to be. This also goes for the small
vinyl pieces. The 1960-64's used vinyl pieces in various places to cover exposed metal or hold the carpets in place, as
with everything else.
WE DO IT THE WAY the Factory planned.
TOP QUALITY THREAD AND BINDING
MATCHING VINYL WHERE NEEDED – MOST DIE CUT
Cut & Sewn Carpets are
Original for 1960-64 Cars