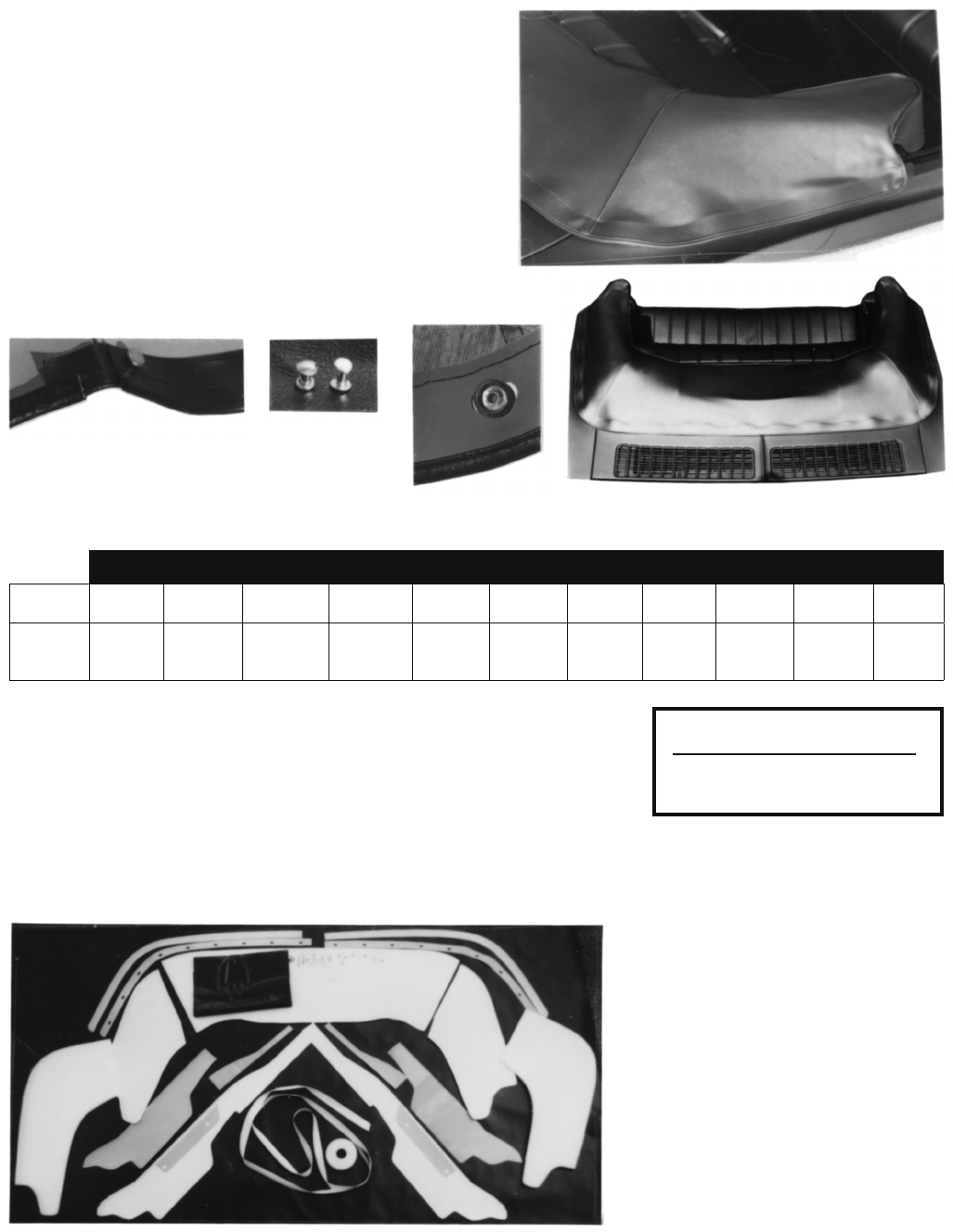 i
WARNING:
Products on this page can expose you to a chemical, which is known to the St

ate of California to cause cancer or reproductive harm. **For more information go to www.P65Warnings.ca.gov**
275
TOP BOOTS
ACCURATE –
All pieces are die cut for an exact t.
EXACT –
Now you can get a top boot virtually impossible
to tell from an original.
We use the same snaps that slide in correct shaped slots,
special "2" headed "chrome" rivets, black plastic strip that
slides into the rear seat, original grey material, double folded
matching vinyl bound, foam pads (die cut) and an original black
plastic bag. By far the most accurate reproduced top boots
available at any price. Your satisfaction guaranteed.
DON'T Spray Top Boots –
Vinyl spray paint may cause
the vinyl to shrink as it dries, & stiffen the vinyl so it does not
stretch as it should. All top boots will shrink eventually.
Keep out of extremes of moisture and heat.
Replacement foam pads and boot bags –
SEE PAGE 294
.
Our snaps look stock but now have
slightly more "snap" to hold better
COLORS –
These match the rest of our reproduction upholstery colors exactly. Color Codes are in ( )
WT. – All 10 lbs.

Color codes are the same as those on page 264.
BLACK
WHITE
OFF-WHITE
RED
METALLIC
BLUE
DARKER
BLUE
SLATE GR
AY
AQUA

FAWN

SADDLE
GOLD
(YELLOW)
BRONZE
(HLB)
C6382
- - - - - -
- - - - - -
C6384
(HQ)
C6387
(HA)
C7816 (HY)

- - - - - -
C9872
(HG5)
C6393 (HQ)

C6395 (HT)

C6396

(HA)
Snaps & Vinyl Bag – see page 276
WHY DO TOP BOOTS COST SO MUCH
Time and material!
We give you the absolute best, most original door panels, upholstery, headliners, and top boots. It takes a lot of time
and expensive material to make these items correctly. This photo of one "exploded top boot" may help you understand.
A top boot is made from vinyl, a special "grey stiffener", plastic, binding, steel snaps, chromed "rivets", foam, thread and
glue. All the pieces are die cut and sev eral of them require that the vinyl be glued to the stiffener – a slow process.
Each piece must then be stitched to the
next piece in a certain sequence.
At times they are sewing through more
than 1/8" of material as they are
installing the sliding snaps and keeping
everything lined up! Then after all this
they still have to do the very difcult
double binding all around the edge, now
stitching through 1/4" of tough material.
I hope this helps explain the pricing and
the
EXTREMES CLARK'S goes to
.
Removing Top Boot
Gently pull straight up around each
snap – DO NOT YANK SIDEWAYS!
"exploded photo"