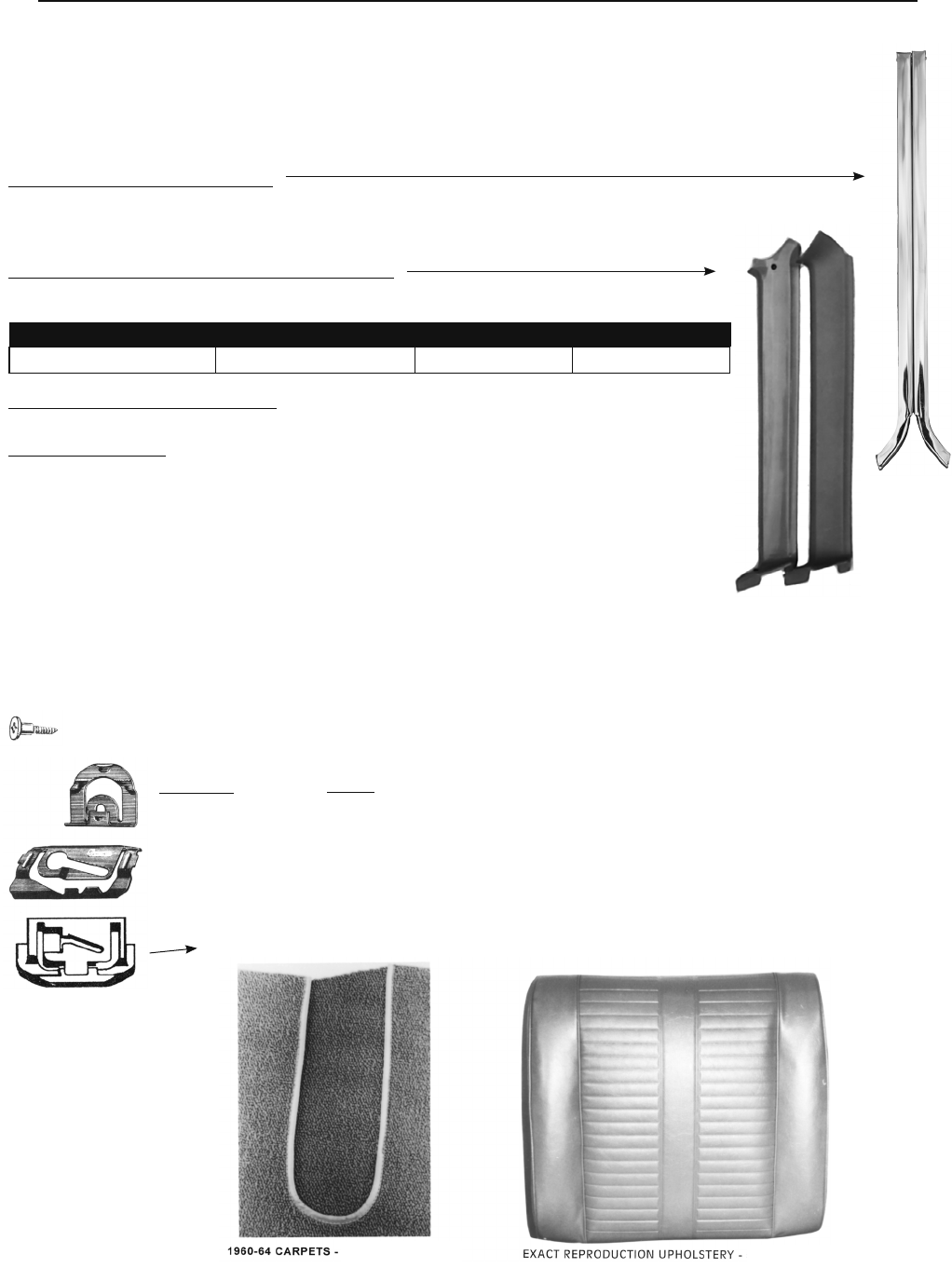 i
WARNING:
Products on this page can expose you to a chemical, which is known to the St

ate of California to cause cancer or reproductive harm. **For more information go to www.P65Warnings.ca.gov**
209
INSTALLING & SEALING GLASS '65-69
DOOR, VENT, QUARTER WINDOW GLASS INSTALLATION RUBBER FABRICS
Many of the windows in Corvairs are held in the frames (or channels) by a special rubber material. The large pieces of glass are usually pretty easy to replace; the vent
windows are harder and some require rivets to reassemble. The chrome weatherstrip channels on the front of the quarter windows also use this material.
Rubber for Vent Windows
60-69 cars (1 does both sides)
C196A
6 oz.
61-65 FC (1 does 1 side)
C196AF
6 oz.
Rubber for Rear Quarter Window Front Edge Trim:
62-64 Ct & 65-69 all cars
NOS & NOS used (1 does both sides)
C196A
6 oz.
65-69 CP & CT repro trim (1 does both sides)
C196AR
6 oz.
Rubber for Side Glass into Bottom Channel:
1 does 2 side windows – '60-69
C772
10 oz.
1965-69 Coupes & Convertibles – excellent Clark repro of the chrome trim that goes on the front edge of the 1/4 window & holds the weatherstrip.
Chrome finish is better than most NOS. Now you can replace those scratched, pitted or rusted trim. Usually can be replaced without removing the window;
instructions included. (Do not fit 4 door) Sold as a pair.
C2586
2 lbs.
1965-67 Windshield Pillar Plastic Trim
They are just as nice as the originals and even include the metal sleeves for the screws. Now you can replace those cracked or
brittle pieces. Easy to paint ABS plastic. See primer & scuff pads below. All 1 lb. ea.
Coupe/4 Door Left (drivers)
Coupe/4 Door Right
Conv't Left
Conv't Right
Set of Chrome Screws (enough for both sides):
Fits 65-67 Coupe/4 door, 65-67 Conv't (2 extra screws) & 68-69 Coupe.
Plastic Primer & Scuff Pad:
Spray plastic pillars, kick panels, door knobs or any plastic & most rubber before applying any
automotive paint. We suggest using an ultra-fine scuff pad before priming.
Plastic Primer:
15 oz. spray can
C13329
1 lb. (no air shipping)
Ultra-Fine Scuff Pad
C13330

2 oz.
VENT & WINDOW CHANNEL RIVETS – See pages 223-227
MOLESKIN to RELINE "Run" CHANNELS – See page 222
4 – CLIPS – TRIM '65-69
20 clips used for the front and 20 for the rear trim on 1965-69. All clips are interchangeable but we have listed them as they
came from the factory. They are usually very rusty or broken & the studs often break off. If you have good metal, you can use the
repair studs or the screws which can be used with all of the clips.
(NOTE: There used to be special clips for use with the screws,
but they are no longer available. We found the screws went into the hole fine with no modification.)
1965-69 REPLACEMENT STUDS:
These replace those rusted or broken off originals. Look original. Just drill hole and screw into "shoulder".
1965-69 – allows use of regular clips. Sold set of 10. If metal is badly rusted, these may not work. Need #48, #49, or 5/64 drill.
Set of 10
C640A
2 oz./set
SCREWS
to be used with

All Clips

to replace studs – Set of 10

C1284X

4 oz./set
ORIGINAL '65-67 STYLE:
(Front or Rear Trim) Steel, Press on to the little studs.

Each

C640

1 oz.
Set of 10
C640X
4 oz./set
ORIGINAL '68-69 STYLE:
(Front or Rear Trim) Steel, Press on to the little studs.

Set of 10

C1285

4 oz./set
PLASTIC CLIPS
– 65-69 FRONT AND REAR windshield trim. For use on original studs or with replacement screws
Work great and will not rust.
Set of 10
C11565
2 oz./set
CHECK THE YEAR – Please be sure the part you order FITS YOUR YEAR.
C2586
See page 280
See page 264