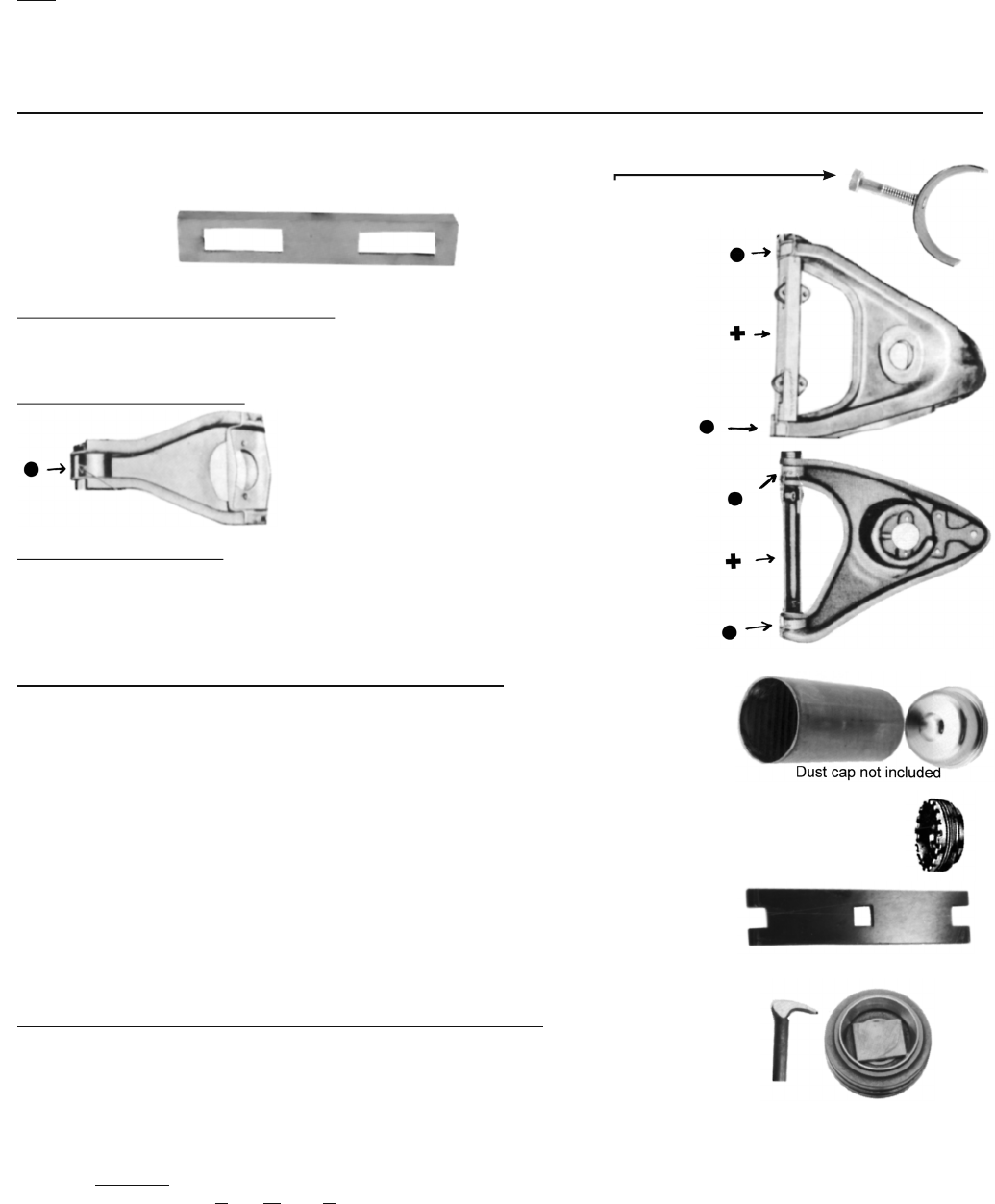 i
WARNING:
Products on this page can expose you to a chemical, which is known to the St

ate of California to cause cancer or reproductive harm. **For more information go to www.P65Warnings.ca.gov**
338
SUSPENSION TOOLS
COIL SPRING COMPRESSOR
NOTE:
A compressor is needed but no regular coil spring compressor will work on the front Corvair coil springs.
This compressor is one that we are making and works on all 1960-69 front coil springs. Comes complete with instructions. (The rear coil springs can
usually be easily installed by 2 people with a jack to lift up under the rear wheel).
60-69 CARS & 61-65 FC Suspension Bushing Installation Tools
These tools are not fancy, but they prevent your suspension from being distorted when installing bushings. Do not assume a machine shop will have
these!! Some photos are from the shop manual and do not show our tools in them. Bushing spacers have a bolt attached for easier removal.
A-ARM SPACER –
keeps "arms"
BUSHING SPACER –
keeps bushing area
from collapsing
from collapsing
(SEE
8
IN PHOTO)
60-64 CARS AND 61-65 FC –
REAR
SUSPENSION
LOWER A-ARM BUSHING SPACERS
(sold as a pair)
8
60-69 CARS –
FRONT
SUSPENSION
LOWER A-ARM BUSHING SPACERS
8
8
61-65 FC –
FRONT
SUSPENSION
UPPER A-ARM SPACER
LOWER A-ARM SPACER
LOWER A-ARM BUSHING SPACERS
(sold as a pair)
8
DUST CAP INSTALLATION TUBE
Just a simple tube that is the exact size to evenly press on the outside edge of the dust cap (front bearing
grease cap). Hit with a hammer for perfect installation.
1960-64 Cars
C4872E
10 oz.
1961-65 FC & 1965-69 Cars
C4872L
10 oz.
DIFFERENTIAL & AXLE TOOLS
DIFFERENTIAL SIDE BEARING ADJUSTING WRENCH – (Spanner Wrench)
Use with socket extension to easily move the large adjuster. Don't hit tabs with a hammer!
Tabs are brittle and can break off. Make rebuilding the differential "easy". Many differential sleeves
are very rusty and customers are using 2 & 3 foot breaker bars with our "wrench". They can't take that!
This heavy duty wrench should handle 95% of the sleeves but NO guarantee.
HEAVY DUTY

"wrench"
C8231
12 oz.
REMOVE RACES FROM DIFFERENTIAL BEARING ADJUSTERS
The shop manual says to drill holes and punch out to remove races from differential bearing adjusters.
It is hard to get the holes in the right place and they might leak. This block of steel fits into the adjuster.
You can now use a pry bar similar to photo (not included.) Sharpen the end slightly and the race will pry right out.
PART IS DISCONTINUED WHEN INVENTORY IS GONE.
(DISC WHEN GONE)
All prices, pictures, specifications subject to change without notice.
Selling Great – Thanks!
Rear A-Arm Spacer Shown
Stops destroying dust cap!