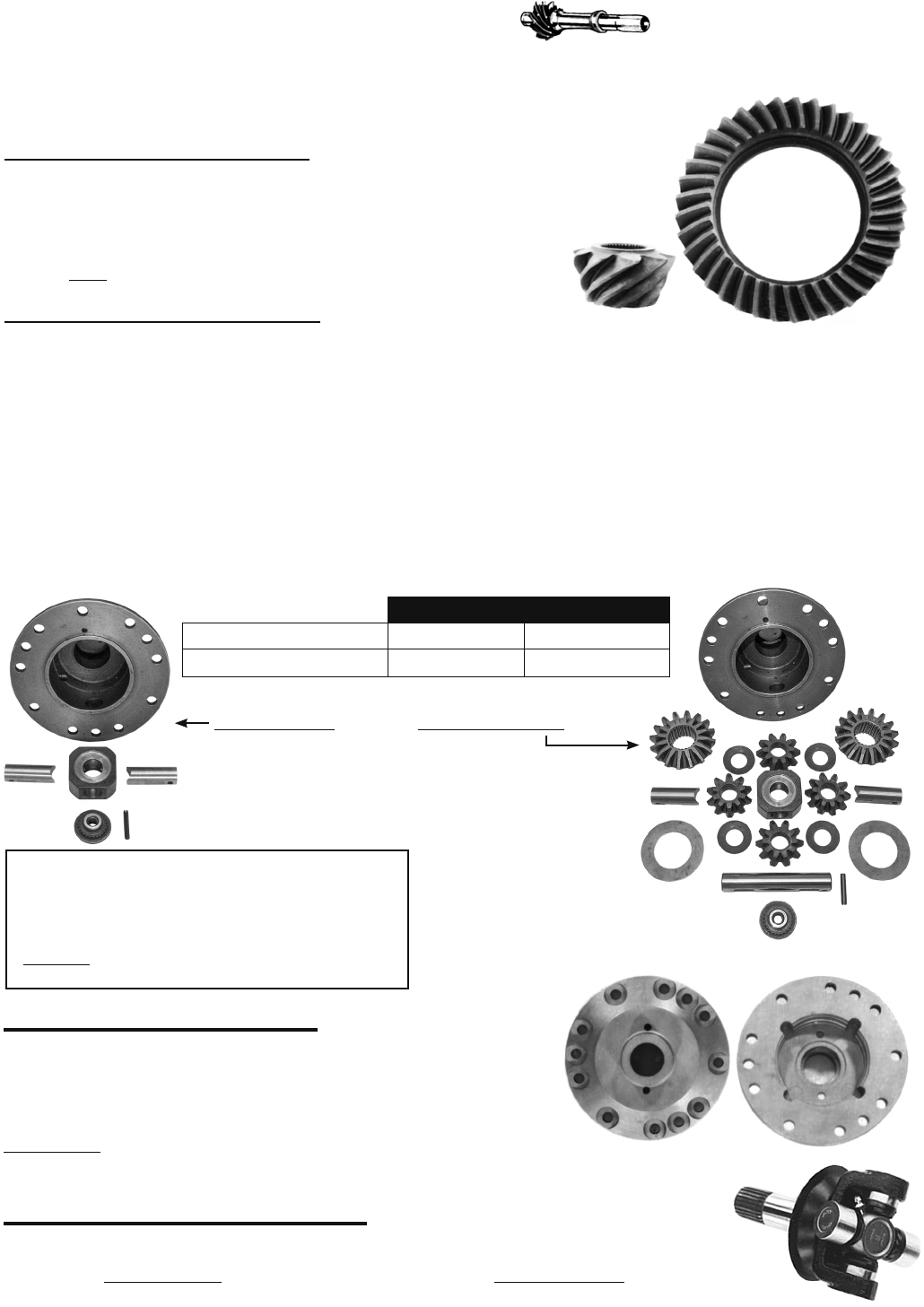 i
WARNING:
Products on this page can expose you to a chemical, which is known to the St

ate of California to cause cancer or reproductive harm. **For more information go to www.P65Warnings.ca.gov**
126
NEW PINION SHAFTS
1961-69 Standard
Differential
Pinion Shafts (
NOT
for Powerglide)
These shafts are precision made of better than stock material (nearly twice the original strength). We are hearing of more spline wear of the internal spline teeth. Many are
now 40-50% worn off! There is also the possibility of fatigue in the spline where the gear presses on. This new shaft is a MUST for 4:11 gears and highly suggested for any
high performance Corvair. Machined for speedo gear on 1961-64.
No gears included. "Bare" shaft.
1961-64 Cars & 1961-65 Vans:
C6027E
3 lbs.
1965-69 Cars:
C6027L
3 lbs.
4.11 Ring & Pinion
NEW UNITS – Made of best materials and drilled for use in all 1961-69 axles. At any given RPM your MPH will be
about 3-5 mph less than with a 3:89. Top speed at 5500 RPM is approximately 100 MPH. 3000 RPM gives about
54 MPH. (Actual speeds and RPM will vary.) Pinion gear must be pressed onto old shaft.
Standard and PG.
Includes Shim Assortment.
High Shock Load: Off Road use only
C8644
14 lbs.
NOTE:
Even "of

f road" are not designed for large paddle wheels and extreme abuse!
3.08, Ring & Pinion
Fit Standard and PG
C9397
14 lb

s.
Same description as 4.11 but greatly decreases engine RPM. NOT SUGGESTED for low hp. in hilly areas.
Ultimate 4 Spider Gear Carrier
The 4-Spider gear unit was developed long ago by Crown and later improved by Otto Parts. However, for years
CIDCO 1
had been taking this OTTO unit and making it even
stronger for customers demanding the ultimate in differential strength and reliability. Clark's made slight improvements to the CIDCO design and now offer the strongest 4
Spider Carrier ever.
POSI owners see note below.
WHAT'S DIFFERENT?
1. The 4-Spider carrier is remachined in the area of each Spider gear shaft to accept the stock cupped washers.
2. The Spider shafts are machined to allow for maximum lubrication.
3. The center block is designed and machined so that its walls are thicker. It is fabricated from 4130 steel bar stock and then heat treated for extra strength.
4. For 1965-69 Cars, a stock axle yoke nut is ground to a control thickness. This allows the builder to fine tune the axle yoke
"axial play"
. By assembling each half
of carrier with the
"standard"
yoke nut in place and bolting the yoke to the carrier, the builder can determine the actual thickness for "minimum" yoke movement.
This provides long term rear suspension alignment and better handling.
Instructions are provided. (Does require grinding or milling and polishing of your stock
nuts and return of our "standard" nut for return of the Core Fee. SHOP MANUAL A MUST.
Basic Ultimate Kit
COMPLE

TE Ultimate Kit
1961-64 Cars & 1961-65 Vans
C9498
9 lbs.
C9498C
12 lbs.
1965-69 Cars
*
*
60-64 REBUILT AXLE YOKES
: These

USED

units are cleaned, inspected and a new
heavy duty universal joint is installed. You can remove and replace without having to press in the universal joint.
Price includes a refundable core. (
1960 Note:
Use C11573 Lf & Rt)
Cars & FC left side (long one)
C11572
5 lbs.
Cars & FC right side (short one)
C11573
5 lbs.
Basic ULTIMATE Kit
(as shown)

4-Spider housing center block

"standard" nut (65-69 kits)
COMPLETE Ultimate Kit
(as shown)

4-Spider housing center block

(4) Spider gear cup shims (not shown)

"standard" nut (65-69 kits)
POSI Owners
The
Complete 4-Splder Kits
on
pg. 126 include (2) side gears
. You
only need (1) and will have to use your old posi side gear.
ADD "P" to
PART #
and price is less $$ and kit will only come with (1) side gear.
(example: C9499CP)
ON WEBSITE
– CLICK ON THE COMPLETE KIT PART NUMBER AND
THE "P" NUMBER WILL DISPLAY BELOW
MACHINED POSI COVER:
The posi clutch cover is the weakest
part of a posi unit. The thin casting is subjected to extreme torque and high shock loads
and finally breaks with terrible results. This replacement is machined from stronger steel
and was designed for maximum strength. Drilled to work with all years.
Must also order Differential Cover Bolts Set of 9
w/ lockwashers
C4400
6 oz.
*
Price includes Core Fee for "Standard" nut.
We highly suggest the Complete Kit