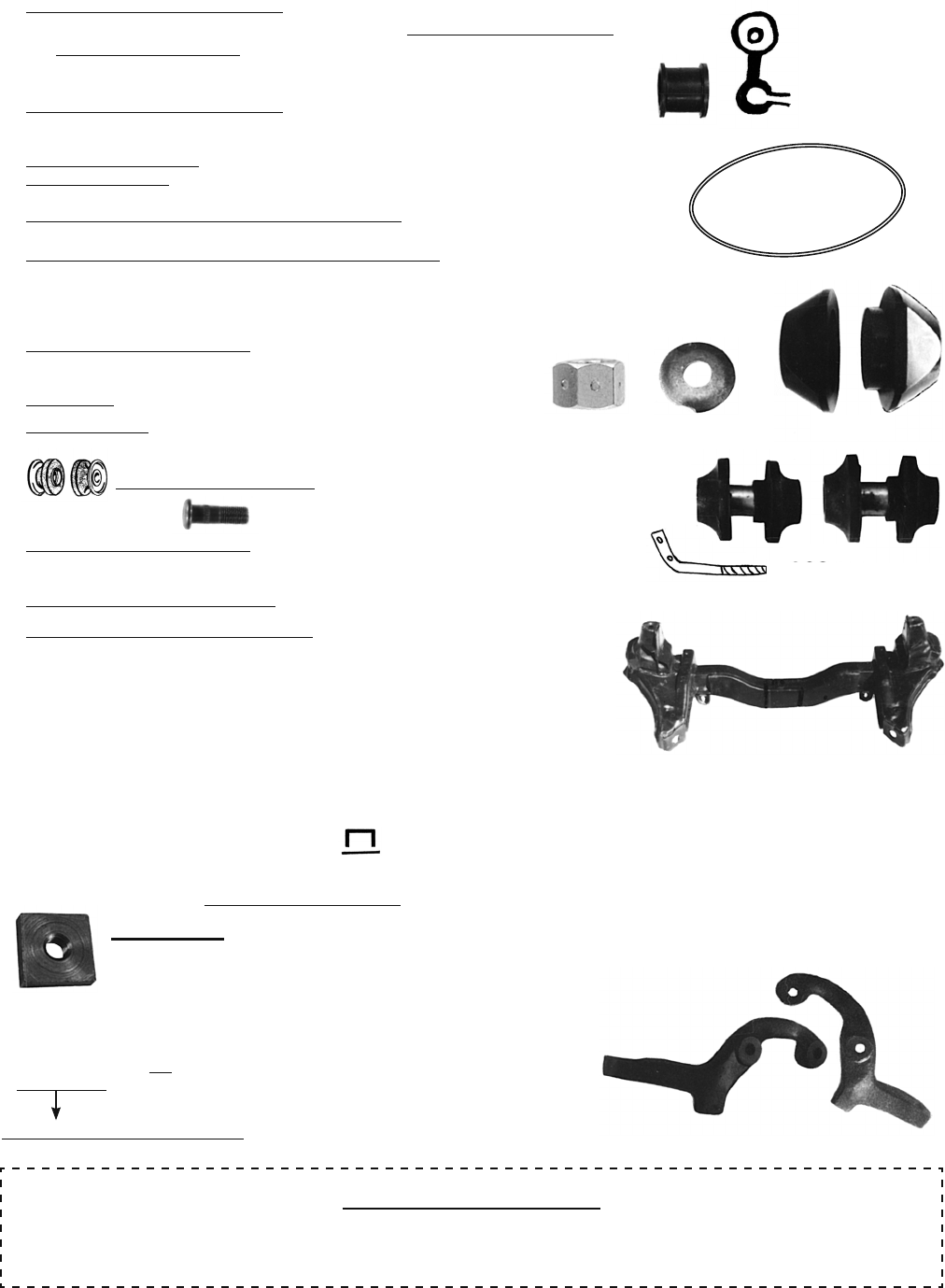 i
WARNING:
Products on this page can expose you to a chemical, which is known to the St

ate of California to cause cancer or reproductive harm. **For more information go to www.P65Warnings.ca.gov**
155
FRONT SUSPENSION – '60-69 CARS
PICTURE # – REFER TO PICTURE DIAGRAM PAGE 153.
14.
Stabilizer Link – Inner Support: 2 needed.

See USED page 365.
Most links can be rebuilt with new bushing and steel sleeve.
f
SEE BUSHING BELOW AND #13.
Replacement Upper Bushing

Original Rubber – 62-63

C110XE

2 oz. ea.
Original Rubber – 64-69

C110X

2 oz. ea.
NYLON PERFORMANCE BUSHINGS – See page 167B
15.
Bolt Kit (1962-69) Stabilizer Support to Bar:
Also for top closing bolt on 1962-64. 2 needed per car.
KIT INCLUDES: (1) bolt, lock washer, nut.
"Gr 8"
C2149
2 oz./kit
ALL STAINLESS
C1093
2 oz./kit
16.
Hold Down Clamp – Stabilizer:
Pushes down on outer bushing – 2 needed.
See "NOS" on website.
17.
Outer Stabilizer Bushing:
Sold Set of 2. (See also #12, page 154)
1962-63
C394E
4 oz./set
18.
Bolt Kit (1962-69) Stabilizer Hold Down Clamp – Outer Bushings:
"Gr 8"
C2149
2 oz./kit
ALL STAINLESS
C1093

2 oz./kit
19.
Control Rod – Adjusting Strut – "Stabilizing Rod":
Usually very rusty threads or broken.
These rods control the lower A-Arm during braking and are also for alignment.
1962-64 Left Side
C2079L
3 lbs.
1962-64 Right Side
C2079
3 lbs.
1965-69 Left or Right Side
C634R
3 lbs.
20.
Nuts – Special Large Control Rod Nuts:
1960-69 – 4 needed.
(May not be original style.)
Usually in very poor shape.
1960-61
C4614
4 oz. ea.
21.
Large Washers:
1962-69 – 4 needed.
C635
4 oz. ea.
22.
Bushing Kit:
Control Rod:

Although these appear slightly different they compress and fit just like the originals.
1960-61 – REPRODUCTION – Enough for 1 side.
C4335
6 oz. ea.
1962-69 – Enough for both sides.
C634
8 oz./set
High Performance Bushing Kit:
1962-69 – Requires no large washers. Enough for both sides.
23.
Control Rod To Lower A-Arm Studs:
2 used per side. Not in any "bolt" kits due to cost.
Studs sold each
C3915
4 oz.
Nuts and lock washers (set of 4)
C3915N
2 oz.
$ Saver - Bolt Kit For Control Rod To A-Arm: Enough for 1 side (2 B, 2 N, 2 LW) – in "bolt kits".

1960-69 Cars

C4750

4 oz./set
24.
'65-'69 CROSSMEMBER
(AS SHOWN) 1968-69 style but fits 1965-69 Cars. Other parts must be transferred or new ones purchased.

These are discontinued so once we sell out that's it!
(See Also #25 Repair Kit)
–
Bolts: See page 180 – NEARLY GONE – CHECK AVAILABILITY
1965-69 Cars

C761

64 lbs.

Plus UPS AH, see page 204
25.
Repair Kit:

Center Portion For 1961-69 Crossmembers
Replace rusted out front crossmembers between coil spring towers. Replacing a crossmember is
an expensive job, but by using this KIT any competent welder can prepare and weld the KIT in place in
approximately 2-3 hours. To install, remove old crossmember, idler arm, disconnect steering arms and brake lines. Clean, clamp on, weld together and reinstall. Be sure
to check coil spring towers to see if they are in good condition. If you order and later find your crossmember is too bad to use this, there is our normal return fee.
NOTE:
The old crossmember should still be good enough so the general shape is not destroyed during removal as alignment before welding will be all
The Kit includes a 3 sided welded channel
that slides over the top. The separate bottom is then welded to it.
1961-69 CR0SSMEMBER KIT
C761X
8 lbs.
Parts Not Shown – 1960-69 Front Suspension
Cage Nuts
Replace those old rusty, fatigued ones since they are about all that holds suspension in.
Custom made for us. 1960-69: 4 needed
C3142
4 oz. ea.
Fast Ratio Steering Arms
These "Quick Steering Arms" decrease lock to lock steering by about 2 turns giving you quicker response.
Only slightly increases steering effort at low speeds. Sold per pair with instructions.
1960-69 Cars – These are
NOT
the factory quick arms, these are quicker.
Also order bolts
60-64 Cars
C5046E
4 lbs./pair
65-69 Cars
C5046
4 lbs./pair
Bolts – Quick Steering Arms:
Must be used with quick steering arms.
Sold enough for 1 side.
1960-69 Cars
C5762
6 oz./set
Discontinued when gone
NTF IS NOT BO
Please check your computer order print out carefully. If we expect to be out of a part for sometime it will be NTF (notify).
We do not charge you any $$. We will just notify you when we have the part. If we actually backorder a part (BO) it is all paid for
including shipping and will normally be shipped in 3 weeks or less.
MULTI-KITS
see Blue pg. MK-12, pg. MK-13
C4335
C634