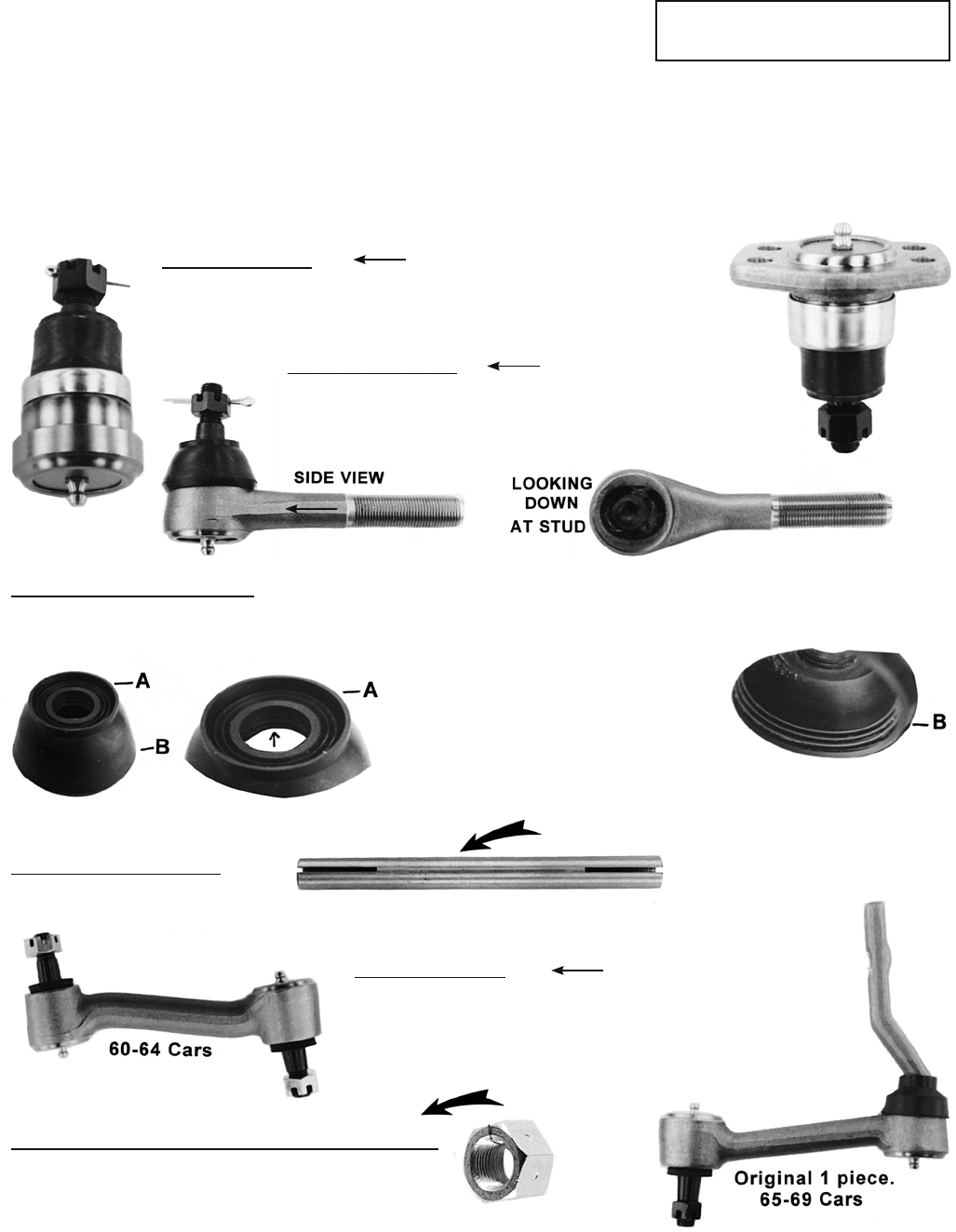 i
WARNING:
Products on this page can expose you to a chemical, which is known to the St

ate of California to cause cancer or reproductive harm. **For more information go to www.P65Warnings.ca.gov**
HIGHER QUALITY
MORE ORIGINAL
CLARK EXCLUSIVE
In January 2002,
we

"upgraded"

our major suspension parts to a higher quality level, while making them look as close to the original components as
possible. Our commitment to large quantities helped them succeed in both quality and price. The manufacturer is both
ISO-9000
and
QS-9000
certified
A. All balls and studs are high quality
SAE 4140 alloy
. (Chrome Moly)
B. All sockets and outer assemblies are forged
SAE 1045 carbon steel
.
C. All ball studs and outer socket assemblies are heat treated and hardened to
HRC-50-55
.
D. All steel inner assemblies are heat treated and hardened to
HRC-50-55
.
E. Nylon inner assemblies are manufactured using
Dupont Derin 500TL
for smooth operation and long life.
F. Dust boots are long life automotive neoprene with multi-ribs.
G. All components were left
"BARE"
for an original appearance or to allow you to easily paint or treat as desired. Studs and nuts are black oxide.
H. All grease fitting holes are tapped. Fittings just screw right in. Much easier than most on the market that just supply a self-tapping fitting.
I.
All forgings and machinings are very smooth
"Display Case Quality"
.
J.
About 1,000 miles after a restoration, it's a good idea to re-check critical suspension bolts, tie rods, idler arm, ball joint nuts, etc. (especially if you
left paint on the parts before assembly)
Compared to others on the market these
look more original
. The boots were copied right
from the "NOS" and look much nicer installed.
Supplied with all hardware as needed:
grease fittings, cotter pins, any nuts and bolts.
The BEST BALL JOINTS you can buy.
These have been a problem for years as we never knew what we would get. Often
the inners would not match the outers in style or finish and many on the market
look nothing like the originals. We copied the 65-69 style tie rod ends for all our
car tie rod ends.
TIE ROD END BOOTS
#7 Page 156
This is a big deal.
We took the best tie rod boots Chevy ever supplied and

IMPROVED THEM

. These babies seal (which is what they are suppose to do!).
They come on all Clark car tie rod ends and are available separately as
C637
.
A large rib seals to the drag link but there are 2
smaller ribs that compress too. There are even
several ribs that seal as they slide down the stud
shaft (arrow) - that makes 5 ribs the water or
moisture must get past. Most boots have just the
one big rib.
This is a cross section where the
boot presses onto the "body" of
the tie rod. There is the large rib
that all boots have but there are 3
smaller ribs that also seal. The stud
seal ribs are visible at the top.
150B
Clark's
All NEW SUSPENSION PARTS
The part numbers in our catalog will
give you THESE NEW suspension parts.
TIE ROD SLEEVES
Produced to look identical to the originals.
Now you can replace those bent, damaged and rusted sleeves – greater safety and easier to align.
#10, page 157
These are exactly like the "NOS" but with upgraded specs and grease fit-
tings, seals, nuts and cotter pins. Clark 65-69 arms are the
ONLY REPROS
that are all one piece
, others require you to bolt on the part that bolts to
the body.
CONTROL ROD (adjusting strut) NUT
These should always be replaced. Clark
NEW REPROS
are just like the
original with the
"dimples"
on the flats that lock the nut. Zinc plated.
#20 Page 155