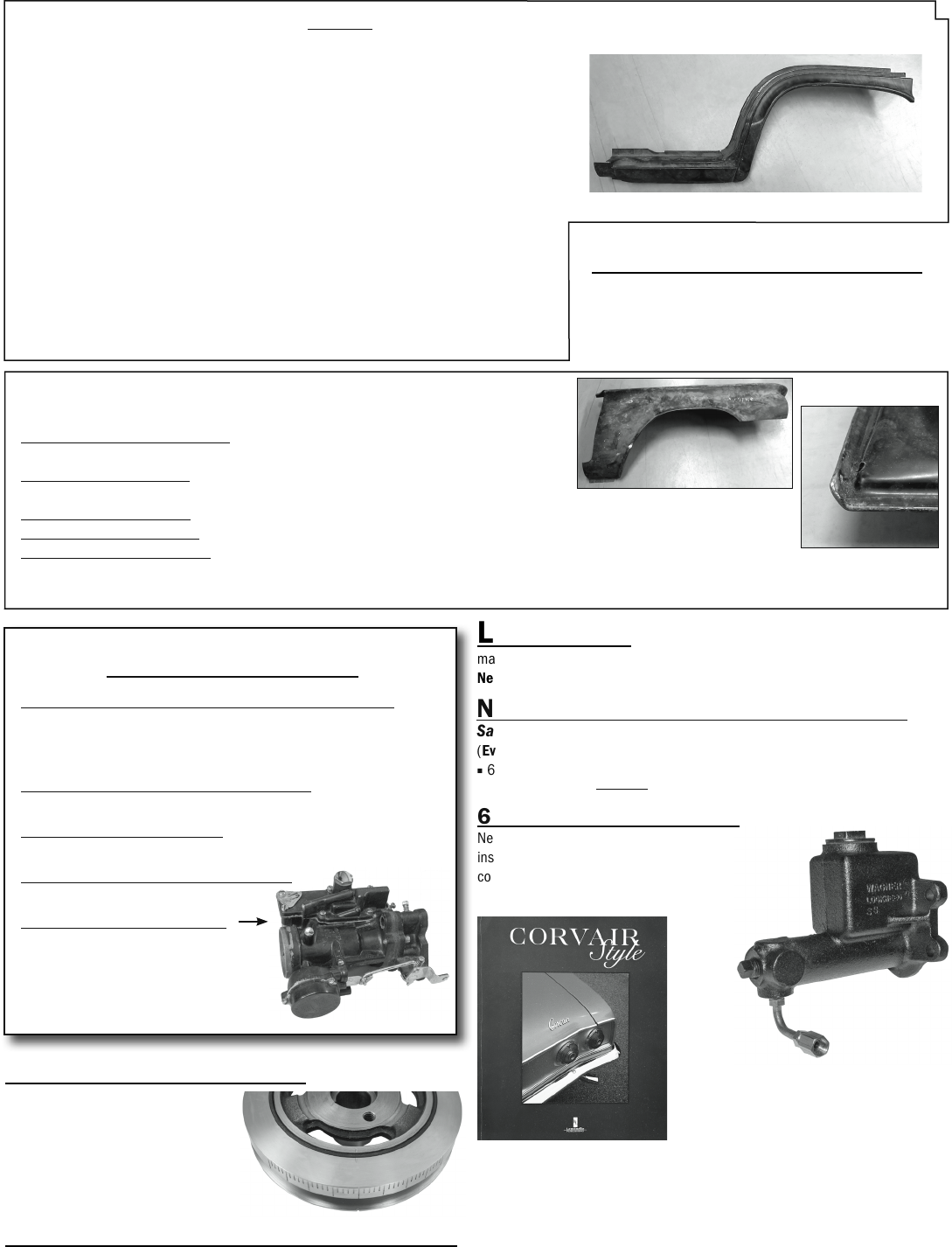 i
WARNING:
Product

s on this page can expose you to a chemical, which is known to the State of California to cause cancer or reproductive harm. **For more information go to w

ww.P65Warnings.ca.gov**
CX8330
7
6
1-62 FC Master Cylinder
Save $60 over Repro!
N
e
w, older MC, EXACT
except
line goes in bottom
i
n
s
tead of side. We supply adaptor line and
c
o
upler – just bend brake line and screw into coupler!
N
eed Pistons with Rods Pressed on?
S
a
ve$$! Perfect Condition!
Prices include early core ($42) Set of 6
(
E

v

en bigger savings:
we did not include the normal press on fee.)
■
6

Cast 61-63 +20 pistons with C7719 rods pressed on.
= $414.40 16 lbs.
"NOS"
NOT
listed in the "NOS" Catalog
These Items Will be Discontinued When Gone.
1961-65 FC Complete Steel Left Front Rocker Panel/Wheel Opening – Original:
Allows for
a perfect replacement of rusted panel.
CX8700
61-64 Car Air Control Cable
(to rear)

CX4047 $59.00

2 lbs.
65-69 Car Heater Control Cable
(to rear)
Lo Note Horns:
Look like NOS, but the brackets are slightly different.
Can be modified to work on 61-64.
CX8713
1965 Accelerator Rod:
From transmission to carb cross shaft (exc turbo & 140)
1961-64 Door Hinges
4 door rear lower left

CX8635

$18.00

2 lbs.
4 door rear lower right

CX8636

$18.00

2 lbs.
65-67 500 Front Red Plastic Arm Rest Base
FC Side Door Lock Latch:
Attaches to edge of side door & small arm for up & one for
down.
Right Side Rear Door
Left Side Rear Door

CX8612

$24.00

1 lb.
CX8700
L
UG NUTS:
Have you considered your wheel lug nuts
ma
y be 50-60 years old and been tightened (& over tightened?) many times.
Ne
w lug nuts
– all Corvairs:
C592
Corvair Style
is limited to only 2,500
copies hand-numbered and signed by the
author. In its 196 pages are over 220 colored
photos of 50 different Corvairs, revealing
fascinating production facts, noteworthy history and design highlights from
limited production high-performance models like Yenko Stingers and Fitch Sprints
to production models like 500s, Monzas and Corsas, in coupe, sedan and
convertible body styles, as well as Lakewoods, Rampsides and Greenbriers. Each
Corvair was specially selected and photographed specifically for this book, so
each image has never been seen before. The author is a Corvair owner.
NEW HARMONIC BALANCER
with degrees marked every degree from
zero to +20 degrees and -20 degrees
of timing.
NOS BODY PANELS
1961 Lakewood Inner Rear Panel:
Reinforces the rear panel below the rear bumper
CX9149
$175 – Large package surcharge
1961-64 Front Body Panels
Bottom below bumper, cut off
CX9141
$225
1960-64 Left Front Fender:
Surface rust – front bottom cut off
CX9143

$475
1960-64 Right Front Fender:
Front bottom cut off
CX9144

$425
1965-69 Engine Lid Complete:
Both panels have 2 front corners that are bent – best guess is an hour for a body shop
to fix both corners
Surface rust, front 2 corners bent
CX9135
$325 – Large package surcharge
Dusty, front corners bent, slight dent inside
CX9136

$350 – Large package surcharge
CX9144
REPLACING A TURBO EXHAUST?
These can be quite difficult, check all the pipes before you
replace just one, even the turbo outlet pipe may require
you to remove the crossover & inlet on some years.
More NOS Parts
LAST NOS RUBBER MATS – GOOD OVERALL FOR THEIR AGE!
Front mats – pair – green 60-61:
CX4883
$16.15
Front mats – pair – fawn 62-63:
CX4892
$16.15
Full width – fawn 1966:
CX4924
$49.00
1965 NOS Black Wrinkle Paint Glove Box Door:
New but the wrinkle
is rubbed smooth along right edge in 1/4".
CX9037
$69 2 lbs.
1964 Tail & Backup Center Trim:
(not as nice as our repros)
1964 Rear Leaf Spring NOS Bolt Kit For End
CX9039
$19.00 6 oz. (1=1 end)
1962 BLACK TURBO CARB – NOS
Sell us your used one and have one with
all new chrome new factory paint, just
replace the gaskets & fuel pump.
65-68 Clutch Cable w/ Nylon Protected Cable
Like NOS – Less apt to fray & break.
C260
$49 5 lbs.