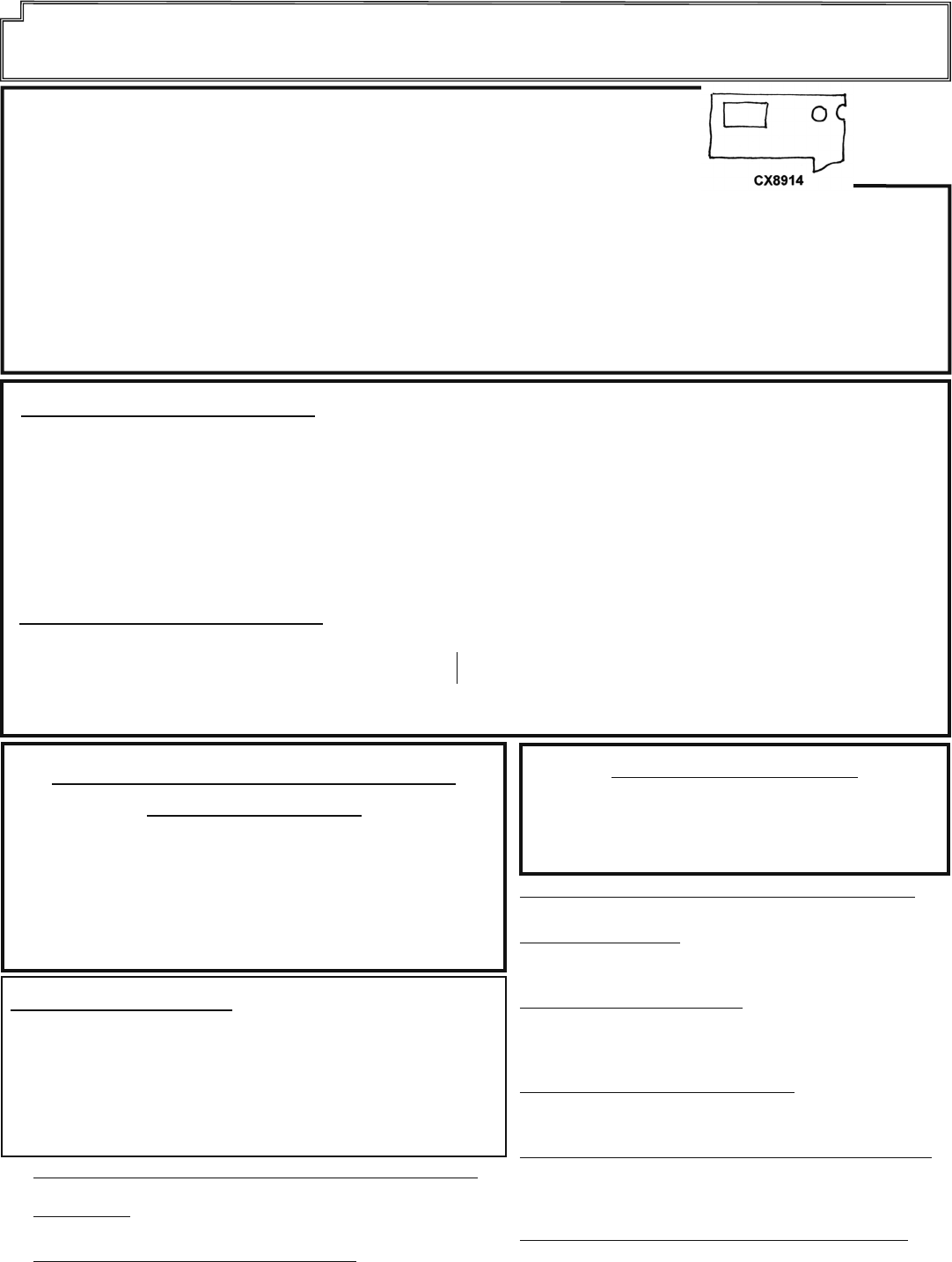 i
WARNING:
Product

s on this page can expose you to a chemical, which is known to the State of California to cause cancer or reproductive harm. **For more information go to w

ww.P65Warnings.ca.gov**
14
Car "NOS" Body Panels – Complete or PARTIALS
These are GM steel panels but with these problems.
Save up to 50% on "NOS" body panels cut, not complete.
1960 Front Panel Top Only:
Bottom from bumper down has been cut off.
1961-64 Rear Body Panel:
2/3 right side. See sketch.
1961-64 Panel:
From seam at front of trunk floor, goes forward & up about 8-10" and across the width of the trunk.
1962-64 Front Inner Right Wheel Well:
62-64 may vary slightly for some years.
CX8011
$18.55

30 lbs. (due to size)
1964 Engine Lid:
Perfect except both front corners slightly dented and slight dent on one edge.
NOS
CX8008
$150.00

45 lbs.
Front Panels
– From the bumper to trunk weatherstrip (bottom cut off).

1960
CX9321

$25.00

30 lbs. due to size
1961-64
CX9322
$75.00
30 lbs. due to size
Left Fender
– Complete rear portion, 1960-64 – Cut 4" in front of gas filler hole:
CX9325
$125.00 30 lbs. due to size
All remaining items on DWG pages 14, 15 and 16 will be on sale for 20% off
from August 30, 2023–November 30, 2023.
Prices on the website & when ordering will reflect the discounts as of August 30.
DWG
Aftermarket Sheetmetal:
All are STEEL. Most will have some surface rust & a few minor dents.
60-64 CP & CT:
Right rear fender – partial from tail lights along belt line to a little past center of wheel opening.
CX8974

$32.00
60-64 Top of Front Fender – 2nd:
Rear half of the left front fender (like C1511, page 187); rusty, some pitting.

CX7879
60-64 Top Rear 2/3 of Front Fender:
Replacement patch panel that stops about 15" from front (similar to sketch at top of catalog pg. 188)
Right

CX1015

$8.00

8 lbs.
Left
(includes gas filler)

CX1014

$8.00

8 lbs.
60-64 Front Fender Panel:
Like C1507, page 187; RUSTY.
Left
CX7712
$99.00

81 lbs. (due to size)
1960-64 4-DR Rear Fender Panels:
Can be cut down for 2 Dr & wagons. These are same as C1528, C1529 (pg. 188) but these were primed and have
minor rust.
Right
CX9236
$159.20
30 lbs.
Left

CX9237

$159.20

30 lbs.
Aftermarket Body Panels:
Total light surface rust – for 60-64 cars. Some of these panels may
no longer be available as the company is unsure they will stay in business.
Front Lower Panel below Bumper
CX9219 $125.00 40 lbs.

4-Door Rear Fender – Left

CX9326

$125.00 70 lbs.
Complete Top of Left Fender
CX9324 $75.00 40 lbs.

4-Door Rear Fender – Right

CX9327

$125.00 70 lbs.
1/4 Panels for CP or CT:
Similar to
C1522
&
C1523
but smaller – overall size approx. 24" x 26"
Left C1522X

$190.00

20 lbs.
Right C1523X
$190.00

20 lbs.
Suspension Bargains
These are parts we sold before our current line of
suspension parts. They are mostly TRW or Moog parts.
60-64 Car Idler Arm
(similar to NOS – no grease fitting)
1961-62 FC 15" Long Steering Linkage Rod
Aftermarket (like a "tie rod").
CX9339
$59.00 3 lbs.
1965-69 Idler Arm
Each end has roller bearings, seals, bolt/shaft & grease fitting.
Aftermarket.
CX9338
$59.00 4 lbs.
61-64 Heater Fan Switch
NOTE: This is exact for
61-64 Cars & 61-65 FC except
the end that
holds the knob on is a little small. Use epoxy to attach.
Corvair to VW Starter Adaptor
For 130 tooth. If you have 127 tooth, you'll have to switch to a 130
NEW REVERSE ROTATION CAMS – TURBOS
TB-30 also need reverse rotation dist. gear.
C8903
$127.00 8 lbs.
TB-50 (very "hot" cam) also need reverse rotation dist. gear.
1960-61 Non-GM Distrib. Vacuum Advance
EXCELLENT QUALITY — $$ SAVER
Standard or PG
CX6729
$7.60 8 oz.
REPRO WIRE WHEEL PARTS
if you have some of our repro wire wheels you may want to consider some of
these remaining parts. DO NOT FIT ORIGINAL.
(2) Wire wheel: New, but chrome peeled off center hub
(piece about 1" x 2"), wheel only.
CX8913
$60.00 ea. 28 lbs.
(1) Single right side, 5 lug adaptor
C12556L
$48.00
5 lbs.
Spare tire hold down bolt for 61-64 original & Clark repro wire wheels,
excellent
repr
o.
C12695
$19.80

10 oz.
Windshield 2nds
We check these in sunlight & fluorescent light, so they are really very good
windshields with very minor defects.
All 220 lbs. plus LPS charge – $130.00
65-69 CP, CT & 4 Door – Clear:
1/2" hairline mark about 4 inches right of dead
center. Looks like a piece of fine hair inside the glass.
CX8996
65-69 CP, CT & 4 Door – Clear:
There is a black speck in the glass about 12"
down & 6" from the edge on the drivers side. The spot is a little bigger than a
standard period (.).
CX8997
Moog 60-64 Idler Arm (Looks Identical to Original GM – No Grease Fitting)
TRW Ball Joints:
Upper (1 only)
CX9255
$32.00

1 lb.
Lower (2)
CX9256
$36.00
1 lb.
FC Steering Arm Removal Fork Bar