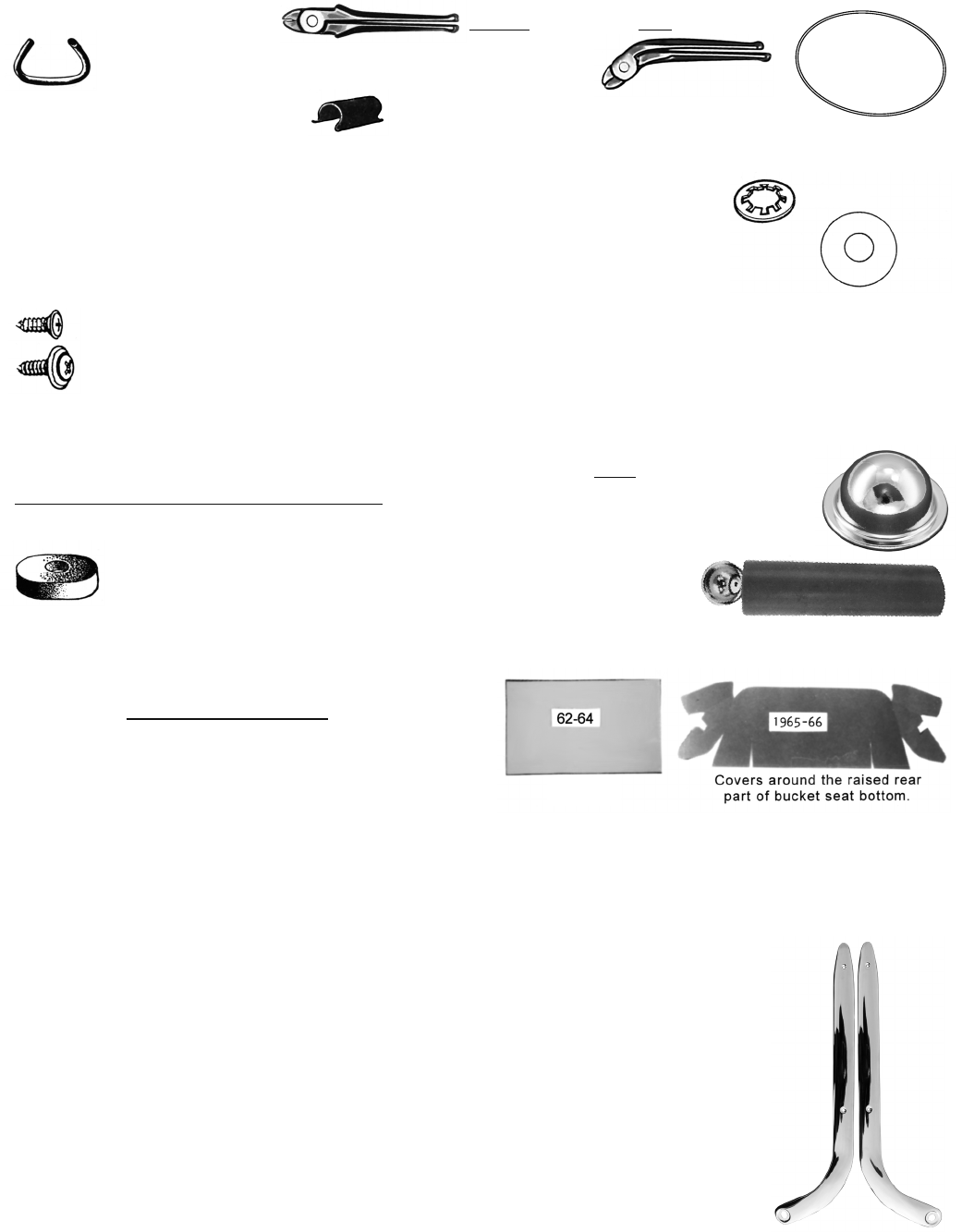 i
WARNING:
Products on this page can expose you to a chemical, which is known to the St

ate of California to cause cancer or reproductive harm. **For more information go to www.P65Warnings.ca.gov**
266
UPHOLSTERY INSTALLATION SUPPLIES
All our upholstery comes with complete instructions. The following are highly suggested items that you may want to order.
HOG RING PLIERS –
These are used to attach the reproduction upholstery the same way as the originals. Generally you will need from 300-
400 clips. These
PROFESSIONAL pliers
really are a must. Straight ones
are suggested
. Bent ones also handy but not essential.
ORDER HOG RINGS SEPARATELY!
PROFESSIONAL PLIERS
STRAIGHT:

C4879

8 oz.

BENT:

C6489

8 oz.
HOG RINGS:
Sold Set of 100
C4880
6 oz./set
Sold Set of 500
C4880X
1 lb.
FC
(Van)
UPHOLSTERY CLIPS
Originals – These were used along with hog ring clips for FC in certain areas.
Sold Set of 10.
C5921
1 oz./
set
SEAT CLIPS –
Holds pivot on the bucket seat back.

"Impossible"

to get off in good shape!

"1" = Set of 2

1960-69

C4883

1 oz./

set
SEAT WASHERS –
Used between bucket seat pivot and the vinyl to prevent damage to the vinyl.

Sold each

.
Not original material. 2-4 needed per bucket seat depending on year. Also fit Car & FC front bench seats.
C4884
1 oz. ea.
FRONT SEAT ADJUSTER HELPER SPRING –
1962-69 with bucket seats – either side.

C3252

4 oz.
1961-65 FC (Vans)
C3247
4 oz.
UPHOLSTERY SCREWS
ORIGINAL STYLE
for 1966-69: Cone washer just extends away from head of screw.
Sold Set of 10.
C4336
2 oz./
set
OVERSIZE WASHER:
Original for some 1965's – Same as C4336 but
washer is slightly LARGER
in case original had pulled through upholstery.
Sold Set of 10.

C4337 2 oz./

set
LARGER STYLE WASHER & SCREW:
(see picture)
Also fit
1960 package area.
Set of 10 – C1216A
4 oz./
set
OVERSIZE SCREW (Set of 5) – C4338
2 oz./
set
SEAT PIVOT CAPS –
Yes! Those little chrome

"caps"

that fit over bottom pivot on bucket seats. The ones that you usually
cuss at and bend.
2 needed per car.
1960-66
ROUND
ones are
EXACT REPRO
–
ROUND
–
C1748
1 oz. ea.
Seat Pivot Cap Installation Tool
This piece of tubing fits the chrome caps that fit over the pivot on the bucket seat
perfectly and installs them without damage. Very difficult to install without this tool.
C6587T
4 oz.
SEAT BUMPERS –
SEAT BUNS
SEAT EXTENDERS –
For tall drivers. These only fit stock bucket seats and stock bench seats. This will allow
for greater front leg room. 1 Set is enough for (1) bucket seat or (1) bench seat. Bolts to old holes and moves seat back about 3".
Adjustment still works. Does not fit 1960-61 Cars or Vans.
C8256
7 lbs.
SEAT "CARDBOARD" – 1962-66
NOT INCLUDED WITH UPHOLSTERY.
Bucket seats had a "cardboard" piece that helped cover sharp areas on the bottom.
Highly suggested as the old ones are usually bad. 1 needed per bucket seat. Sold each.
1962-64 –
C7512
8 oz. ea.
1965-66 –
C7513
10 oz. ea.
COTTON PADDING –
Most bucket seats and some rear seats have sections of cotton placed over the foam at the factory. It helps to give a

"full"
appearance. This cotton is usually flattened and new is
suggested
.
SEE PAGE 265A
FOAM PADDING
You may want some of this to give fullness to a seat, sound-proofing, etc. The 7/16" semi-firm is most useful (the soft is too soft to give much fullness; it just collapses).
SEMI-FIRM FOAM –
Sold by the square yard. 1 = 1 square yard, 2 = 36" X 72"
C13085
3 lbs. Free Sample –
C13086
1 oz.
SOFT FOAM –
3/4" thick, but very soft. Approximately 22-24" wide.
"1"
= 12" x 24";
"2"
= 24" x 24";
"3"
= 35" x 24", etc.
C5671
8 oz./ft.
— MORE FOAM – SEE PAGE 265B —
FELT & JUTE –
The felt is approx. 1/8 " thick by 24" x 56". It is used in some areas of upholstery installation as a padding.
There is also a piece of jute padding 8" x 12" which usually is not needed.
C7032
1 lb.
BUCKET SEAT TRIM –
Beautiful chrome repros for '60-'66 Bucket Seats
Replace those pitted, scratched or dented trim pieces. Fit outside of right & left bucket seats (sold as a pair).
These will not fit the inside of seats. These qualify for the interior discount. Also order seat pivot caps (C1748) sold each.
GLUES – see bottom of page 268
j
C1748
ALL ITEMS
Pgs. 264-288 qualify for
Interior Discount
see Blue pg. MK-2
C5349T
C4883
C4884
C7512