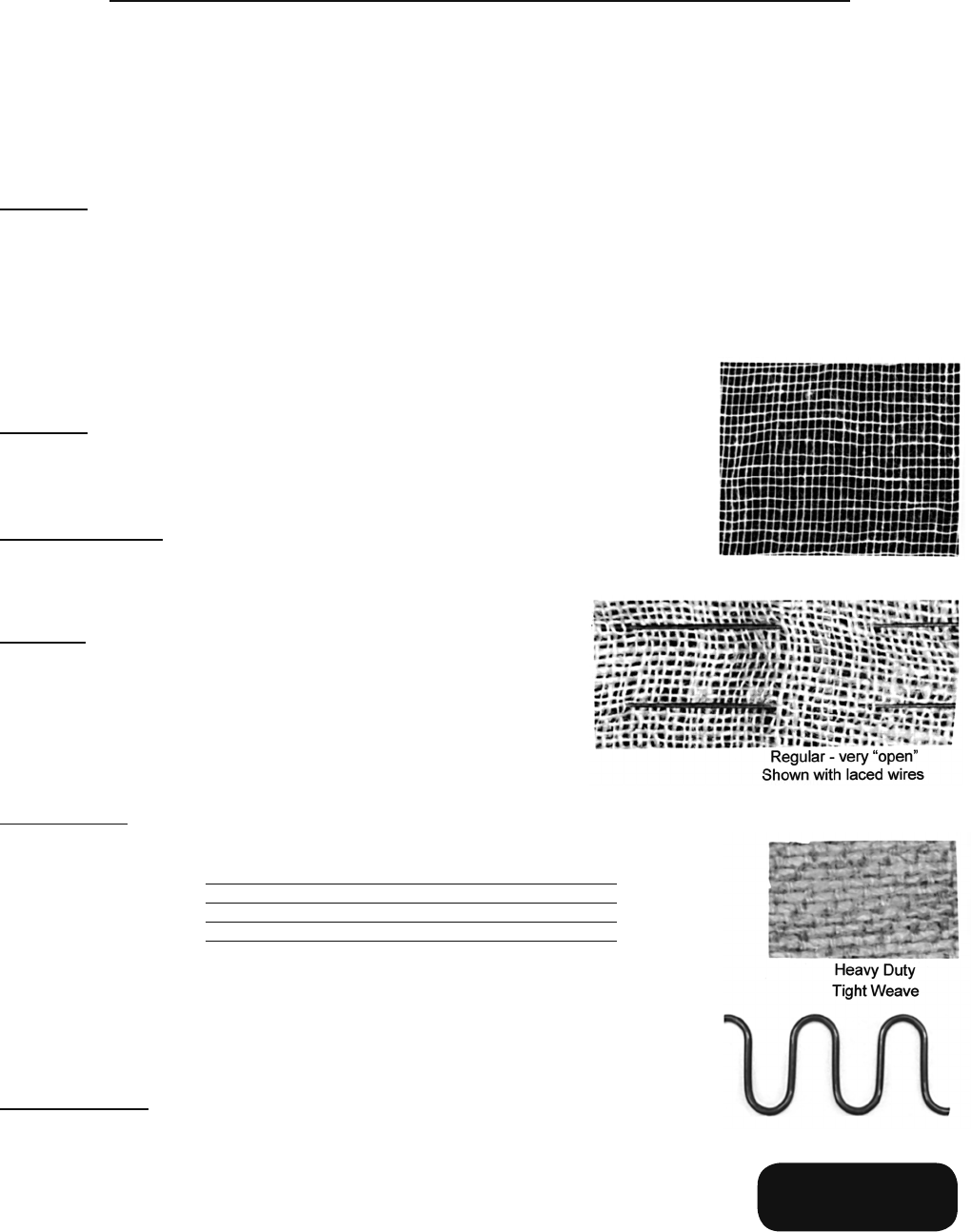 i
WARNING:
Products on this page can expose you to a chemical, which is known to the St

ate of California to cause cancer or reproductive harm. **For more information go to www.P65Warnings.ca.gov**
265A
New Upholstery Padding & Other Items
We are now offering many different items that will help you completely rebuild your seats before installing your upholstery sets. It isn't hard to do, but does take time
and these materials will give you a superior installation as well as a more comfortable seat. We cannot supply all the material exactly as Chevy used, but we can
supply enough different items that you can replace all of your flattened-out, smelly, and/or weakened material. IF YOU HAVE TIME WE SUGGEST YOU REMOVE YOUR
INTERIOR (TAKE MANY detailed PHOTOS!!) AND DETERMINE JUST WHAT YOU MIGHT NEED.
NOTE:

Chevy varied quite a lot as to how seats were assembled; Monza's,
Spyders & Corsa's were all made nearly the same, however, 500s, 700s & FCs, non-delux or non-Greenbriers also varied in what was under the actual upholstery so
please check yours – WE OFFER VARIOUS MATERIALS FOR YOU TO CONSIDER – FREE SAMPLES WITH AN ORDER.
HOG RINGS – Larger Quantity!
Now available in packages of 500 hog rings so you'll be sure to have plenty – you get 500 for about the price of 300!
C4880X
1 lb. (500)

(Good quality hog ring pliers worth purchasing. See TOOLS, page 331.)
Cotton:
Chevy used a lot of cotton making Corvair interiors! Their cotton was a little denser than what we can now get. I like to put the pieces together, put
them under a piece of plywood & weight it down for a day before I start to use it.
Bucket Seats:
They used some small pieces to help fill out the seat. New seat buns usually eliminate the need. We have found that NON COTTON ITEMS ARE
much easier to use if you do need to add a little material. Tops most likely to need extra filler.
Monza Rear Seats:
All years – both the bottoms & tops used cotton layer. For coupes & convertibles, the cotton was so thick you need to buy 2 of our pieces to
equal the original thickness. 4-door rear bottom also had foam – 1 piece will probably be enough.
500 & 700:
LOTS OF COTTON! Both the front seats & rear seats (top & bottom) need at least 2 of our pieces to equal the original for any seat – CHECK YOURS
FC – Front & Rear Seats:
You will need at least 1 of our pieces on the bottom & the top (also see FOAM)
Also NOTE: Cotton was also used as "under padding" for beneath the top layers of cotton so you might need additional
cotton yardage. See Padding, next page.
Cotton:
27" is wide enough for any Cor

vair car or FC. For most car seats you will need 2 layers per bottom & 2 per
top (see above). Remember, the cotton usually needs to hang over 2-3" at each end. Size Needed? Most seats (except
buckets) need to be 55-66" for 1 layer, so a rear seat could need 4' x 55" (not counting any "under padding").
Sold by the yard: 1 = 27" x 1 yd, 3 = 27" x 3 yds., etc. (pieces will be continuous)
C4881L
Weight approx 1 lb./yard
Sample = C4881LA
Cotton Skrim:
This impor

tant material goes on top of cotton & helps to keep the cotton from shifting as the
vinyl moves. It was used by the factory.
Sold by the yard: 1 = 36" x 36", 2 = 36" x 72", etc.
C13227

8 oz./yard Sample = C13227A
— — — Also see "NON-COTTON" & "PADDING" next page — — —
Burlap:
Every Cor

vair seat (cars & FCs) uses burlap! They all had burlap and most of the
burlap has wire laced (woven) through it (by 1965 they were gluing a thin plastic over the wires), but
you can replace them by weaving the wires. The burlap is often weak or torn (especially the FCs).
The wires can rub on the springs below so we like to put a layer of regular or heavy duty burlap over
the springs, then install the burlap with the wires laced through on top. We include instructions &
hints to make it better than the factory. We offer the burlap by the yard. Regular is about 40" wide;
heavy duty is about 30" wide. The wires can usually be reused and lacing isn't too difficult. If rusty,
consider new ones.
New Spring Wire:
To lace through burlap. Use needle-nosed pliers to form ends. Sold in 55" lengths; cut to length as needed.
Buckets seats usually need 16-17" per wire.
C3719
4 oz./piece (wt less if ordering 10 or more)
Suggested Yardage
Bucket Seat (top & bottom)

2 yards
Bench Seat (top & bottom)
4 yards
Rear Seat (top & bottom, all cars)
4 yards total
FC Front & Rear Seats (top & bottom)
4 yards (+2 yards to cover foam)
Regular Burlap:
Original in Corvairs (1) = 1 yard x 40". Will be shipped as a continuous piece; order 5 & get 40" x 5 yards, etc.
C13170

10 oz./yard Sample = C13170A
Heavy Duty Burlap:
Use on top of springs before the regular burlap with the wires laced through.
1 = 1 yard x 30" and will be shipped as a continuous piece. Order 5 & get 5 yards x 30", etc.
C13171

14 oz./yard Sample = C13171A
Seat Springs
We now offer replacement springs for seats that used this style (see photo) in 3 thicknesses. It requires some work to
replace these springs, so we do not suggest it unless they are broken or you want to replace with the next heavier spring to
increase the seat capacity. Also order the special clips. Spring material is sold by the foot; allow extra for cutting & attaching.
Light Weight – Original for Most Rear Seat Springs
C13172

4 oz./ft
Medium Weight – Original for Bucket Seat Springs
C13173

6 oz./ft
Heavy Weight – To Make Bucket Seats Much Stiffer
C13174

8 oz./ft
Need Thicker?? Want More Support????
With 3M spray upholstery glue you can glue together 2 pieces of cotton, non-cotton, felt, or padding, etc.
You can also glue burlap on 1 side to give additional suppor
t for attaching. For best results, coat each material, press together & allow to cure.
3M Upholstery Glue
16 oz. can
C2402
2 lbs. (can't ship air)
Seat Spring Clips
Top of Next Page