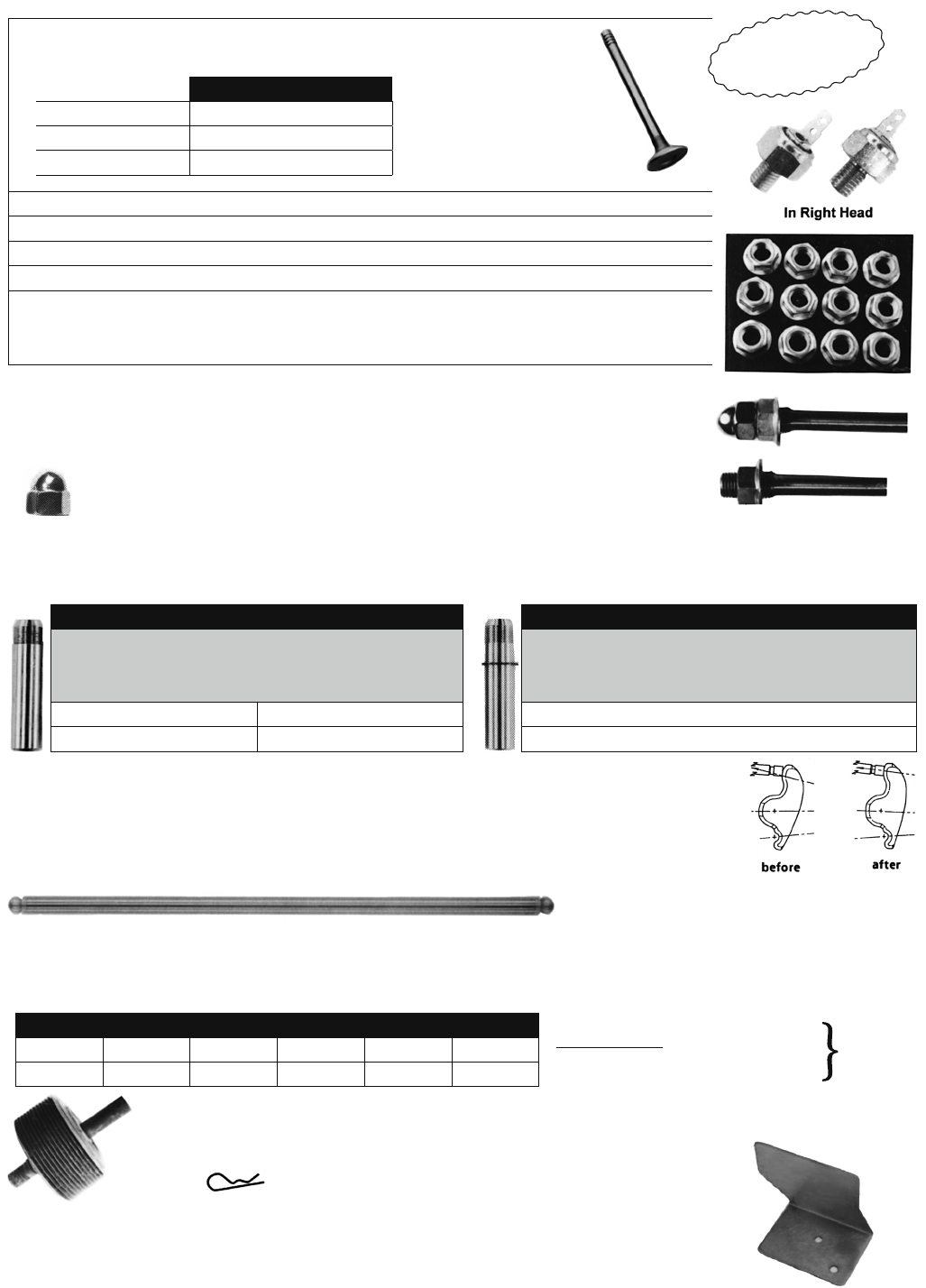 i
WARNING:
Products on this page can expose you to a chemical, which is known to the St

ate of California to cause cancer or reproductive harm. **For more information go to www.P65Warnings.ca.gov**
20
HEAD
PARTS
(refer to picture, page 16)
39
. EXHAUST VALVES:

We offer only the highest quality stainless exhaust valves with standard size stems.
The C
124
RP makes an excellent high performance valve for all (exc.
140

HP)
See "NOS" on website for GM valves with oversize stems.
All 4 oz. each
Top Quality TUFFTRIDED Standard
ALL (exc. 140, Turbo & FC)
C3022P
40
. THERMISTER – LEF

T HEAD:

1962

-

66

Turbo &

140

(for temperature gauge) See replacement page

51

.
41
. NUT – SPECIAL FOR THERMISTER: See also wiring harness. C

1592

½ oz.
42. WASHER GASKE
T ORIGINAL – THERMISTER TO HEAD:
C21
½ oz.
43. GASKET – HEAD TEMPERATURE SENDER: All (exc. thermister)
C644
½ oz.
44.
HEAD TEMPERATURE SWITCH:
Runs idiot light. Excellent REPROS. Gasket #43 above.
1961-69 All (exc. Turbo & 140)
C438R
2 oz.
1962-69 All Turbo & 140
C437R
2 oz.
1960 heat switch in block
C8074
6 oz.
NOT SHOWN IN DIAGRAM
HEAD NUTS:
Replace those rusty, fatigued ones. (Original style but better). High strength and plated. 1960-69 All
Set
of
12
C

1089

6

oz./set
Set
of
6

C

4633

4 oz./set — (enough for one side)
CHROME ACORN NUTS:
For ends of top engine studs. Keep ends of those studs from rusting!
Set of 12
C3413
6 oz./set
VALVE GUIDES:
Have yours checked. Oversized refers to outside diameter (inside will be stock). Usually

.001 OR .002

are used unless bore is in bad
condition. For larger than .002 the bore will have to be reamed. Stock guide o.d. is
0.517"
. Original guides were steel; we only sell superior bronze guides.
TOOL – GUIDE INSTALLER:
See page 336
MANGANESE BRONZE – SUPERIOR
MANGANESE BRONZE – SUPER SAFE
Better
heat dispersion and wear resistance. Use for intake and exhaust ALL
engines (originally for Turbo exhaust). If the guide is forced into too tight a
bore, the inside may need to be honed back to size. SOLD EACH – 4
oz. each
We are now offering the following bronze guides that are an exact original
replacement but with a snap ring installed where guide protrudes out of
head. This eliminates possibility of a guide ever dropping into the head.
DO NOT ORDER STAINLESS SHIMS WITH THESE GUIDES.
.001 O.S.
C1037A

.005 O.S.

C4463

.002 O.S.

C6702
4 oz./ea
.002 O.S.
C4462

.010 O.S.

C4464

.005 O.S.

C6703

4 oz./ea
PUSH ROD GEOMETRY KIT:
More info – C8640A FREE 1 oz.
This
Kit allows you to determine exact length of push rods needed to compensate for thicker gaskets, machined gasket surfaces, reground
cams, etc. Correct length has many benefits with regards to reduced valve train noise and less wear and tear on all components, especially
the valves, valve stems and guides. Kit includes necessary parts and detailed instructions. All 1960-69.
Custom length push rods below. NOTE
: You will need access to large dial calipers. C8640
1 lb. 8 oz./ea
HEAVY DUTY TAILORED PUSH RODS
Proper push rod length can give superior engine performance. With the geometry kit above you can determine what you need for custom length, heavy duty push rods.
Heavy duty push rods are 3 times stronger than stock which is important for accurately opening valves at higher RPM with no deflection. Our NEW cams have controlled
lobe size so you only need to allow for the amount of material that may have been removed from the head & not compensated for with Big Bore head gaskets.
NOTES:
1 – The part numbers in line with
"minus"
are shorter than standard, the
"plus"
are longer. 2 – These are the only sizes available.
Standard length heavy duty push rod:
C8747A
ea.
All 4 oz. ea.
.025

.075

.125

.175

.225
VALVE TOOLS:
VALVE STAKER, GUIDE
INSTALLERS, VALVE SPRING REMOVER
Minus
C874

8A

C8752A

C8930

- - - - - - - -

- - - - - - - -
Plus
C

8749A

C8753A

C8931

C8933

C8935
THERMOSTATS (BELLOWS):
1961-69 Thermostats. Also see page 106.
When your rear air outlet doors stay open and the thermostats are expanded all the time your thermostats (bellows) are bad.
These are EXCELLENT REPROS.
2 needed 1961-

69

C50RM
6 oz.
1 needed 1960 only "NOS"

CX837

8 oz.
CLIP:
Holds thermostat rod to thermostat. 1960 only. See page 106.

C9851

1 oz.
THERMOSTAT SHIELDS:
These attach to the thermostat bottom engine shroud. These are just the shield and do not include the attaching
bracket that the rod goes through.
Left: C8418SL

Right

: C8418SR

4 oz.
BUSHINGS – Thermostat "door":
#6 page 106
CLIPS:
Page 106
PICTURE #
HEAD
PARTS
(refer to picture, page 16)
PAGE 336
Stud, Head Nut amd Acorn Nut
Stud & Head Nut
Important VALVE info.
see page 7B