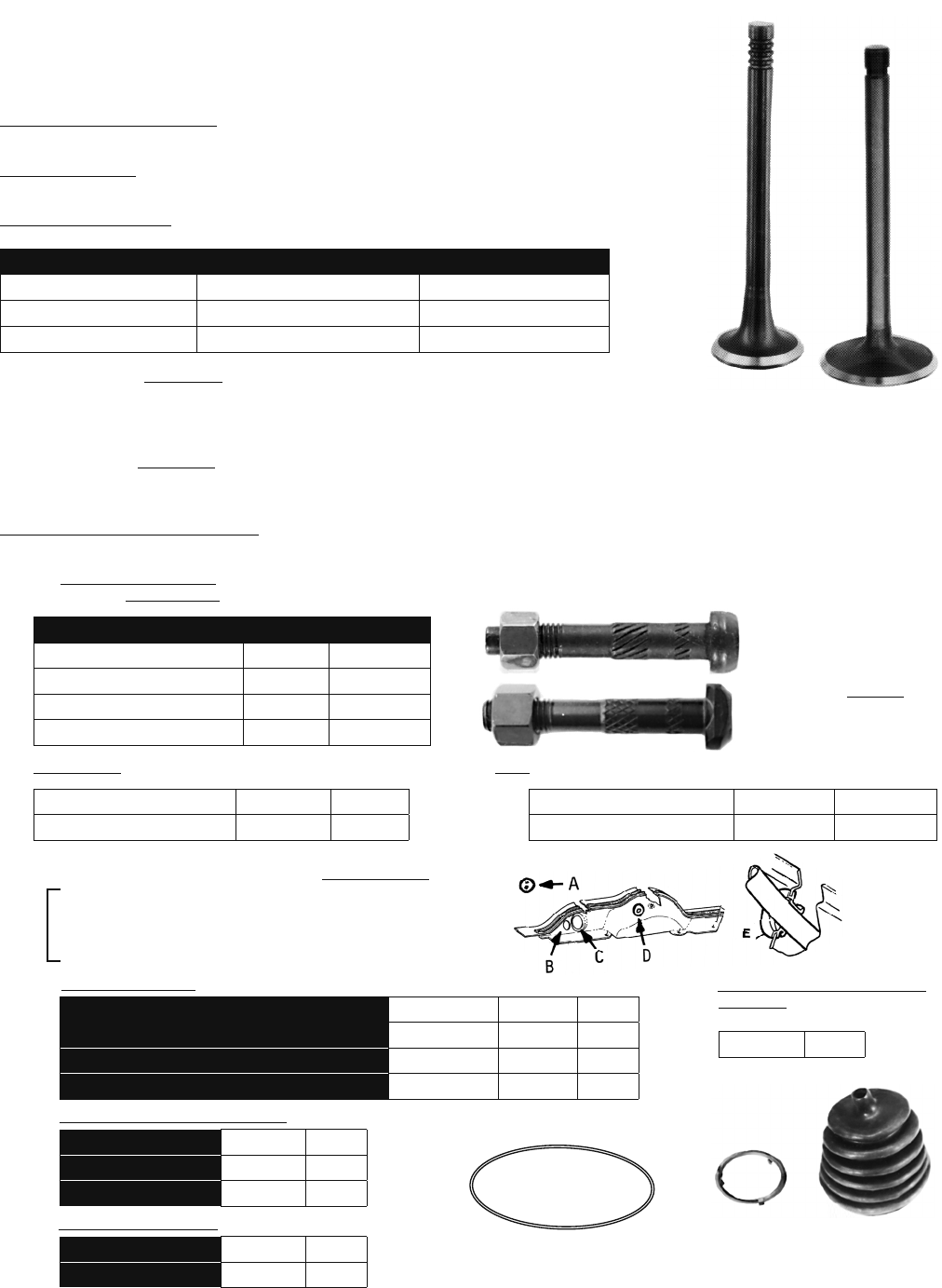 i
WARNING:
Products on this page can expose you to a chemical, which is known to the St

ate of California to cause cancer or reproductive harm. **For more information go to www.P65Warnings.ca.gov**
7B
Highest Quality INTAKE & EXHAUST VALVES
CLARK
valves are made by an ISO9001 certified manufacturer using the newest alloys to run safely with no lead gas at
the higher temperatures of
Corvalr
engines. Head shape and all size specs were taken directly from "NOS" valves. The
stems are held to .0005 of specs and the faces are cut with precision CNC machinery and checked with laser during
production. The exhaust valves are made from a high nickel
(JIS alloy)
stainless. Good for 1600–1800 degrees. The end
of the exhaust valves are "tip welded". This puts a softer material at the very end to reduce rocker arm wear.
REAL TURBO VALVES
–
Same material and technology as used in todays Turbo engines plus they are
TUFFTRIDING
– A high performance dark surface hardening treatment which aids "oil retention" and yields
100,000+ miles with greatly decreased valve stem wear & guide wear.
ALL CLARK VALVES
listed are Tufftrided.
Individually Wrapped
– Since these valves are custom produced just for us, we requested individual protective
packaging –
another small but important detail.
ALL 4 oz. each
TUFFTRIDED INTAKE

TUFFTRIDED EXHAUST
60-69 ALL
(exc. 140 & Turbo)
140 HP
TURBO
Why get NEW VALVES?
My Machine Shop can just regrind!
There are several advantages to
our NEW VALVES
. The main ones being that they are made from superior materials
to exacting specs and also available
tufftrided
. You should also consider that your valve seats are probably going to be ground. Do you also want to grind the
valves, making for a thinner valve head on a valve that may be 30 years old? Also, most Shops
CANNOT
grind the valves as accurately as a valve factory.
Why Replace GUIDES?
The valve stem can wear and the inside of the guides can wear. As one or both wear it allows the valve to

"lash"

around,
causing even faster wear but even
worse
, not allowing the valve head to fall squarely on the valve seat. This leads to rapid wear on the face of the valve, valve
seat and may cause the seat to loosen.
CONNECTING ROD BOLTS –
In 2001 GM doubled our cost on rod bolts and tripled the cost of rod nuts! We have found an excellent
replacement bolt and heavy duty nut.
Replace those fatigued bolts and nuts.
1.
The NEW STYLE BOLT & NUT –

are

3 grams heavier

than the stock. We agree with Larry Claypool that this should have no affect but we both also
SUGGEST

they

NOT BE MIXED on the same rod and If you put them on one rod you should also put them on the

"opposing"

rod.
1960-69 ALL
Set of 12
ROD
BOLTS & NUTS
2.
ORIGINAL GM –
If you must have GM, we only sell them now individually.
GM
ROD BOLT & NUT – on top.
REPLACEMENT BELOW (ARP)
NEW NUT
has a
THICKER
wall
for added strength.
USED GM
ROD BOLTS & NUTS

–

NOT SUGGESTED.
Engine Grommets & "Boots"
"A" please see page 235
"B"
applications and choices.
"C" –
ACCELERATOR BOOT –
The accelerator rod comes thru this rubber boot. Also order metal retainer.
Fits all 61-69 Cars & FC's
Rubber boot
Metal retainer
1961-63 original style
(no metal retainer required)
photo pg. 232
1960 original style
(no metal retainer required)
photo pg. 232
"E" –
POWERGLIDE DIPSTICK TUBE BOOT –

REPRODUCTION
"F" –
AXLE CHECK TUBE BOOT –

(photo page 125)
1964
1965 (grommet)
"D" –
POWERGLIDE MODULATOR LINE
GROMMET –
1961-1969 ALL –
Steel line to modulator goes thru this.
ENGINE DISCOUNT !
see Blue pg. MK-2
PLASTIC PLUGS
Page 15
C100X
C100R