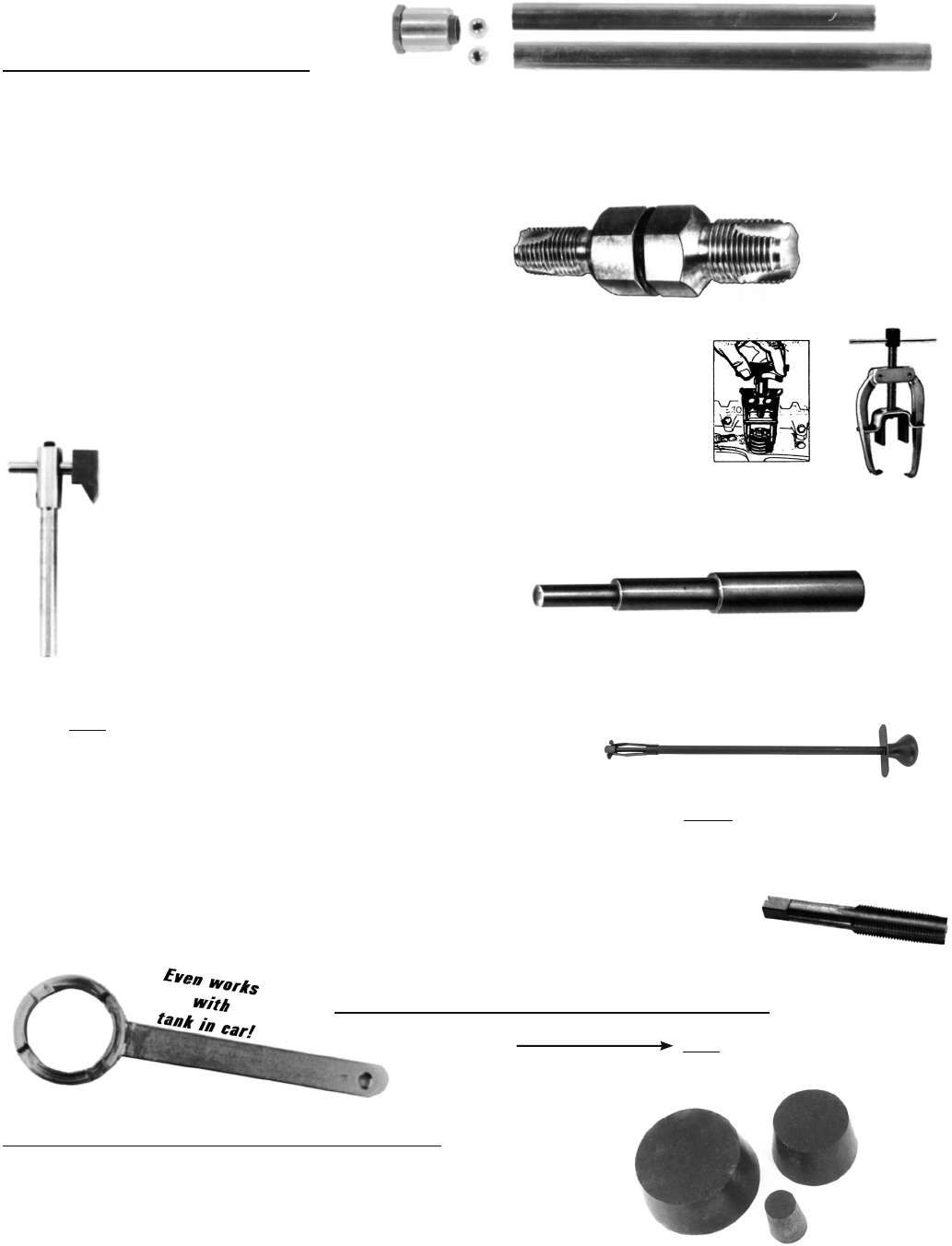 i
WARNING:
Products on this page can expose you to a chemical, which is known to the St

ate of California to cause cancer or reproductive harm. **For more information go to www.P65Warnings.ca.gov**
336
ENGINE TOOLS
HEAD STUD
INSTALLATION KIT
This
KIT
insures that each upper or lower stud will be installed exactly the same length while leaving threads in
perfect
condition. The
KIT consists of:
2
strong steel tubes for exact spacing,
1
special nut that engages the complete length of threads on the stud and
2
balls

(one's a spare)

. The ball is
inserted into the special nut and will push against the end of the stud during tightening. This keeps the nut from
"locking"
onto the threads causing
damage or backing the stud out when the nut is removed.
KIT FOR GM & STOCK REPRO STUDS

C11310

1 lb. 4 oz.
KIT FOR PRO-HEAD STUDS

C11311

1 lb. 4 oz.
SPARK PLUG "RETAPPER"
Removes corrosion, or if you started to cross thread, this will recut old threads.
Fits inside spark plug socket.
C664
6 oz.
SPARK PLUG THREAD REPAIR
VALVE SPRING REMOVER
This slick tool allows you to remove valve springs without removing heads! Change springs, install valve stem seals
or just use to remove valves with heads off. Works great for all Corvairs and other cars.
C5776
1 lb.
VALVE SEAT STAKING TOOL
Installs into valve guide (to steady), adjust outside valve seat and hit with a hammer.
This pushes the aluminum against the seat. Can be used on all Corvair heads.
C1914
6 oz.
VALVE GUIDE INSTALLER
Made of high grade steel. Note: This tool simply uses a hammer
to force out the guide. I prefer to have the Machine Shop press
them out and in.
C2275
6 oz.
LIFTER REMOVER –
Use with engine installed to get out lifters. Doesn't work all the time but usually. Push down on lifter and
open the "jaws" of the tool, pull lifter out.
NOTE:
If varnish has built up in the lifter bores, spray in carburetor cleaner, clean out best you can
and put back a light coating of oil. Lifters usually come out better.
C660
1 lb.
OIL PUMP PRIMER ROD
Use this rod with all 1/4", 3/8" and 1/2" drills to pump oil thru rebuilt engine or ones that have sat for months BEFORE you start it. Just remove
distributor, insert rod into pump slot, and run drill slowly for 20-30 seconds.
C366
4 oz.
Tap – Steel Crankshaft Gear:
These are a special size and needed if you want to chase the threads.
Limited run so get yours now. Quality TiN coated.
C12032
6 oz.
THREAD REPAIR – See pages 173-174
Gas Sender Unit Remover Tool
Easily install and remove gas tank sender retainer ring.
Rubber Stoppers for Sealing Gas Tank
If you are using sealer or cleaner in your gas tank, this set of 3 rubber stoppers fits & seals
all car & FC gas tanks (exc. 1960 – they help for 1960, but you still have more openings).
They can be cleaned and reused.
C13139
All prices, pictures, specifications subject to change without notice.
NOTE:
Wrench also
works on
1961-81
Chevy, Corvette and Camaro, etc.!
C13139