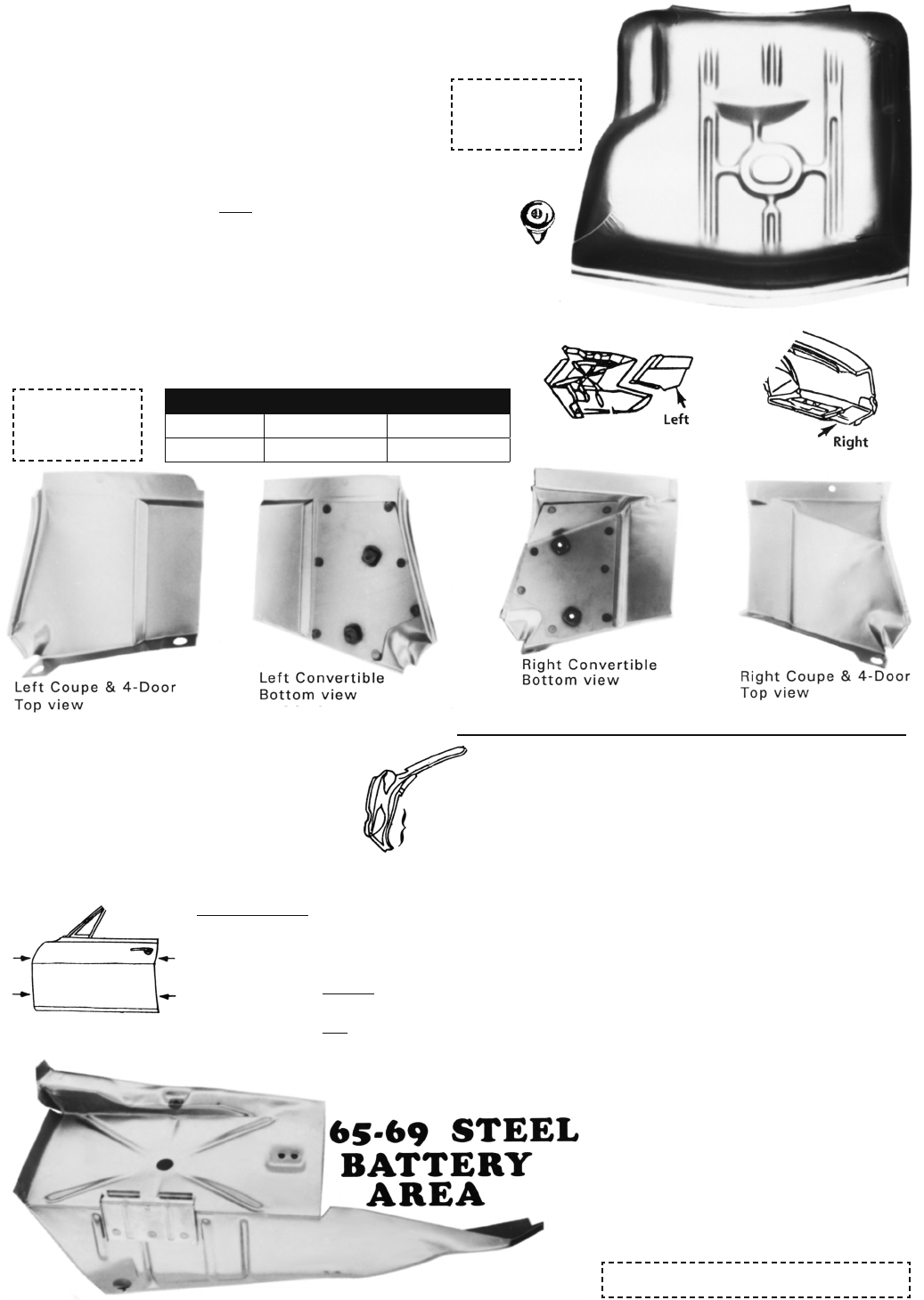 i
WARNING:
Products on this page can expose you to a chemical, which is known to the St

ate of California to cause cancer or reproductive harm. **For more information go to www.P65Warnings.ca.gov**
196
STEEL TRUNK BOTTOMS
Fix that rusted trunk - easily! These panels go up about 3" on the sides and have all the
original reinforced ribs. You'll only find 2 slight changes from the originals.
(1) The drain hole has been stamped but not cut thru.
(2) To avoid prohibitively costly tooling small cuts are made
in the corners prior to stamping. They can easily be
welded closed during installation.
Trunk – Steel 65-69 Cars C3231A
8 lbs.
Also see FLOOR KIT – PAGE 195
65-69 Trunk Front Corners
Rubber PLUG
This small plug fills the drain holes in the front corners of all 1965-69 trunks
(under the filler panels).
2 required.
C9991

1 oz.
65-69 REAR FILLER PANELS
These fit between the battery area (and spare tire area) and the rear panel. Check yours –
probably rusted out – especially if a Convertible! These are exact replacement panels. The
Convertibles are more as they are reinforced like the originals and include the nuts for the
rear weights.
Steel
Coupes & 4-Doors

Convertibles
Left (Drivers)
C9159
1 lb.
C9161
2 lbs.
Right
C9160

1 lb.

C9162

2 lbs.
PANEL DISCOUNT
page 186
— Filler Panels Discontinued When Gone —
The panels above will be
discontinued when gone
(C9159, C9161, C9162 & C9160)
65-69 FRONT DOOR PILLAR PANEL
Discontinued – Not enough orders
Handling Panels
¡VERY SHARP!
DOOR BOTTOM PATCH PANELS STEEL
1965-69 OWNERS
– Now you can repair those rusted out doors

(can be used on 4-Door cars
but
requires

slight modification).
Panel goes up about 5-6" from bottom
(as indicated

by arrows

)
. The old panel has to be cut off. The new panel is welded
on. Tabs on the backside are folded over and welded to the backside and bottom of the door as the originals were.
BOTTOM PANEL
–
Left C6643DL
3 lbs.
3/4 PANEL
– Goes up about 2" above the "belt line". Great for bad dents or rust.
2

can go for the same weight. Weight is high due to size.
Right C6645D

Discontinued
Exact replacement steel battery areas! Fits right in
where you cut the old one out! Goes down to meet
the bottom of the rear fender. 66-69 style shown.
65 is exact for 65. Both include welded nut and hole
shown. See page 80 for bolts and hold downs.
1966-69

Steel

C3151B
5 lbs.
PANEL DISCOUNT: page 186
PANEL DISCOUNT
page 186
C9159
C9161
C9162
C9160