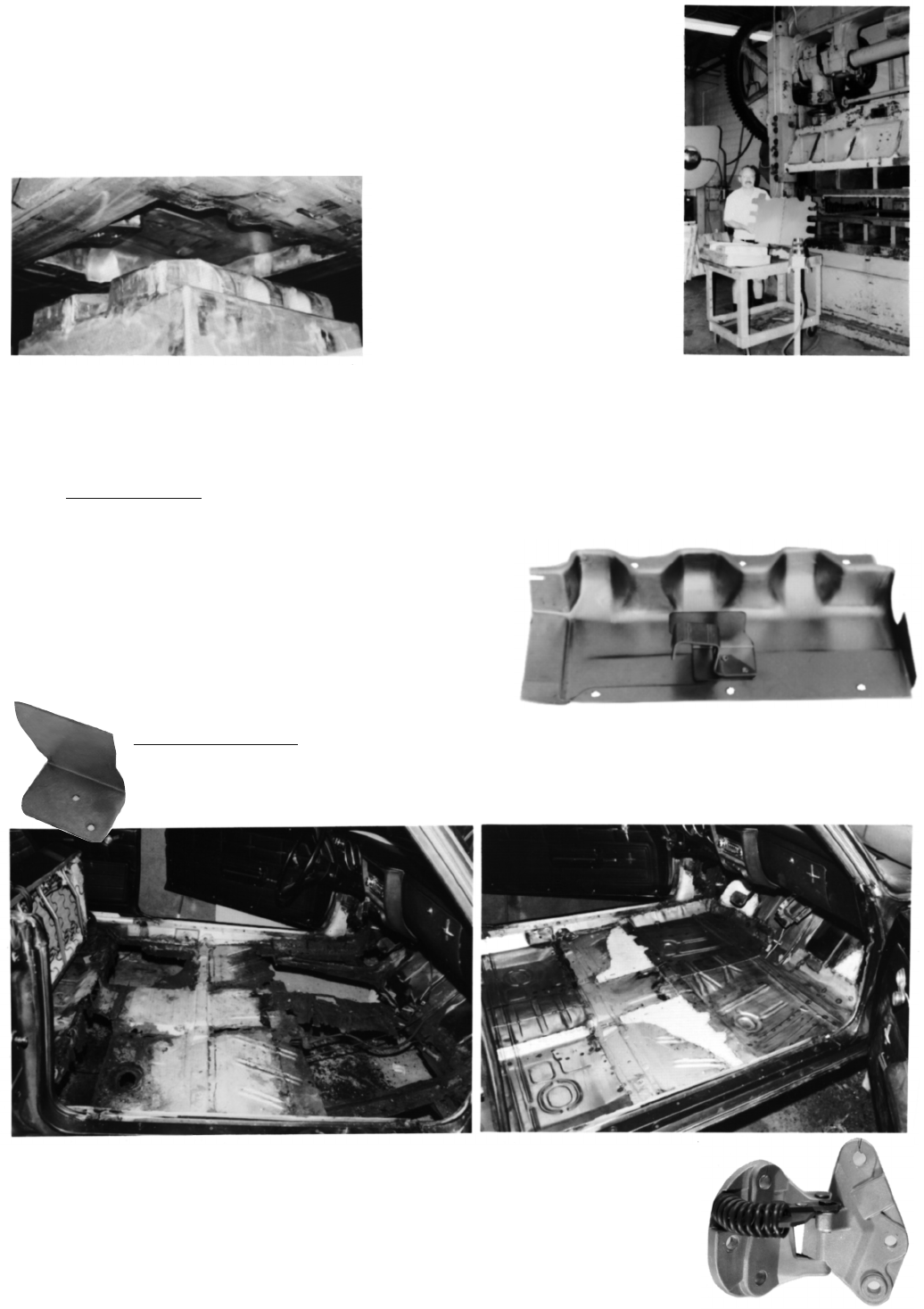 i
WARNING:
Products on this page can expose you to a chemical, which is known to the St

ate of California to cause cancer or reproductive harm. **For more information go to www.P65Warnings.ca.gov**
197
STEEL REPAIR PANELS
Clark's Corvair Parts®
has been extremely fortunate to team up with a high quality short run stamping business in the
Detroit area. I always thought they just threw in a square sheet of metal, pushed a button and bam – out came a finished
product, sure Cal! Even with the correct tooling and machine, the thermostat shroud took over 7 distinct steps! In general they
start with a perfect original panel. Tooling is produced to "blank" (cut) out a rough shape for the panel (photo shows Cal with
the "blank" for left and right thermostat shroud). Other heavy stamping tooling is designed, made and mounted in the presses
(see male & female tooling for thermostat shroud). Often the "blank" must be progressively hit several times. Once the piece
is "stamped" there are finishing operations such as punching holes and deburring.
FUTURE PANELS?
Sure, we'd like to do every panel needed but it's up to
you! If Corvair owners show they'll buy these panels
more panels will come. If sales are poor – there will be
no more panels. These are some of the nicest repros
we've ever done. Get your orders in soon!
We guarantee you'll be pleased!
We're ready to fill your orders.
The blanked thermostat sheet is positioned between these male
& female toolings and progressively pressed to their final shape.
This machine really rumbles the floor when
it blanks out the panels.
Clark's Quality Steel Floor Panels – Since 1992
•
18-20 GA Stamping Steel
•
Precision Stamped:

This can save you or your body
shop hours during installation.
Note: Installing floor
•
Look Like the Original Floors
•
Full Width Front and Rear Floor Panels Overlap in the
Center for Additional Strength
•
Special Heavy Duty Shipping Boxes
•
Larger Kits Save You Even More $$
Reproduced Thermostat
Shrouds:
DISCONTINUED Due to Slow/Low
Sales. We need to see sales in the first 1-3 years
when a part is reproduced.
Thermostat Shields:
These attach to the thermostat bottom engine shroud. These are just the shield and do not include
the attaching bracket that the rod goes through.
Left: C8418SL

Right: C8418SR

4 oz.
R. Bradley Hall, Ontario Canada sent these "Before & After" photos of the steel replacement floor panels he installed in a 1968. He says the fit was
perfect and he mig welded them in place. Please order - we can't afford to reproduce more panels until we sell more!
Repro 1965-66 Lower Front Door Hinges
Exact replacement for your worn hinge. Complete & ready to install. The lower hinges take the most abuse with worn bushings,
pins and the "hold open" link mechanism. Fit all 65 - 66 2 Dr & 4 Dr front doors.
Left (drivers)
C11930
4 lbs.
Paints & Undercoating – See page 202
Right Side